Two in a row for Newton in Scotland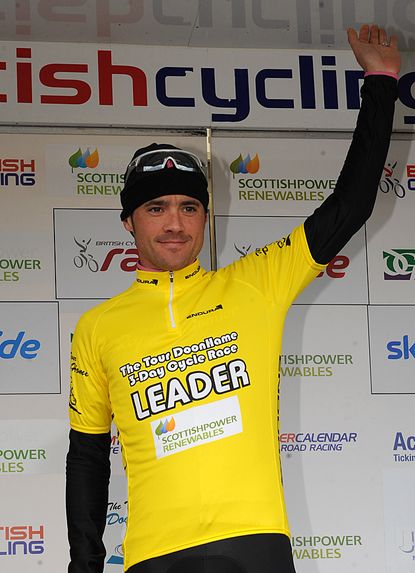 Rapha-Condor-Sharp rider Chris Newton has taken his second Tour DoonHame stage in a row, claiming the bunch sprint for victory ahead of Motorpoint-Marshalls Pasta pair Jonny McEvoy and Malcolm Elliott.



"I got a good leadout from Zak [Dempster] in the final; Dan [Craven] had a little dig too, which was perfect. It was a strong team performance today, and worked out right for the finish," said Newton.
With ten bonus seconds garnered, the Teesider also consolidated his overall lead. However, just an hour earlier, it had looked like the yellow jersey was slipping out of his grasp.
Ian Wilkinson (Endura Racing), Pete Williams (Motorpoint-Marshalls Pasta) and Tour of the Reservoir winner Simon Richardson (Sigma Sport-Specialized) were the big names in an eight-man move which escaped in the final third of the 95-mile stage.
However, the group also contained Rapha pair Jon Tiernan-Locke and Tom Southam, who were content to sit on. This inertia, coupled with a late push from the peloton, contributed to the breakaway being caught three miles from the finish.
It was left for yellow jersey-clad Newton, reaping the benefits of his recent intensive track work, to sprint to victory on the slightly uphill finish in Castle Douglas.
At the finish, the 36-year-old expressed his relief at how events had panned out. "It went perfectly up until the move went. We had two riders there and had to run with that, but it wasn't ideal.
"All credit to the teams that missed it [Wilier, Pendragon, Raleigh]; they knew that the race was going away from them, so they all rode and kept themselves in contention. I benefited and got the stage win," he said.
The stage was also notable for the disqualification of Alexandre Blain (Endura Racing) for taking an illegal tow.
Tomorrow sees the race's third and final stage, covering 81 miles around Dumfries. After two days of cagey riding and with so many riders in close attendance, the Tour DoonHame is set for an exciting finale tomorrow.
Following two days of blue skies and predominantly warm weather, the heavy rain and blustery winds forecast may also play a part in the outcome.
Tour DoonHame 2010: stage two, Dumfries-Castle Douglas
1. Chris Newton (Rapha-Condor-Sharp) 96 miles in 3-48-22
2. Jonny McEvoy (Motorpoint-Marshalls Pasta)
3. Malcolm Elliott (Motorpoint-Marshalls Pasta)
4. Wouter Sybrandy (Sigma Sport-Specialized)
5. Ian Wilkinson (Endura Racing)
6. Jack Bauer (Endura Racing)
7. Evan Oliphant (Endura Racing)
8. Marcin Bialoblocki (Wilier-Bigmaggys.com)
9. Matthew Kipling (Glasgow Wheelers/MTS Cyclesport)
10. Peter Williams (Motorpoint-Marshalls Pasta) all same time


General classification after stage two
1. Chris Newton (Rapha-Condor-Sharp) 6-37-41
2. Evan Oliphant (Endura Racing) at 18sec
3. Ian Wilkinson (Endura Racing)
4. Peter Williams (Motorpoint-Marshalls Pasta) at 21sec
5. Jonny McEvoy (Motorpoint-Marshalls Pasta) at 22sec
6. Kristian House (Rapha-Condor-Sharp)
7. Malcolm Elliott (Motorpoint-Marshalls Pasta) at 24sec
8. Kit Gilham (Sigma Sport-Specialized) at 28sec
9. Matthew Kipling (Glasgow Wheelers/MTS Cyclesport) at 29sec
10. Wouter Sybrandy (Sigma Sport-Specialized) at same time
Hot spot sprints leader: Ian Wilkinson (Endura Racing)
King of the Mountains leader: Ian Bibby (Motorpoint-Marshalls Pasta)
Team competition leaders: Endura Racing
Thank you for reading 20 articles this month* Join now for unlimited access
Enjoy your first month for just £1 / $1 / €1
*Read 5 free articles per month without a subscription
Join now for unlimited access
Try first month for just £1 / $1 / €1