Watch: Undertaking driver 'clips' cyclist who now says she is too scared to ride on roads
Melanie Wilkinson says she will stick to cycle paths from now on after terrifying near-miss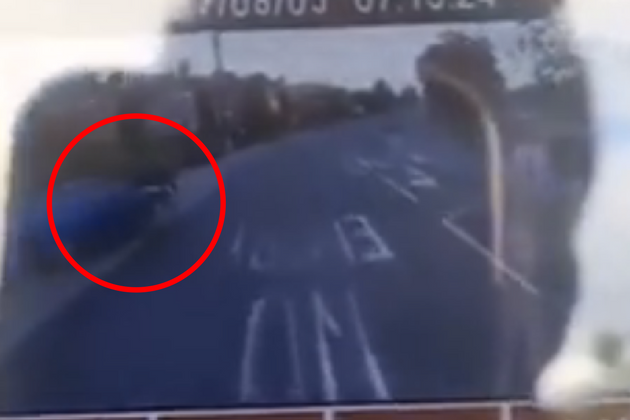 https://www.facebook.com/Idiotdriverslincoln/videos/1393904200728936/
A cyclist from Lincoln has said that she will now only ride on cycle paths after nearly being knocked off by an undertaking driver.
Melanie Wilkinson was cycling along Newark Road in Lincoln on August 3, when she was nearly hit by a driver who had taken a shortcut down a narrow residential street in order to undertake a lorry which was driving behind Ms Wilkinson around an adjacent roundabout.
Grainy footage from the lorry shows that as Ms Wilkinson cycled off the roundabout, the car came back onto the main road, apparently clipping Ms Wilkinson's front wheel and leaving her shaken.
>>> Watch: Shocking footage shows van driver appearing to swerve at cyclist
"It just happened so quickly. My front wheel was actually clipped so it did actually happen," Ms Wilkinson told Lincolnshire Live.
"I was in shock but it wasn't until I watched it back until I realised how bad it was and how lucky I was to stay on my bike.
"I have got back on my bike, but I only use cycle paths."
With the incident having been captured by a dashcam in the lorry behind her, Ms Wilkinson now says she is going to invest in a camera of her own in order to highlight to other road users some of the dangers that cyclists face, hopefully making them change their behaviour.
"This isn't the first time as last year a woman pulled out on me when I was travelling along the cycle path. She said she didn't see me," Ms Wilkinson said.
>>> Speeding motorists face larger fines for worst offences
"I saw that one coming so it didn't shock me as much – but the reality is many drivers don't look out for cyclists.
"I have an 18-year-old son, I haven't told him about it as I didn't want to worry him. It is frightening to think it could have easily have been him in my situation.
"Everyone has a family. You often read about people who have died after being knocked off their bike. I guess I was just a lucky one."