West Lancashire with Bradley Wiggins
Level two-ing it in the lanes west of Wigan with Olympic champ Bradley Wiggins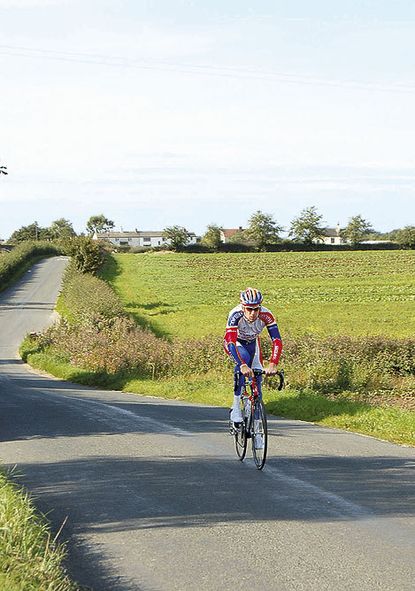 Your guide: Bradley Wiggins
Distance: 36 miles (58km)
Main Climb: Ashurst Beacon
Total climb: 220m
Achtung! Crosswinds on the western bit
We try to ask our subjects doing these rides to pick an easy day in their schedule so there's time to stop, look and talk about different things on the route. Well, that didn't quite happen with Bradley Wiggins.
"Sorry, I'll have to do a bit of a hard session today," Wiggins apologised outside the Cedar Farm Galleries in Mawdsley before setting off. "I squeezed in an attempt at the 10-mile record on Saturday, then I had a day off, and today I'll have to do about one and a half hours at level two. I've got to go a bit because I'm doing the National Track Championships the week after next and I want to have some form," he explained.
Wiggins has two lives, one with the pro team Cofidis and one as a British track international. Unbelievably he gets criticised by some bike racing fans for doing this, because they see Olympic track racing as a stepping stone to the Classics and the Tour de France. But is it? After several years in what is euphemistically called the top end of the sport, Wiggins knows what is what.
"The way pro road racing has gone it has no credibility. If I won something big there would just be nods and winks, and outside the sport people would think I was doped. Everything everyone does now is under suspicion. No one knows what to believe. I'll keep racing. I love doing the big races. This year, riding the Tour I had goosebumps all the time, just because I was actually in the Tour de France," he says.
Don't worry, be happy
Since he was young, Wiggins has hankered after doing well in races like the Tour of Flanders, as well as excelling on the track. He hasn't yet been able to do that, and since his view on performance-enhancing drugs is: "I'd rather stop than take that stuff," does he feel at all bitter that he might not have achieved his potential because others aren't so scrupulous? "No, I've given up worrying about it. I'm not bitter, I just accept it."
Where do Bradley Wiggins's ambitions lie then? On the day that his sporting career
is over, what would give him the most satisfaction when he looks back? "To be Olympic champion three times," he says without hesitation.
Wiggins was born in Belgium but grew up in London. He moved north when he married, and since there wasn't going to be much time for questions today, I was glad of the company of Wiggins's father-in-law, Dave Cockram.
Cockram is British Cycling's national facilities officer, he was born and grew up in this area, and as a bike racer of many years' note he has a profound knowledge of the place, happily filling in the local information that Wiggins couldn't once he'd got down to his day's work.
Watching Wiggins ride at speed is a treat; not many riders pedal so fluidly. "No matter how fast he has to spin his legs, they can do it. On the track, in races like the Madison, whatever gaps open, whenever he needs those extra revs, they are there," Cockram observes, and adds, "I think part of his speed is due to him being so supple. He spends hours stretching. You should see him, he can almost twist his body all the way round."
From Mawdsley, Wiggins flicks this way and that, criss-crossing fields that look like Flanders, an illusion reinforced when he clatters over a strip of cobblestones near a canal bridge. The first destination looms closer, the day's main climb: Ashurst Beacon.
It's a long one, not a fierce gradient, but a constant one. Wiggins glides up it, most of the time seated, keeping the intensity right. At the top he stops, "so you can take a picture with Wigan, my adopted town, in the background."
Through Up Holland and Wiggins gains quickly on a guy with all the kit, who is giving it some stick. Just as he catches him, the rider suddenly moves out to his right, but there is a car coming the other way. Without missing a beat, track rider Wiggins flicks inside and flies past him.
Perfect 10
Over the Rainford by-pass, and Wiggins is moving well on the last leg of the local 10-mile course. So he should be, it is only two days since he set a new record for the distance of 17 minutes 58 seconds.
"It was nice to get it. I'd done a fast '10' on that course before and thought I could go a bit quicker," Wiggins said before the ride. It was the first time that anybody has gone under 18 minutes, and is an average of over 33 miles per hour, but is there scope to go faster still? "I'd like to think sub-17 was possible, but 17.30 is, maybe," he says.
His record ride might have been over only 10 miles but it has left its mark, even on a man who has completed the Tour de France. During the second half of the ride Wiggins lifts himself out of the saddle several times to stretch his back, and when he stops at the level crossing in New Lane he says: "I didn't do a warm-down afterwards, and I had a day off yesterday, so I'm very tight today."
We were in the flat country now just behind Southport. It looks a windswept place, and there are a number of windmills dotted around. "This whole area was drained to turn it into agricultural land, otherwise it floods every year," says Cockram, who used to be a bridge engineer and worked in the area.
Coming off the flat lands and going back to Mawdsley, Wiggins stops to show me a road sign which says the road is called Wiggins Lane. No, the locals haven't named it after their celebrated resident, a wiggin is northern dialect for the mountain ash or rowan tree, but if Wiggins does achieve his ultimate ambition of three Olympic titles you can bet that the authorities will be falling over themselves to name things after their adopted son.
Bradley Wiggins: The Facts
* Lives in Eccleston, Lancashire with wife Catherine and son Ben
* Born in Ghent, Belgium. Wiggins's father Gary was an Australian pro rider
* Warms up for races to the sounds of the Rolling Stones, and loves Michael Caine films
* Had a trial as a junior footballer for West Ham
Which way?
Start Cedar Farm Galleries, Mawdsley. Take unclassified to B5246, Turn right (TR) and turn left (TL) at staggered junction, taking unclassified and TL into Mossbridge Lane. TL on A5209 in Newburgh. TR onto unclassified up Ashurst Beacon in direction of Up Holland. Follow unclassified to Crawford and straight across the roundabout at the Rainford by-pass to Aughton Park and Ormskirk. Cross the A59 in Ormskirk and take the unclassified to Clieves Hill and Pinfold. Cross the A570 in Pinfold and TL on B5242 then 1st TR to New Lane on unclassified. Follow this road Tarlsclough and TR on B5346 back to Mawdsley.
This article originally appeared in Cycling Weekly magazine, October 5 2006
Thank you for reading 20 articles this month* Join now for unlimited access
Enjoy your first month for just £1 / $1 / €1
*Read 5 free articles per month without a subscription
Join now for unlimited access
Try first month for just £1 / $1 / €1