Nature or nurture? What makes you the rider you are?
We ask some of the world's best riders how they reached the top of their respective disciplines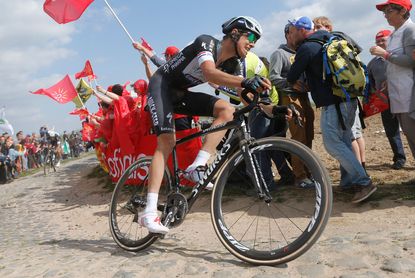 Get The Leadout Newsletter
The latest race content, interviews, features, reviews and expert buying guides, direct to your inbox!
Thank you for signing up to The Pick. You will receive a verification email shortly.
There was a problem. Please refresh the page and try again.
What kind of rider do you consider yourself to be?
A masterful time triallist who just about knows how to hold yourself in the bunch?
A hefty sprinter who makes up for your climbing deficiencies with your descending ability? Maybe you're a crafty tactician who always sniffs out the right breaks?
And why are you like that? What has made you the rider you are? What gave you those characteristics?
Incredible genes? (Yes, Mathieu Van Der Poel, we're talking to you.) Natural-born killer instinct?
Or is it the consequence of all those intervals you've done, the other sports you participated in as a kid, and wanting to emulate a certain rider you watched on TV?
We asked six top road racers to give the matter some thought. Which aspects — from their physical and psychological make-up to their upbringing and current training programme — do they think have made them the riders they are?
Greg Van Avermaet (BMC), Olympic road race champion
How do you describe yourself as a rider?
I'm the kind of guy who's really good with distance and hard races. I'm not the fastest sprinter or the best climber in the peloton, but for the Classics I'm one of the best in the world.
Why do you think you are that type of rider?
Everybody rides with what Mother Nature gave him. For me, I have a talent for explosive climbs, cobbles, hard races and endurance. You cannot choose what you'll be.
But didn't growing up in Belgium shape your riding?
It made a big difference. You see a lot of young riders there who are more inspired by Classics than Grand Tours.
We don't have so many Grand Tour riders because we're always so obsessed with the Classics.
So you always considered yourself a Classics rider?
Yes, but I've perhaps previously thought of myself as able to win both Flanders-type races and really hilly races like Lombardy and San Sebastian.
[In recent years] I've learnt that it's hard to combine the two because you have different strengths and compromises.
Now I just want to win Flanders and Paris-Roubaix type races first.
But last year you became more of a climber, winning that Tour stage and the Olympics…
Yes. But I think to win Flanders you need a bit more power and explosiveness. And a bit more weight. If I lose weight, I lose my strength.
If I tried to win that stage in the Tour or the Olympics now [having gained weight and power], I wouldn't be the same.
What aspects of your ability have you really had to work on?
Endurance comes from years and years of training. It's hard as a young guy in Classics to last the distance — unless you're Tom Boonen or Peter Sagan, who are extremely talented and could do it at any age.
By age 30 or 32, you have more strength.
What aspects of cycling will you never be good at?
I will never be Chris Froome. I can climb pretty well on one day, like the Tour stage I won last year. But the day after, my legs feel terrible. That's why I'm a one-day rider.
Lizzie Deignan (Boels-Dolmans), 2015 world champion
How would you describe yourself as a rider?
An all-rounder.
Why do you think you are that type of rider?
It's part of my physical ability — and something to do with growing up in Yorkshire. Going up and down relentless roads is character-building. From a tactics point of view, I learnt much from my coach, Westy [Phil West].
What are your strengths and weaknesses?
My weakness is long climbs, and my strengths are confidence and tactics.
Which of those characteristics do you think comes most naturally to you?
Tactics, probably. I think you either have the racing instinct or you don't.
What do you consider your best result and how did those strengths and weaknesses play out?
The World Championships in Richmond [Virginia]: I was lucky there were no long climbs; the course was perfectly suited to me, and tactically I went into that race with a plan — I didn't leave anything to chance.
What aspects of your riding have you had to really work at?
Up until 2014: confidence, going for the win. I'd go into a race hoping for a good result, not going for a win.
Winning the Commonwealth Games [road race in 2014] was a big step; it was a championship day… it was about getting everything right for one specific day — that gave me more confidence.
How big a factor was growing up in Yorkshire?
As a junior, I remember Joanna Rowsell and I went to race in Belgium — a kermesse, and there was a [small] climb in it. Well, having grown up in London, Jo thought it was a climb, whereas I didn't even see a climb!
What else has shaped you as a rider?
My upbringing has had a massive influence. I was brought up to be very independent… I've always been the driving force behind it; I've never had outside pressure — it's always been down to me.
Romain Bardet (Ag2r La Mondiale), 2016 Tour de France runner-up
What type of rider do you consider yourself to be?
I'm the kind of rider who takes things step by step and who just wants to keep improving. I've been pro for six years and each year I try and target something to help me move on.
>>> Romain Bardet: Romantic, audacious, and racing for fun
What strengths define you as a rider? And where do those come from?
Climbing. My hometown is very hilly and what I liked when I was a child was taking my bike into the hills. That's the reason why I started to ride — to be free and be able to climb for as long as I can.
And what are your weaknesses?
Maybe the time trial. But I do not ride on the flat for hours and hours. I find that boring and I'm not physically inclined to do that.
Is that something you've had to work on?
When you want to do well in the Tour, you can have no weakness; you can't relax in any aspect. So, yes, I've had to work on my time trialling ability. But I don't forget why I love riding my bike.
When did you realise that GC riding was your thing?
When I was a junior I found I had very good recovery. I felt better stage after stage after stage. It continued that way when I turned pro.
You say climbing is your big strength, but is that something you still have to do lots of work on too?
Yes. Sometimes in a race, I have to sit in a position near the front. It's not necessarily the way I like to ride but it's something I need to focus on for my overall ambitions.
What aspects of cycling will you never be good at?
I love cycling so I don't want to be very bad at any of it. But I'm never going to win the final bunch sprint of the Tour on the Champs-Elysées.
Adam Blythe (Aqua Blue Racing), British road race champion
What type of rider do you consider yourself to be?
A clever one; an economical one. I try to not waste any energy; I always try to save it until it's right to use it.
Where does that approach come from?
I've never been super strong. I just haven't got the big engine some other guys have got. I've always scuttled my way around and tried to hide in the peloton. When I first started riding kermesses in Belgium, it was a case of not giving an inch.
Did riding in Belgium help teach you bunch-craft?
I think so. Doing that from a young age always helped. And riding the track when I was younger.
So your power tests were not that impressive?
No, and they're still not. They're crap, basically. I'm not one of those people who goes and knocks a load of numbers out on an SRM.
What are your other strengths?
I'm not one of the fastest guys, by a long way, but I know how to sprint and can sometimes sprint well.
>>> Adam Blythe outsprints Mark Cavendish to win National Championships title
And your weaknesses?
Climbs and time trials. I'm not too bad at short and sharp climbs, though.
Do your defining characteristics come naturally to you?
Yes, 'sitting on' does! But I've been racing for so long it all feels very natural. I started racing when I was five or six years old.
What aspect of your cycling have you really had to work at?
Getting fitter. For me, there are obvious things like climbing, time trials, being stronger, going deeper in races. But you're always working on endurance and being able to recover.
How did coming from Sheffield shape your development?
It's just bloody hilly round there, so I don't know why I can't climb that well. But it's a good place to train. Just lovely.
What aspect of cycling will you never be good at?
Time trials. They're ridiculous. I hate them. It's a mental challenge but there's no cleverness about it, no tactics. You just have to go at your threshold for as long as you can.
>>> The best time trial bikes and triathlon bikes
You clearly really enjoy the tactical challenge in cycling…
Oh yeah. I love being the weakest guy in the race and doing well out of it.
Jolien D'Hoore (Wiggle-High5), 2015 Ronde van Drenthe and Vargarda Open winner
How would you describe yourself as a rider?
I am a sprinter and a Classics rider. I can manage a few short punchy hills, the cobbles, of course, and tough weather conditions. I am a Flandrien, a typical Belgian rider with a good sprint at the end.
What are your strengths and weaknesses?
My strength is my speed and acceleration. That comes from the track, but you're born with it, it's natural.
My weaknesses are my climbing skills; if the hill is more than three kilometres and it's steep, then it's not for me.
>>> Technique training tips: climbing & descending
I could work on it but then my sprint may get worse.
Why are you the rider you are?
I was born with it; I don't know anything else.
When I was six years old, I was looking at the Tour of Flanders on television and I am born with the cobbles, I train on them.
The region where I live has made me the rider I am.
Would you be a different rider if you had not competed so much on the track?
I would be a different rider, but I don't know if I would be a better rider. The track has made me who I am, the positioning and the speed helps me a lot on the road, so I am really grateful I had the track at the beginning of
my career.
>>> Essential guide to Olympic track cycling
How do those track skills help you on the road?
On the track, you're in a small bunch and you have no brakes, so you have to read how to go through the bunch. If you can handle a track bike, it is easy to handle a road bike with brakes.
Was there a moment when you realised what sort of rider you were?
When I was 18, I thought I was one of the bunch, just like the other riders, but then in 2008 I won the Junior World Championships in a bunch sprint.
That gave me a boost and I thought, 'maybe I can become a fast sprinter,' and I started winning more often.
Alexander Kristoff (Alpecin-Katusha) 2015 Tour of Flanders & 2014 Milan-San Remo winner
Watch now: My toughest day: Alexander Kristoff
What kind of rider do you consider yourself to be?
I'm a sprinter and a Classics rider.
What makes you that kind of rider?
I can handle some tough races, so long as the climbs are not too long. I'm pretty good at shorter climbs, so I can survive in the Classics and then use my good finish at the end.
Have you always been that type of rider?
More or less, but at a lower level, so I wasn't that good in the Classics. I didn't have the ability to be there in the final.
Norway's pretty mountainous. How has your background and where you grew up shaped you as a rider?
We don't have so many mountain riders actually. Edvald Boasson Hagen, Thor Hushovd, me: we're all fairly similar riders. We can handle the shorter climbs. I think that's down to our body types and how we train.
I found I could sprint after I started training in the gym when I was 14 years old. Before this I was not so strong.
Was it the Nordic weather that saw you turn to the gym?
You'd try to ride your bike when you could, but you'd mix it up with other stuff.
What aspects of your ability have you really had to work on?
I always need to improve my base-level threshold. It drops whenever I don't train. It's a constant battle for me to be strong enough to survive the Classics.
I'm always on the limit to be there so I have to be in good shape. But I can always do a good sprint, even if I'm not in good shape.
Is there one result that really sums up your strengths?
Milan-San Remo. It's hard at the end and often comes down to a sprint. Flanders was not a typical win for me — it was just me and Niki Terpstra, and I don't usually go on an attack. I would like to win like that more often!
Thank you for reading 20 articles this month* Join now for unlimited access
Enjoy your first month for just £1 / $1 / €1
*Read 5 free articles per month without a subscription
Join now for unlimited access
Try first month for just £1 / $1 / €1
Get The Leadout Newsletter
The latest race content, interviews, features, reviews and expert buying guides, direct to your inbox!