Win yourself a Rapha travel trip with this year's Rapha Rising
Take on this year's edition of the climbing challenge to potentially win a trip abroad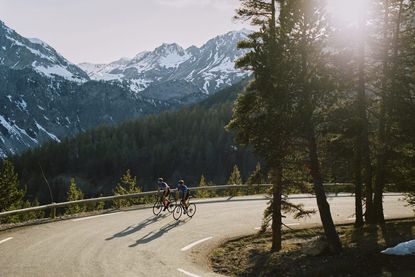 This year's iteration of Rapha's climbing competition will not only challenge you to take on 4600m of riding but to do it in one day if you want to win yourself some prizes.
Using a dedicated Strava page, Rapha riders can log their vertical efforts and claim a specially woven Rapha Rising roundel, should they complete the 4600m before July 23, with more info on their site.
However, the big prize comes if you complete the challenge in one day. After taking on the 4600m of climbing and logging it in the same day, you'll be entered into a draw to win a Rapha Travel Cent Cols Challenge trip.
The trips see riders complete 100 cols in 10 days taking on some eye-watering elevations. Usually costing up to £3,500, one of these trips could be yours for free if you're lucky enough to find 4600m that you can do in one day.
If you're living in the lowlands, don't worry as the British brand will be offering daily prizes for people who tag their favourite climbs on Instagram with the hashtag #rapharising.
On top of that, they will be organising group rides from their clubhouses across the globe so you don't even have to plan a route.
Thank you for reading 20 articles this month* Join now for unlimited access
Enjoy your first month for just £1 / $1 / €1
*Read 5 free articles per month without a subscription
Join now for unlimited access
Try first month for just £1 / $1 / €1