The best cycling books that haven't been written yet
There are lots of book about cycling, but there's room for more! We ask Cycling Weekly reader what they'd write a book about. In association with Decathlon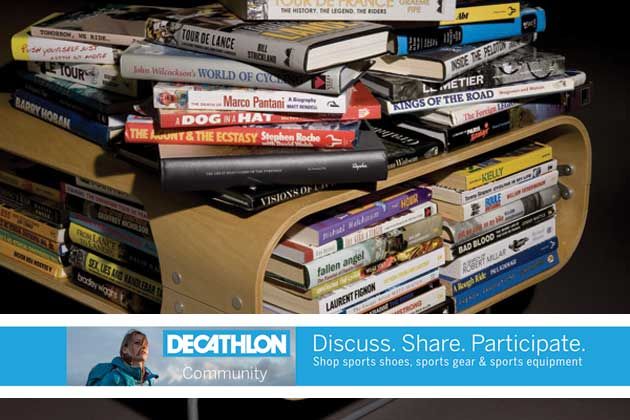 There are books about cycle races, cycle touring, cycle maintenance, cycling psychology, cycling history, cycling biographies, cycling autobiographies... with more cycling books being published every month.
Everyone has a book in them, as they say... which aside from sounding a bit painful may mean that you have an idea for a great book lurking inside your mind.
We recently asked Cycling Weekly readers what the theme of their cycling tome would be, and got some great answers (which we promise we won't pinch). A selection of answers are below, presented in association with Decathlon.
If you were to write a book about cycling, what would it be about? Tell us in the comment section below
The harmonious world where motorists and cyclists co-exist... Obviously it would be a fiction book.
Dave Pargeter
So a Cycling Weekly journalist wants ideas for a book, eh? Seriously though, there could be a book in the story of how Stephen Roche won the Giro in 1987. He disobeyed team orders to attack a team-mate, Italian Roberto Visentini, the local hero. He got serious abuse from the Tifosi and had to enlist some other cyclists, including Robert Millar, as on-the-road bodyguards. Visentini is still bitter about it. Actually Cycling Weekly, if you want an article on it, I'll write it!
Dermot Lane
A fictional account of a cyclist that wins the Tour de France seven times and does a lot of work for charity, only for the adoring public to find that they took a large quantity of drugs to cheat their way to the top. Honestly, you couldn't make it up!
Steve Shaw
The thoughts of a middle-aged man on the real reasons I enjoy riding.
Jonathan Pugh
The art of getting big air from a small kicker and landing spectacularly on your face, more than once.
Phil Dennis
Watch: Tour de France - Mont Ventoux
It would be a thriller based on the world of cycling, where the main hero is a down-on-his-luck copper who also happens to be a failed professional cyclist. He has to investigate some murky goings on in the cycling world, where he encounters his devious former racing rivals and finally finds a way to get the better of them.
Dave Foster
I'd write a book about all the times somebody who didn't ride told me I was crazy and all the times I never listened to them, either.
Matthew Reschke
A complete compendium of every known gear ratio, the weight of every bicycle component on the market and the aerodynamic coefficient of every bike frame. Then we could have a list of all of the fastest times set on all of the RTTC time trial courses. With all data neatly laid out in tabulated form. Imagine the hours of joy that this would bring.
Andy Brown
Cycling.
Derek Chapman
"The Cyclist's Book of Moans". This vast tome would include a chapter on each of the major gripes that every cyclist has and how to get over them: riding into a headwind, how to avoid punctures, how to lose weight and eat more, how to climb hills without losing your breath... The tough part would be finding the answers, but I'd willingly spend hours, weeks and months in the saddle all in the name of research if a publisher would be agreeable to handing me a hefty advance. And be a bit flexible with the publication date.
Will Downstone