Wyman second at Koppenberg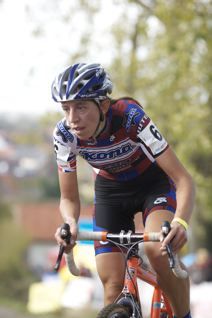 Helen Wyman took a fine second place in the Koppenberg Cross, probably the toughest race on the circuit.
The Kona rider crossed the line soon after winner Pavla Havlikova of the Czech Republic having battled away for 40 minutes in the GVA Trofee event on a course that blew the field apart.
"It was great!" said Wyman afterwards. "I tried not to go hard the first time up the cobbled climb, but people were coming past me. You have to pace yourself on a race like that. It was savage, but fun!"
The course was firm despite overnight rain, in start contrast to last year's mudbath, but mechanicals still played a part for the top women.
Both Marianne Vos and Sanne van Paassen punctured when up with the leaders but far from the pits, ending their hopes for the day. "It was unlucky for them both to puncture, but I have had my bad luck too, so I'll take it," said Wyman.
One of the few sprints for the line feaured Cycle Fit's Gabby Day, who just missed out on 10th spot, finishing 11th.
The men's event was won by Sven Nys for a record seventh time. 'Mr Koppenberg', as he is known round here, attacked the leading group of seven on the final lap to cross the line alone. Ian Field (Hargroves Cycles) was 25th.
RESULTS
1. Pavla Havlikova (AVB)
2. Helen Wyman (Kona/FSA)
3. Sophie de Boer (RTV Oltenzaalse)
Others
11. Gabby Day (Cycle Fit)
RELATED LINKS
Koppenberg Cross: It's a killer!Brit crossers ready for Koppenberg
Thank you for reading 20 articles this month* Join now for unlimited access
Enjoy your first month for just £1 / $1 / €1
*Read 5 free articles per month without a subscription
Join now for unlimited access
Try first month for just £1 / $1 / €1