'You're doing a disservice to cycling': Strava thread gets completely out of hand after rider takes Zwift KOM
Virtual cycling, real-world beef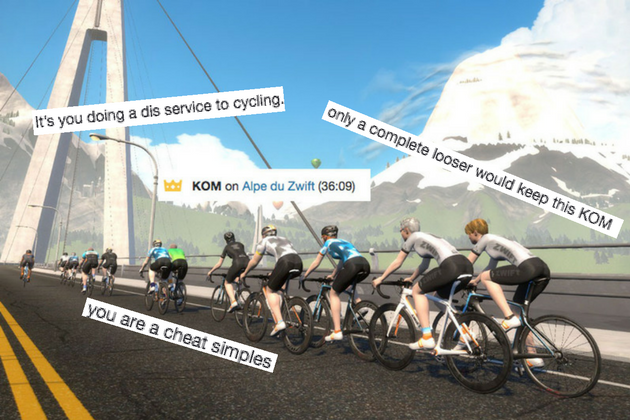 The homepage of the Zwift website might proclaim that it is "Serious Training Made Fun", but things were certainly veering away from "fun" on one Strava thread after a Canadian rider took the KOM on the new Alpe du Zwift.
Climbing onto his rollers in his house in Calgary, Cameron Childs had no idea what he was getting himself in for as he completed a ride of a little over an hour, ascending and descending the 12.14km virtual climb.
Uploading the ride to Strava he was rewarded with the KOM for the climb with a time of 36-09, at which point all hell broke lose on the comments thread...
>>> Strava thread goes viral as riders squabble about 'stealing KOMs' and 'cyber bullying'
The stats show that Childs had completed the climb with an average power of 386 watts, but this power was calculated by Zwift's algorithm based on speed and cadence rather than by a power meter, a calculation which Zwift itself says will only offer a "taste" of the platform and "will not get accurate readings".
Unfortunately for Childs, who said that he was just trying to "have fun" and "be the best rider [he] can be", the ride and the questionable numbers were picked up by a number of other Strava and Zwift users who weren't very happy with Childs' "cheating".
One of the first to weigh in on Childs' ride said that his inaccurate data was "doing a disservice to cycling" while others described it as a "bit of a joke" and urging him to make the ride private, and a few unfortunately descended into insults such as "you are a cheat. Only a complete looser [sic] would keep this KOM."
>>> Niki Terpstra uploads Tour of Flanders ride to Strava, revealing the stats behind his stunning victory
Childs himself seemed baffled by the attention his ride had attracted, writing: "I never thought that my workout the other other morning would generate such controversy! I don't believe I'm a world class athlete, and I'm not trying to cheat anything or anybody.
"What I like to do is go on the rollers in the morning and hold over 50kph rear wheel tire speed for as long as I can. I don't know why everyone is getting bent out of shape. It's a simple rollers workout, in which I like to use Zwift to keep motivated. It's not the Tour de France, it's not anything else other than what it is."