Laura Kenny expecting second child
Olympic star shares news of pregnancy in heartfelt social media post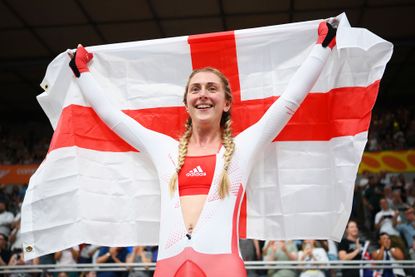 (Image credit: Getty Images)
Laura Kenny is expecting a second child with husband Jason, she announced in a heartfelt post on Instagram on Wednesday afternoon.
After giving birth to their first child, a son called Albie, in 2017, the five-time Olympic gold medallist revealed in April last year that she suffered a miscarriage at nine weeks in November 2021. Then, in January 2022, she had a fallopian tube removed due to an ectopic pregnancy – when a fertilised egg implants itself outside the womb.
Making the announcement, Kenny described the pain of learning of the ectopic pregnancy, saying "my world felt like it had crumbled... I still feel this heartbreak today".
Finding out she was pregnant again, and the thought of announcing it, had left her with a huge amount of anxiety, she said.
"Today I felt like I couldn't hide away anymore," she wrote. "I'm already starting to show..."
"Telling the world means I have to accept we are having another baby and this fills me with all kinds of emotions. I'm scared every single day that I might have to go through the pain of losing another baby."
She accepted, she said, that others who had been in her position might wish she would "go away with my happy ending", but added: "I also know that when I was lying in hospital I was searching for people's happy endings because it was the only thing giving me any comfort at the time."
The announcement was accompanied by a picture of four bikes leaning against a snowy fence – Jason and Laura's, and two children's bikes – one of which is presumably their son Albie's.
She had previously written: "A year ago today I was sat in A&E knowing I was really poorly but not knowing what was wrong with me.
"When I got the news I was having an ectopic pregnancy my world felt like it crumbled. We had already lost our second baby in November and I remember lying there searching for some sort of answers.
"I still feel this heartbreak today and I don't think it will ever go away. But today a year on…"
Kenny has won five gold and one silver across three Olympic Games – London 2012, Rio 2016 and Toyko in 2021. These include gold in the Madison with Katie Archibald and team pursuit silver at Tokyo in 2021. She also won gold in the Commonwealth Games scratch race last year.
Husband Jason Kenny, a who retired last year to move into coaching with British Cycling, is Britain's most decorated Olympian, with seven gold medals and nine in total, all in sprint events.
It is not known how the pregnancy will affect Kenny in the lead up to the 2024 Olympics in Paris, which is 19 months away.
Thank you for reading 20 articles this month* Join now for unlimited access
Enjoy your first month for just £1 / $1 / €1
*Read 5 free articles per month without a subscription
Join now for unlimited access
Try first month for just £1 / $1 / €1