Leipheimer, Zabriskie, Vande Velde and Danielson all admit to doping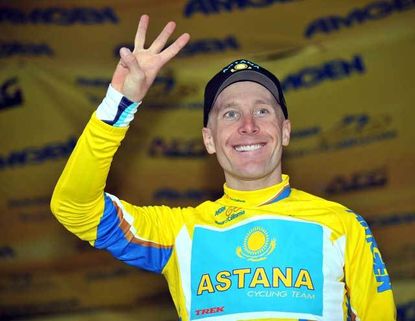 Levi Leipheimer, David Zabriskie, Christian Vande Velde and Tom Danielson have joined George Hincapie and Michael Barry in issuing statements confirming that they used banned performance-enhancing substances during their time as team-mates of Lance Armstrong at the US Postal squad.
The confessions come after the United States Anti-Doping Agency (USADA) published a full report on its investigation into doping at US Postal, in which it named 11 former team-mates of Armstrong as having given evidence.
Leipheimer issued his statement via US news outlet the Wall Street Journal, and said that he would accept any sanctions that USADA imposes on him.
"Until recently - or maybe even until today - when people thought about doping, they thought about a guy, by himself, using banned substances to get ahead," said Leipheimer. "What people didn't realise - what I didn't realise until after I was already committed to this career - was that doping was organised and everywhere in the peloton. Doping wasn't the exception, it was the norm."
"When USADA came to me and described a solution-where my admission could be part of a bigger plan that would make the positive changes we've seen in recent years permanent-I said 'I need to be involved'. I don't want today's 13 year olds to be discouraged by their parents from dreaming about one day riding the Tour de France."
Leipheimer is currently signed to the Omega Pharma-QuickStep team. The squad issued a statement saying that the American was placed on 'non-active status' until they can talk to him directly about his admission.
Garmin-Sharp trio Zabriskie, Danielson and Vande Velde all issued statements in the wake of the publicatio of USADA's evidence in its investigation into doping at US Postal. All three admitting to doping during their time at the squad. Garmin-Sharp manager Jonathan Vaughters also rode with US Postal and had previously admiting to doping during his time on the team.
"After distinguishing myself in an important race, management presented me with drugs and instructed me on how to proceed," wrote Zabriskie on his website. "I was devastated. I was shocked. I had never used drugs and never intended to. I questioned, I resisted, but in the end, I felt cornered and succumbed to the pressure."
Vande Velde issued a similar statement, suggesting that doping was a decision presented to him by the team: "I was presented with a choice that to me, at the time, seemed like the only way to continue to follow my dream at the highest level of the sport. I gave in and crossed the line, a decision that I deeply regret."
"I saw the line and I crossed it, myself. I am deeply sorry for the decisions I made in the past - to my family, my fans, my peers, to the sport that I love and those in and out of it - I'm sorry. I always will be."
In a shorter statement than his two team-mates, Danielson also said he was faced with a decision and 'crossed the line', expressing regret at his decision: "I accept responsibility for my choices and apologise to everyone in my life for them - in and out of the sport," he said.
All riders will face a sanction from USADA for admitting to doping during their career, likely a reduced-term six-month suspension for assisting in the investigation.
Slipstream Sports - owner of the Garmin-Sharp team - also issued a statement on Wednesday supporting the confessions of its three riders."While Christian, David and Tom made their mistakes the better part of a decade ago, they also made the choice to stop," read the Slipstream statement.
"To change what they were doing. To face the past, in their own way, and to start competing clean. In January 2008, they made another important choice - the choice to join our organization - because they believed in our mission and wanted a better future for the sport they love.
"We support and believe in Christian, David and Tom, 100 percent. By coming forward and sharing their history, they have lived up to the promise that we as an organization made to the world when we founded Slipstream. We hope that fans and sponsors throughout the world can understand that despite the mistakes they made in their pasts, they are a critical part of the future.
"We hope you can believe, as we do, that this step, while painful, contributes to building a better future."
Related links
USADA publishes details of Amrstrong doping case
UCI responds to USADA Armstrong doping evidence
Former Armstrong team-mate Barry: Doping had become an epidemic problem
Hincapie admits to doping during career
External link
Link to USADA's full Reasoned Decision document and all supporting evidence
Thank you for reading 20 articles this month* Join now for unlimited access
Enjoy your first month for just £1 / $1 / €1
*Read 5 free articles per month without a subscription
Join now for unlimited access
Try first month for just £1 / $1 / €1