Refresh
Good morning and welcome to live coverage of the 2020 Olympic Games time trials - we've got action from both the men and the women today.
The women will be off first with riders taking to the course between 11:30:00 (Japan) / 03:30:00 (UK), and the men 14:00:00 (Japan) / 06:00:00 (UK).
In the women's event we have a field of 25 riders that will take on a single lap of the 22.1km course (the men will ride two).
We've got four world champions against the clock in the final six riders, including Annemiek van Vleuten (Netherlands), Lisa Brennauer (Germany), Chloe Dygert (USA), and Anna van der Breggen (Netherlands), who will set off last.
Here's the map and profile of the course - as you can see it's quite a hilly one and will be a real test for the riders: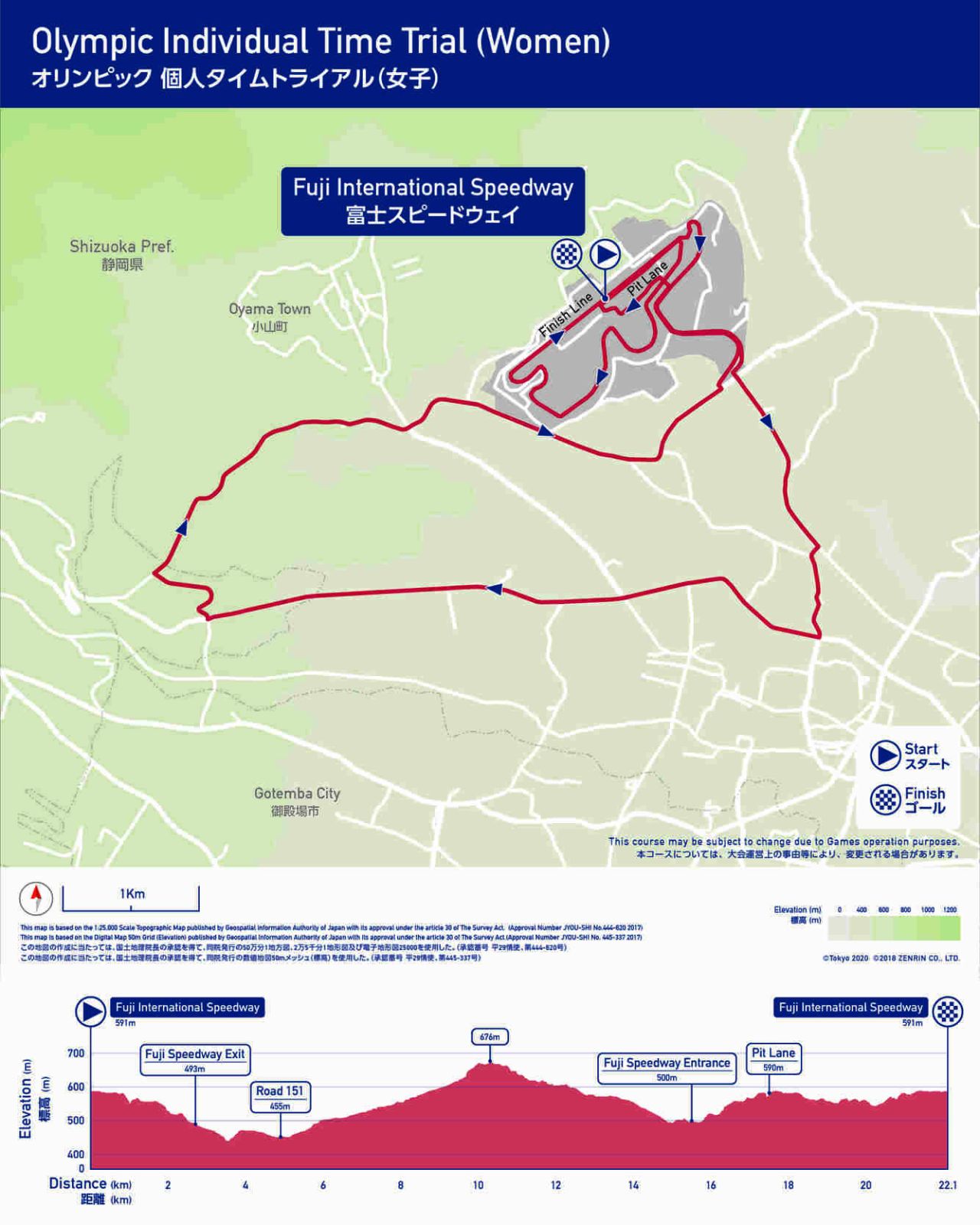 Masomah Ali Zada, from Afghanistan but riding for the Olympic Refugee Team, makes sets off on the course as the first rider of the day
The riders will be taking off from the start in increments of 1-30. We've just had our third rider, Anna Shackley of Great Britain, down the start ramp
In case you missed it, here's the full list of starters and their times today:
Tokyo 2020 Olympics time trial women's start list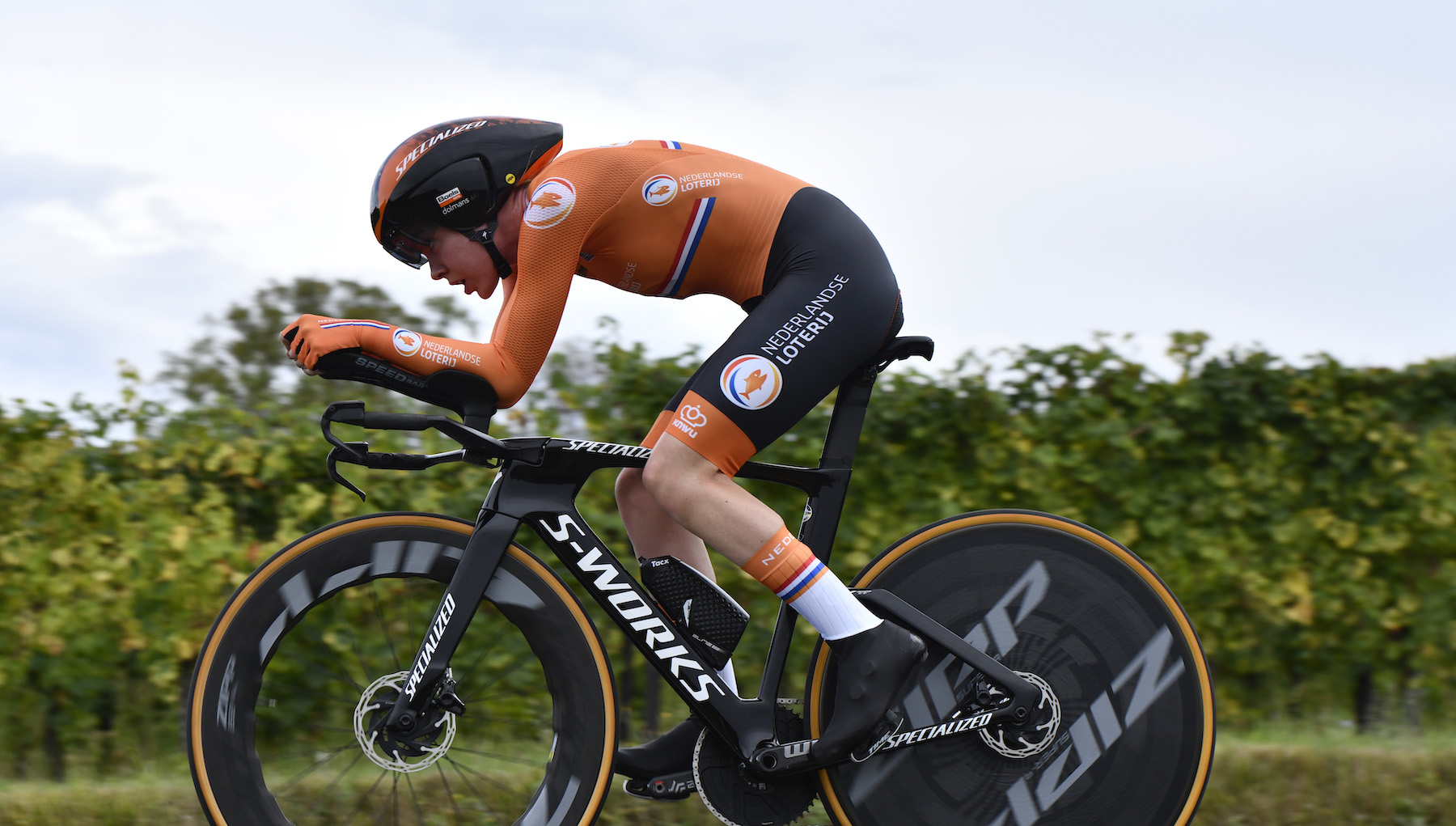 There's some tricky corners for the riders formed by barriers in the early part of the course, but a lot of the riding will come on some quite wide, expansive roads of the the Fuji International Speedway circuit. The road back into the finish also feature some fairly tough short ascents you may have seen during the road races at the weekend.
The multiple Luxembourg champion Christine Majerus is out on the course
We've got intermediate splits at 9.7km and 15km today. So far Anna Shackley is the fastest through the first split with a time of 15:55.28
Karol Ann-Canuel (Can) has pushed Shackley off the top of the intermediate sprint leaderboard, going 23 seconds faster through the uphill split
The first intermediate split comes towards the top of the main climb of the day on what looks to be a particularly steep section. So far we've seen most riders take it on the drops rather than in the time trial position on the out-front skis
We're flying through the start list here though, there's only seven riders now left to take to the course
Amber Neben (USA) takes to the course. The US are of course defending champions, though the three-time winner Kristin Armstrong is now retired having won this event in every Games since 2008
Here goes Annemiek van Vleuten. She'll be hoping to go one better than her silver in the road race on Sunday
Van Vleuten looks like she's had some early gear issues here but is continuing on
Grace Brown (Aus) is off the start ramp.
Meanwhile Canada are still in the lead at the 9.7km time check, though it's now Leah Kirchmann who leads
Chloe Dygert is out on the course, just Van der Breggen to come
We're about to have our first finisher - Julie van der Velde (Belgium) sets a time of 34-23 as the early benchmark
Anna van der Breggen is out on course and that's all of the riders through the start gate
Anna Shackley has set a new time of 34.13, but that's almost immediately beaten by Karol-Ann Canuel by over a minute (33-07)
Longo Borghini doesn't look like she's off to a flyer here as she goes through the 9.7km split. She's ranked fifth through there so far but 19 seconds behind Ashleigh Moolman-Pasio (RSA)
The top of the leaderboard is changing rapidly here. Sarah Gigante (Aus) has just posted a new benchmark of 33-01
Annemiek van Vleuten is fastest through the first intermediate split - 28 seconds faster than the second place rider!
Grace Brown isn't far off Van Vleuten through the 9.7km mark though, just a shade over six seconds behind
We've had nine finishers so far and Gigante's lead still stands by over six seconds
Leah Kirchmann (Can) narrowly misses out on taking the lead, crossing the line 0.4 seconds behind Gigante's time
Lisa Klein (Ger) goes even closer, missing out by 0.37 seconds through the finish
It doesn't look like it's Chloe Dygert's day, she's gone through the first checkpoint 51 seconds down on Van Vleuten
We have a new leader in the hotseat - Juliette Labous of France sets a time of 32-42
Van der Breggen is 18 seconds down on Van Vleuten at the first time check. She can definitely come back from that but Van Vleuten does seem to be on a flyer today
Van Vleuten held her pace through the 15km time check and was 28 seconds ahead of Grace Brown. She's now heading towards the finish on the Speedway circuit
Ashleigh Moolman-Pasio sets a new best time of 32-37
Elisa Longo Borghini come in 23 seconds down on the lead. That'll put her in bronze for now but there won't be a second medal for the Italian at these Games
Amber Neben (USA) smashes the best time by 1-12, but Van Vleuten is only just behind and takes another 1-12 out of Neben! Incredible ride by the Dutchwoman
Grace Brown has forced her way into the silver medal position, 1-08 down on Van Vleuten
Van der Breggen was 42 seconds down at the second time check, so it looks like she won't be able to take gold from her compatriot
Marlen Reusser (Sui) is now into second place ahead of Grace Brown. That's a strong ride and it doesn't look like Chlow Dygert will be beating it
Dygert is 2-16 down, with van der Breggen coming in just behind her, finishing at 1-03 down to take bronze.
Annemiek van Vleuten (Ned) win the the Tokyo 2020 Olympic Games time trial gold medal
Here's the top-10 in the women's time trial:
1. Annemiek van Vleuten (Ned), in 30-13.49
2. Marlen Reusser (Sui), at 56-47
3. Anna van der Breggen (Ned), at 1-01
4. Grace Brown (Aus), at 1-08
5. Amber Neben (USA), at 1-12
6. Lisa Brennauer (Ger), at 1-57
7. Chloe Dygert (USA), at 2-16
8. Ashleigh Moolman-Pasio (RSA), at 2-24
9. Juliette Labous (Fra), at 2-28
10. Elisa Longo Borghini (Ita), at 2-47
Here's the full report from the women's race:
Annemiek van Vleuten makes no mistake as she powers to Tokyo 2020 Olympic time trial gold medal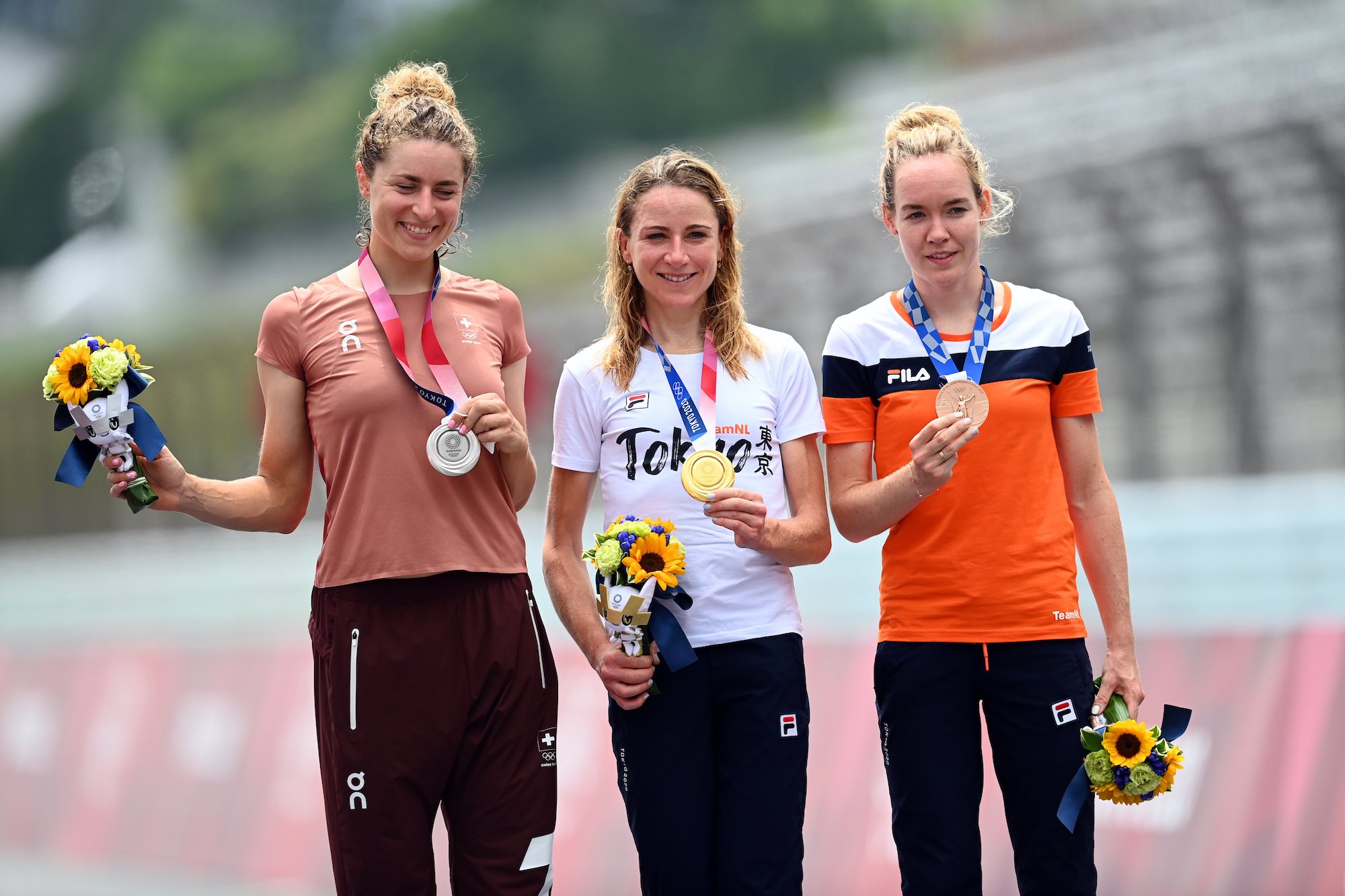 Stay tuned as we've got the men's time trial coming up shortly
The first rider in the men's will be off at 14:00:00 (Japan) / 06:00:00 (UK)
Take a look at the full start order here:
Tokyo 2020 Olympics time trial men's start list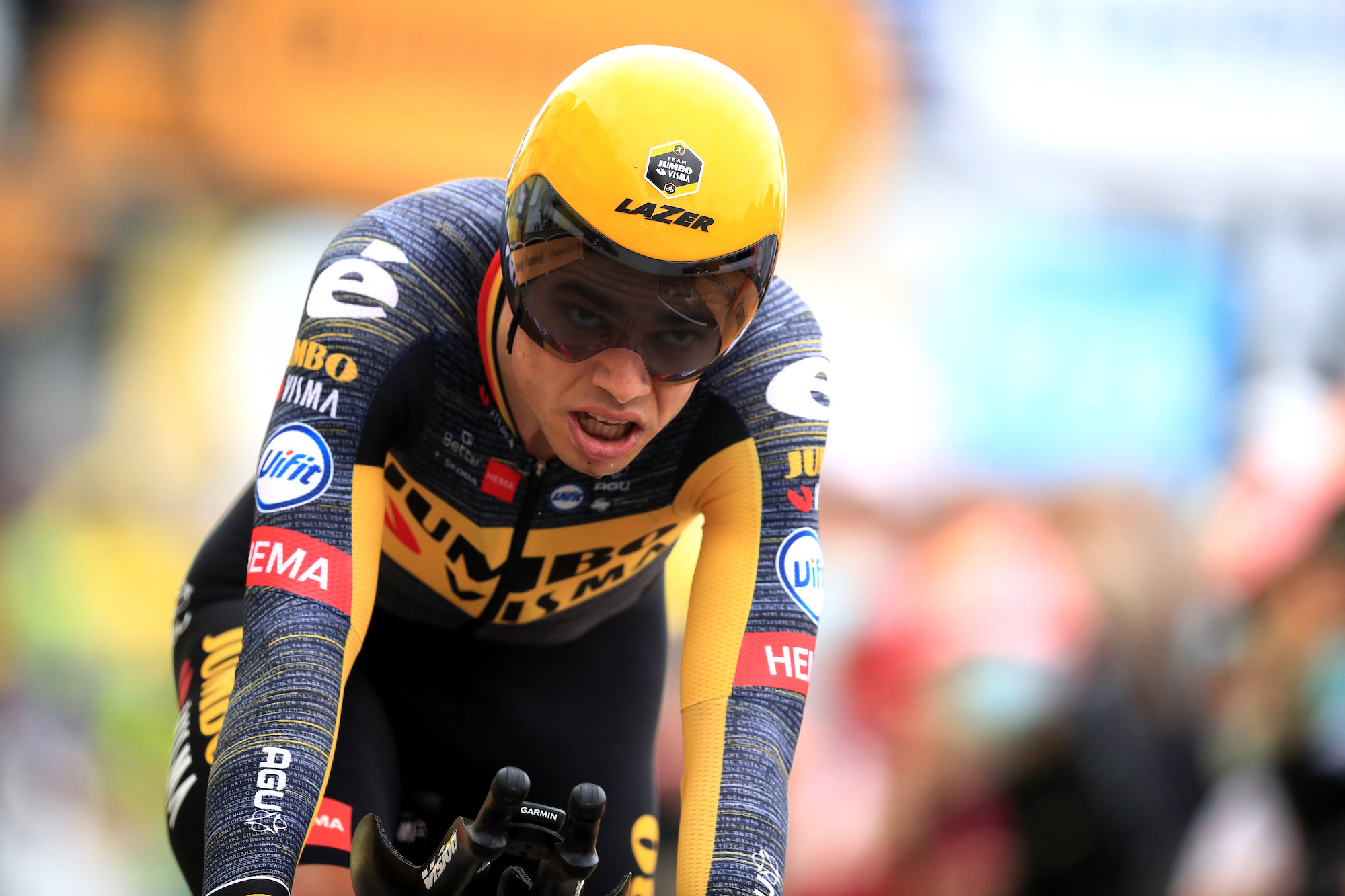 Good morning folks!
Alex Ballinger here, Cycling Weekly digital news editor, taking over live blogging duties for the men's time trial.
We have our first rider off in about 10 minutes, and I'll be bringing you all the updates throughout the morning.
Here's a look at the men's course, as riders take on a 44.2km run over two laps of the Fuji Speedway course.
It looks like a punchy little route that undulates all the way, with 423m of climbing per lap.
But as with any TT, the profile doesn't always tell the whole truth.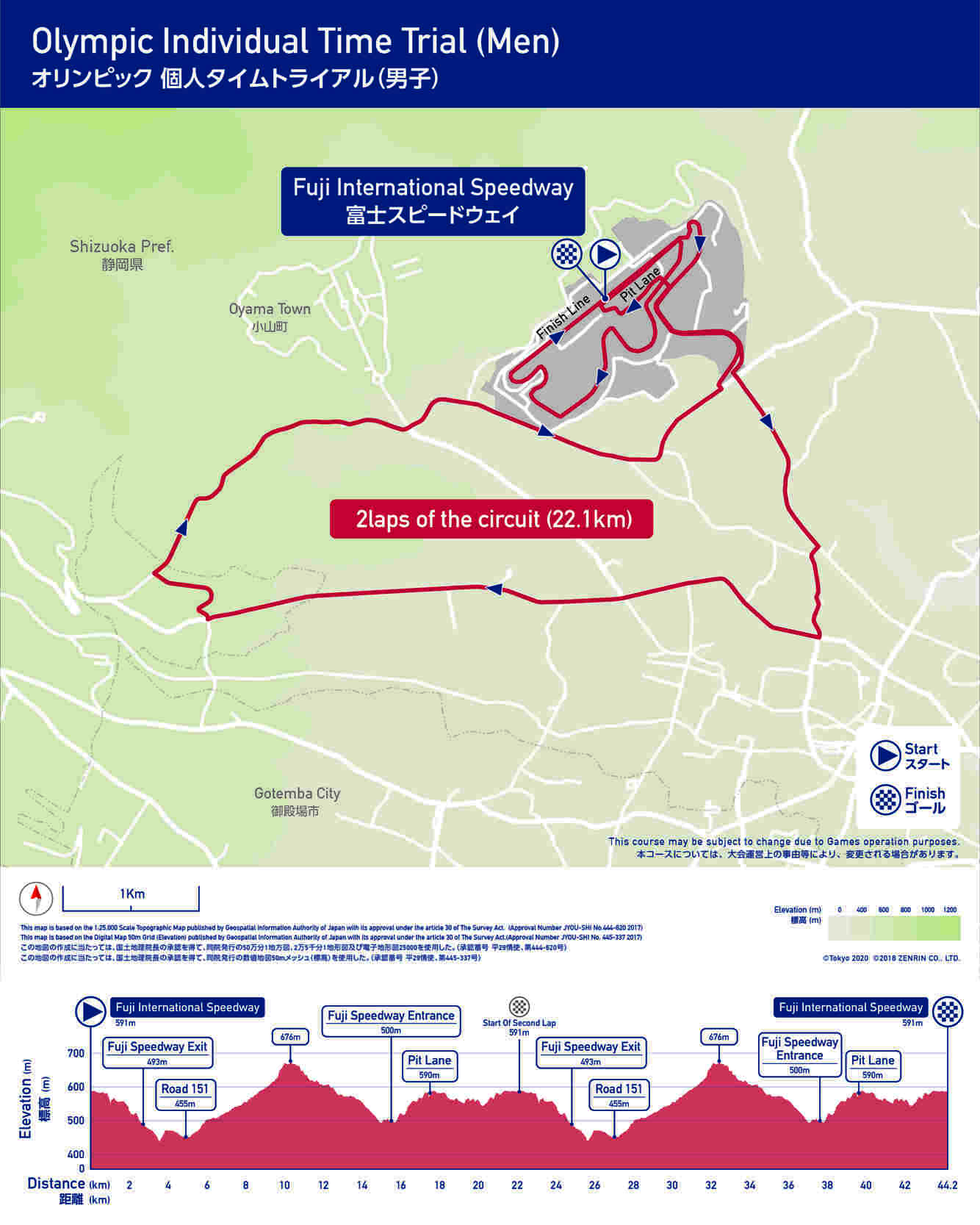 We're just a few minutes away from the start of the men's Olympic time trial.
The first rider will be Ahmad Wais from the Refugee Olympic team, who sets off at 6am BST.
Last off the line will be reigning world champion and pre-race favourite Filippo Ganna, it who hits the course at 8.10am BST.
And we're away! Ahmad Wais is off the start ramp.
Syrian-born, Wais is currently riding under the refugee banner at the Olympics, having also competed in the World Championships every year since 2017.
His best result is 50th place in the 2019 Worlds in Yorkshire.
The next two riders are out on the course now, Saeid Safarzadeh from Iran and Azzedine Lagab from Algeria.
The course opens with a fast downhill section with some sweeping turns.
Wide roads around the motor racing circuit mean it's not the most technical start however.
Amanual Ghebreigzabhier from Eritrea and Nikias Arndt from Germany both out on the course now.
Ghebreigzabhier races for Trek-Segafredo on the road and does have a TT win to his name having won the Eritrean National Time Trial Championships back in 2019.
Ireland's Nico Roche hitting the course.
The 37-year-old is a former national TT champion, but hasn't never really been competitive against the clock, so don't expect him to compete for the podium today.
The rider selection for the Tokyo 2020 Olympics TT has proved pretty controversial.
In short, only riders selected for the Olympic road race are then allowed to compete in the TT. For many nations, this means selectors will have to make a choice between taking another road race support rider to the games, or opting for a TT specialist.
This is exactly what happened to Britain's Alex Dowsett, who had been dreaming of competing in the time trial this year. But instead Dowsett was left at home, as selectors opted to take four climbers to Tokyo to focus on the hilly road race on the slopes of Mount Fuji. Instead, Geraint Thomas and Tao Geoghegan Hart will compete in the TT for Britain.
We're now seeing the first of the tough ramps early in the course, as the early riders are hitting the first hill of the course.
It's a steep ascent to get over 9.7km into the course, followed by another ascent.
Riders take on two laps of the 22km circuit.
The first riders are hitting the intermediate timing check, 9.7km into the course.
Stefan De Bod (South Africa) is fastest, with a time of 13-34, average speed 42km/h followed by Nikias Arndt (Germany) who was seven seconds slower.
Ready to go again 👊The men's Olympic ITT has started, and we have @GeraintThomas86 and @taogeoghegan taking to the start soon.Come on boys! 🇬🇧#TeamGB#Tokyo2020 https://t.co/ZLCXEl3JmpJuly 28, 2021
See more
Lawson Craddock from the USA is out on the course.
The reigning national TT champion is fifth fastest after the first intermediate time check, 9.7km into this 44km course.
Huge Houle from Canada is currently the fastest after the first time check, with a time of 13-20 after 9.7km
Ooh that looked like a cheeky bit of drafting behind a team car there from Ahmad Wais across the finish line after the first lap.
There wasn't really anywhere for him to go as it was a rivals car that appeared to have pulled in front of him. We'll see if the commissaires decide to take any action on that.
The first few riders are crossing the finish line for the first time after their opening lap.
Stefan De Bod from South Africa was fastest so far on lap one, with a time of 28-42. That's an average speed of 46km/h.
But Canada's Hugo Houle has just crossed the line and remains the fastest man out on course. He set a new fastest lap of 28-26.
Organisers have opted to send riders off in waves of 13.
Britain's Tao Geoghegan Hart is the next rider to start just before 7am BST.
We have a good wave of riders on the wave as well, with Geoghegan Hart, Australia's Richie Porte and Remco Evenepoel (Belgium). Evenepoel particularly should give us a really strong early benchmark.
The main favourites for today's race are world champion Filippo Ganna (Italy), Wout van Aert (Belgium) and former world champion Rohan Dennis (Australia).
Ganna particularly has dominated TTs over the last two seasons, winning the Worlds in Imola last year, while Van Aert also has outstanding form at the moment, winning the stage 20 time trial in the Tour de France and taking silver in the men's Olympic road race last weekend.
Rohan Dennis on the other hand is more of an unknown heading into this race. Dennis hasn't raced since the Tour de Suisse in June as all of his attention this year has been focussed on the Olympics, as he has opted not to ride any Grand Tours this year. The 31-year-old was back-to-back World TT champion in 2018 and 2019, so knows how to win at the highest level.
But for the last few years he's been slightly behind Ganna against the clock, finishing fifth in last year's Worlds after he went out hard to try and chase down Ganna but suffering for his effort.
There are a few outsiders worth mentioning here as well.
Remco Evenepoel, Rémi Cavagna, Geraint Thomas, Tom Dumoulin, Primož Roglič and Stefan Küng are all in the second tier of riders who could be competing for a medal in the TT.
Evenepoel's form is slightly unknown after he crashed out of the Giro d'Italia earlier this year and was fairly anonymous in the men's road race last weekend.
Geraint Thomas and Primož Roglič both raced the Tour de France and suffered crashes there. Roglič has had more time to recover after abandoning the Tour early while Thomas crashed yet again in the road race on Saturday.
Tom Dumoulin has only recently returned to competition after taking a break from his cycling career early this year, but has already won the Dutch national TT.
Stefan Küng is an absolutely outstanding time triallist, but his form can let him down on the biggest occasions and a tough undulating course like this one in Tokyo may be to his detriment.
Right, men's TT, who's your money on? #Tokyo2020 #CyclingRoadJuly 28, 2021
See more
Tao Geoghegan Hart and Richie Porte both out on the course now!
Remco Evenepoel hits the start ramp. He's looking seriously motivated.
This should be the first major benchmark rider, albeit that Evenpoel's form is slightly unknown still. But he has been focussed on this event since May so he could deliver something huge here.
Evenepoel is pushing hard! Sketchy little moment on a corner then as he swapped from the TT bars to the base bar. He clearly wants this one.
Nikias Arndt is the first ride to finish the full course.
The German put down a time of 58-49 with an average speed of 45.09km/h.
But Stefan De Bod has already crushed his time.
De Bod now leads with a time of 57-57, average speed of 45km/h.
Hugo Houle takes the lead!
The Canadian finishes with the tiniest margin over Stefan De Bod.
Here's the provisional podium:
1. Hugo Houle (Can), 57-56
2. Stefan De Bod (RSA), 57-57
3. Nikias Arndt (Ger), 58-49
Tao Geoghegan Hart is a long way back at the first timing check, 9.7km into the course.
The Brit is 39 seconds slower than Hugo Houle, who still has the fastest time on the first part of the course.
Richie Porte also considerably slower than Houle at the first time point, 41 seconds down on the Canadian.
Remco Evenepoel now hits the timing check, 9.7km into his ride, and he is six seconds slower than Houle's time.
Alberto Bettiol (Italy) is the new fastest rider at the first time check, with a time of 13-15, five seconds faster than Houle.
George Bennett (NZl) has finished his race and is currently sitting fifth, coming in just over an hour after his start.
Bettiol has slowed at the second timing check and his now fourth fastest on the course.
But Remco Evenepoel is keeping his pace at the second check. He's just five seconds slower than Houle with a time of 18-45.
Evenepoel is looking fantastic on the bike, with a solid core and is keeping his head down. This should be a rapid time by the Belgian at the finish.
Tao Geoghegan Hart has just finished his first lap with the ninth fastest time. It's not looking like a great result for the Brit.
Wow Evenepoel is on a storming ride. The Belgian has caught Australia's Richie Porte just after the first lap.
Evenepoel is still slightly behind Hugo Houle's pace at this point on the course but has closed the gap a little bit more.
OUCH looks like nasty cramp for Ion Izagirre of Spain, just 18 minutes into his ride.
If he's cramping up this early it's going to be a very long day.
He's come almost to a halt on the climb. I think he's going to abandon this one.
Evenepoel has now gone up on Houle at last after 27km! He's 13 seconds ahead now according to the on screen graphics.
This is likely to be an outstanding time for the 21-year-old.
Slightly terrifying shots of Remco Evenepoel on the descent there. He's was in the most extreme aero tuck and the bike was wobbling all over the place.
But he's navigated the tight roundabout at the bottom and he's absolutely crushing the course, currently 20 seconds up on the provisional leader. He's set to go into the hot seat.
The first riders from the final wave are hitting the course, as Tobias Foss (Norway) rolls down the start ramp.
Brandon McNulty from the USA hitting the course now.
Amazing performance from him in the road race last weekend, as he looked like he might get silver medal before finishing sixth. He could score another top-10 here today.
We have a new leader! Remco Evenepoel has absolutely smashed his ride, beating Hugo Houle by more than 30 seconds.
Evenepoel is now in the hotseat as the final wave is well underway.
Alberto Bettiol goes second quickest, 17s slower than Evenepoel and in provisional silver medal position. Great ride from the Italian.
Wow Rigoberto Urán! He has been flying in his second lap and is faster than Evenepoel at the final timing check. Can he hold on to take the provisional lead?!
Some serious hitters out on the course now, as Tom Dumoulin and Primož Roglič have both hit the course.
Geraint Thomas is next to start.
Urán is slowing! He has just four seconds over Evenepoel now into the final few kilometres and looks like he's fading.
Geraint Thomas hits the course. He's had countless crashes in the last few weeks, so it's hard to say how he's actually going. But Thomas can often pull out a huge TT performance.
Urán digging deep in the final straight! He's put everything into this ride, 20 seconds with 300m to race. He's done it!!
Rigoberto Urán takes the provisional lead.
That was an absolutely staggering ride from the Colombian, did not see that coming.
It goes to show what a difference these climbs are making out on the course.
Here's the current top-three after Urán's amazing ride.
1. Rigoberto Urán (Col), in 47-47
2. Remco Evenepoel (Bel), at 7s
3. Alberto Bettiol (Ita), at 24s
Have to give a shout out to the course designer of this TT. The undulations really make this an unpredictable day and its turning into a thrilling race against the clock.
It's still all to play for as the big favourite Filippo Ganna hits the course, the final rider to start.
Tom Dumoulin fastest at the first timing check, just 9.7km into this 44km race.
How deep is he going early on?!
This could be a huge performance, but it's still very early in this run.
Roglič is even faster than Dumoulin at the first timing check!
These are some serious times being set after just 9.7km.
Roglič with a time of 12-57, Dumoulin 13-00.
Rohan Dennis slightly slower than Roglič at the first time check, about seven seconds down on the Slovenian.
This is all going to come down to pacing.
This last wave are absolutely smashing the previous fastest times.
Primož Roglič is currently fastest after one lap, Tom Dumoulin second fastest just eight seconds behind.
We still have Dennis and Ganna yet to complete their first laps. This is phenomenal stuff.
Rohan Dennis is third fastest after one lap, about nine seconds slower than Roglič's benchmark. But it's still very very close with 22km to race for these guys.
I would not like to guess the result.
Küng fourth fastest after the first lap, 16 second slower than Roglič. This is remarkable close still.
Wout van Aaert and Filippo Ganna the only riders left to finish their first lap.
Van Aert fourth fastest after first lap, 10 seconds slower than Roglič.
Ganna still to come.
Filippo Ganna is NOT the fastest after the first lap.
The Italian is third quickest after 22km, nine seconds behind Roglič.
There are five riders now within 10 seconds of each other, this is so so close.
It would take a braver person than me to try and guess the result of this after one lap.
Based on the dribble scale, Primož Roglič looks like he's gone deepest so far though.
Worth pointing out three of the five fastest riders are all from the Jumbo-Visma team during the regular season.
That team have put a huge amount of effort into TT research and performance, even creating models of their riders for wind-tunnel testing when the riders aren't available.
Rohan Dennis has caught Geraint Thomas out on the road! We've not seen much of Thomas at all from the TV images, but he was 11th fastest after the first lap, almost a minute slower than Roglič.
Bit of a battle between Roglič and Kasper Asgreen.
Roglič had caught Asgreen on the climbs, but heavier rider Asgreen had more speed on the downhill and has overtaken again and pulled out a bit of a gap.
Yet again this is a brilliant course, it really balances the climbs with rapid downhill sections and a few technical moments to really test the bike skill.
Asgreen is actually starting to pull away from Roglič again, is the Slovenian starting to fade?
Roglič has caught Asgreen and gone past yet again. But Asgreen overtakes yet again!
There's three riders together on the road there, with Portugal's Joâo Almeida caught in the action. They're all spread across the road, this is an outstanding bit of drama.
Tom Dumoulin finishes his ride as the provisional fastest!
He's 1-13 faster than Urán and goes into the top spot.
Dumoulin is our provisional leader with a time of 56-05, but we still have the rest of the favourites to come.
Looks like Wout van Aert has struggled in the second lap, he's around 30 seconds slower than Dumoulin out on the road but he still has a few km left of his ride.
Brandon McNulty well outside the top-10 as he finishes his ride, three minutes slower than the current leader.
Primož Roglič is absolutely ripping this course up. He's well up on Dumoulin's time as he hits the final straight.
Phenomenal ride by the Slovenian, could this be gold?!
Roglič goes into the lead , 1-01 ahead of Tom Dumoulin.
Unreal performance.
Still 5km left for Van Aert but he's a long way outside the time of Roglič. It may not be a second medal for the Belgian in this year's games.
Rohan Dennis crosses the line to finish is run, he's a minute slower than Roglič!
That's good enough for provisional bronze for the Australian, but what a ride by Roglič this has been.
Filippo Ganna is probably the only rider that could do this now.
It's been a brilliant ride by Stefan Küng (Switzerland), but he finishes just outside the medals by a fraction.
He's now provisional fourth place.
The current podium is:
1. Roglič
2. Dumoulin
3. Dennis
Ah Wout van Aert crosses the line well outside the medals.
He's fifth place currently, 1-40 behind Roglič.
Filippo Ganna crosses the line and it's finished, Primož Roglič wins Olympic gold in the men's time trial!
Ganna is shockingly outside the medals.
Here is the final result:
1. Primož Roglič (Slo), in 55-04
2. Tom Dumoulin (Ned), at 1-01
3. Rohan Dennis (Aus), at 1-04
Here is the official top 10:
1. Primož Roglič (Slo), in 55-04
2. Tom Dumoulin (Ned), at 1-01
3. Rohan Dennis (Aus), at 1-04
4. Stefan Küng (Sui), at same time
5. Filippo Ganna (Ita), at 1-05
6. Wout van Aert (Bel), at 1-40
7. Kasper Asgreen (Den), at 1-48
8. Rigoberto Urán (Col), at 2-14
9. Remco Evenepoel (Bel), at 2-17
10. Patrick Bevin (NZl), at 2-20
Now this is staggering.
Thanks to Xavier from Aerocoach for this remarkable insight.
Someone will be wishing they kept their head just a little bit lower on the course...
The 4.3sec difference between 2nd place and 5th place over the 44.2km men's road cycling time trial at #Tokyo2020 is the equivalent of 1.2 watts in power output.#cyclingroad#olympicsJuly 28, 2021
See more
Medals ceremony is underway and Roglič does his classic ski-jumpers celebration. It's been a while since we've seen that, but Roglič looks overwhelmed by this victory.
It's also a phenomenal result for Tom Dumoulin, who took an indefinite break from cycling earlier this year and was unsure if he wanted to continue to be a professional.
But to come back and take silver in the Olympics just a few months later really is an amazing achievement.
Who know what's next for Dumoulin, will he return to Grand Tour racing?
Reaction from both time trials has been pouring in.
Find out what Annemiek van Vleuten had to say here:
'The 22 kilometres passed by like one second,' says Van Vleuten as she upgrades silver for gold in Tokyo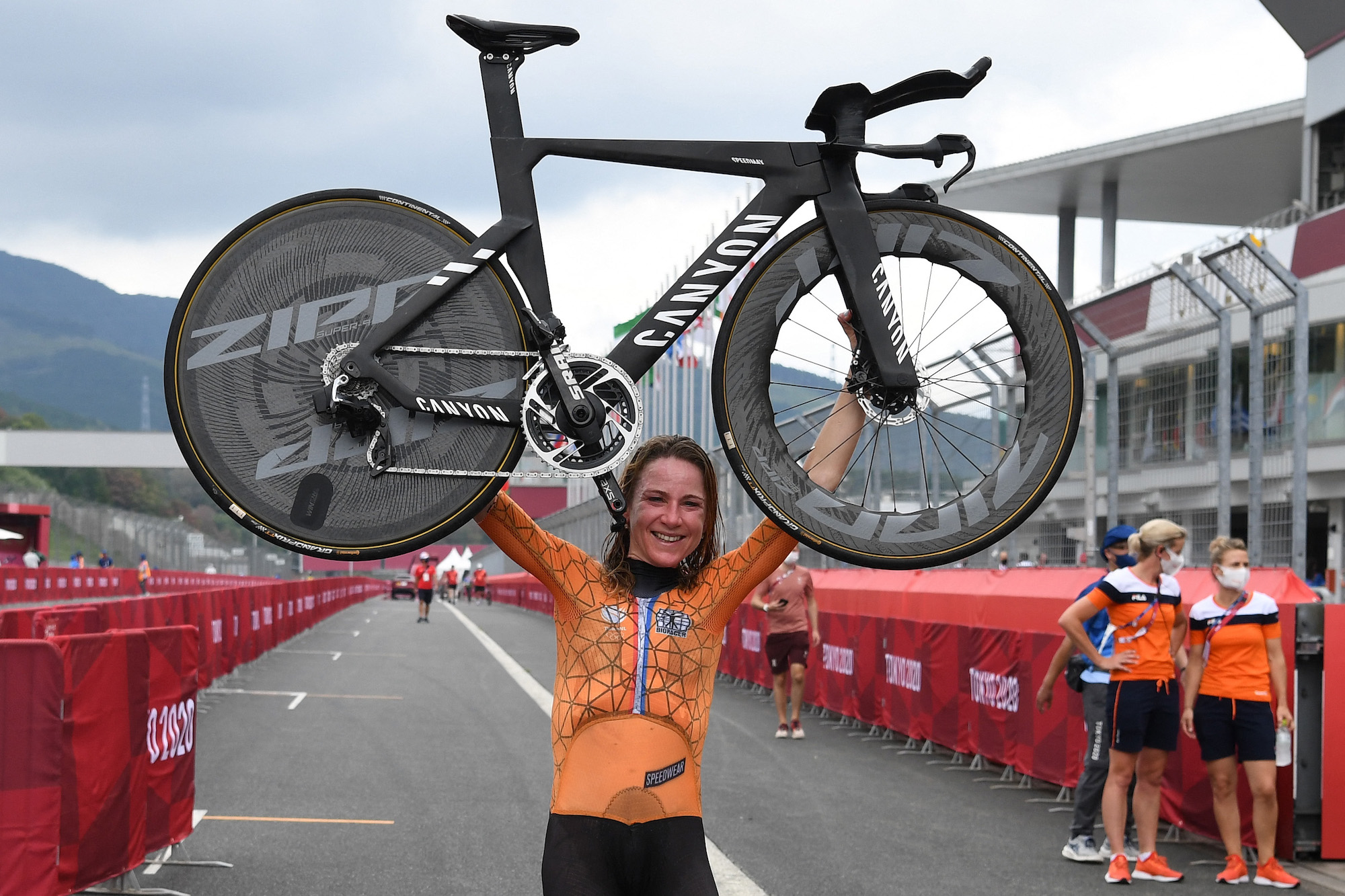 Here is Tom Dumoulin's reaction to his silver medal in the men's TT:
'It was a difficult road to get here': Tom Dumoulin marks return to cycling with Olympics silver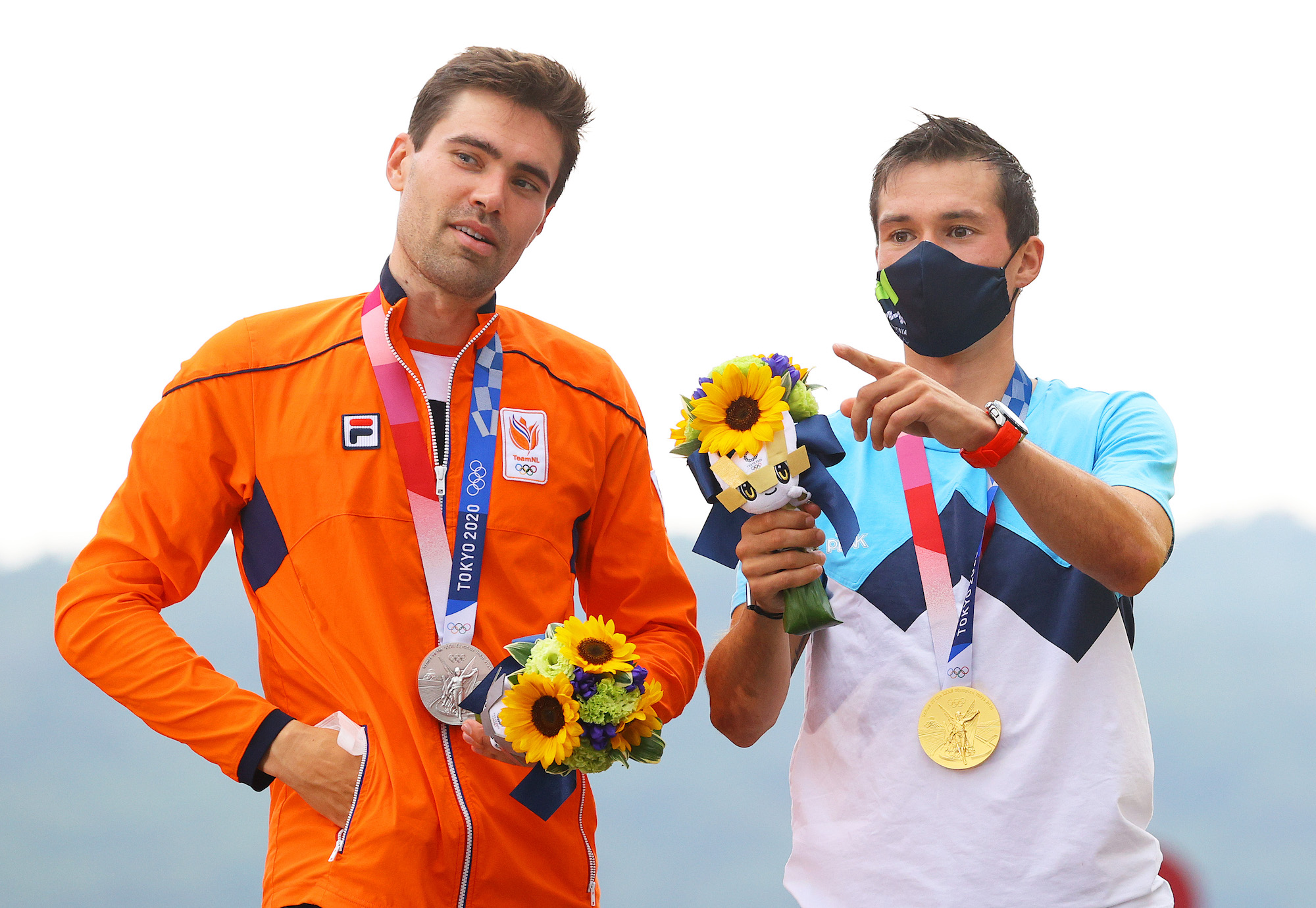 Read the full reaction from Primož Roglič after his gold medal ride:
Tokyo 2020: Primož Roglič 'had nothing to lose' on gold medal ride in Olympic time trial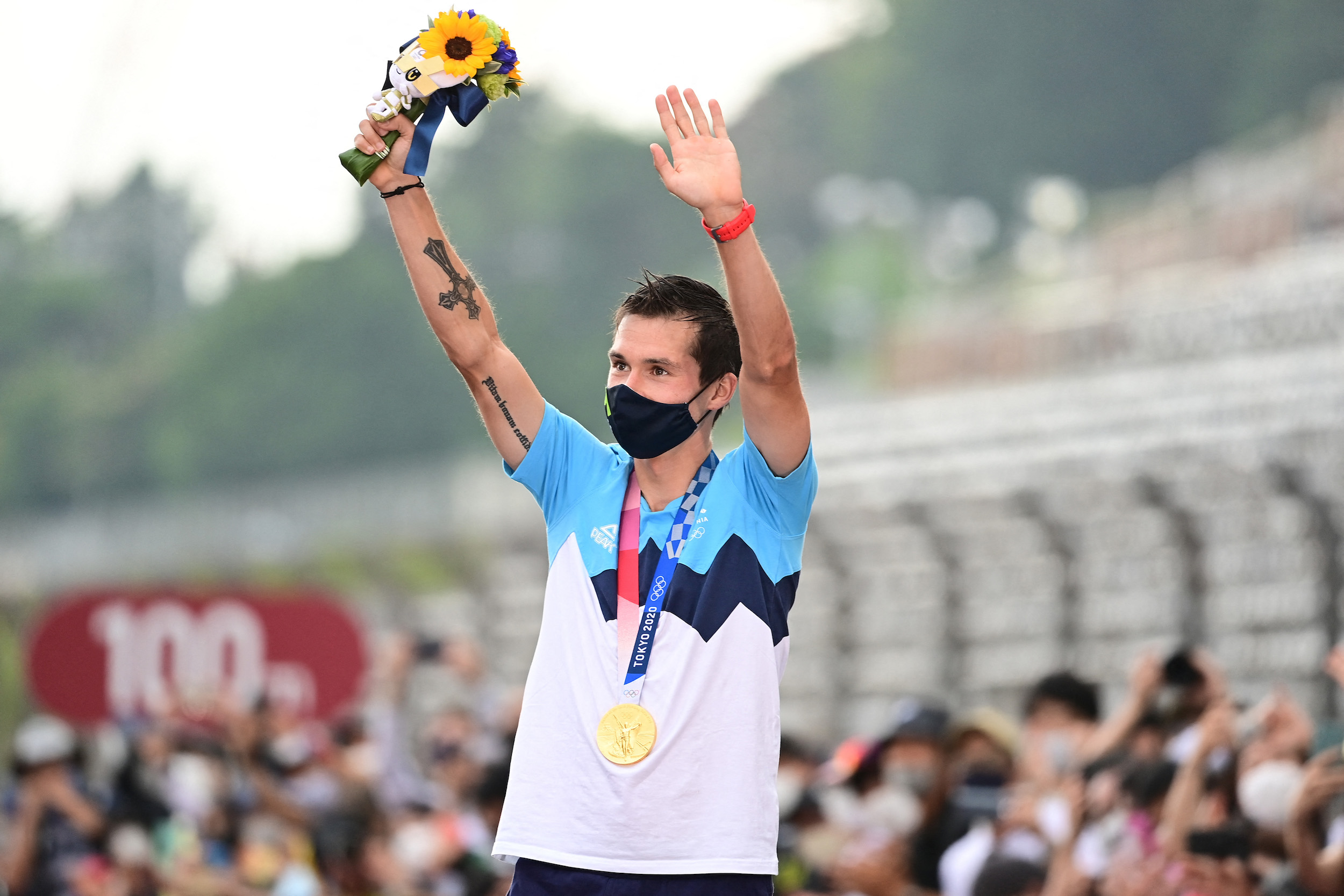 It's been a rough few weeks for Geraint Thomas.
Check out his reaction after the TT:
Tokyo 2020: Primož Roglič 'had nothing to lose' on gold medal ride in Olympic time trial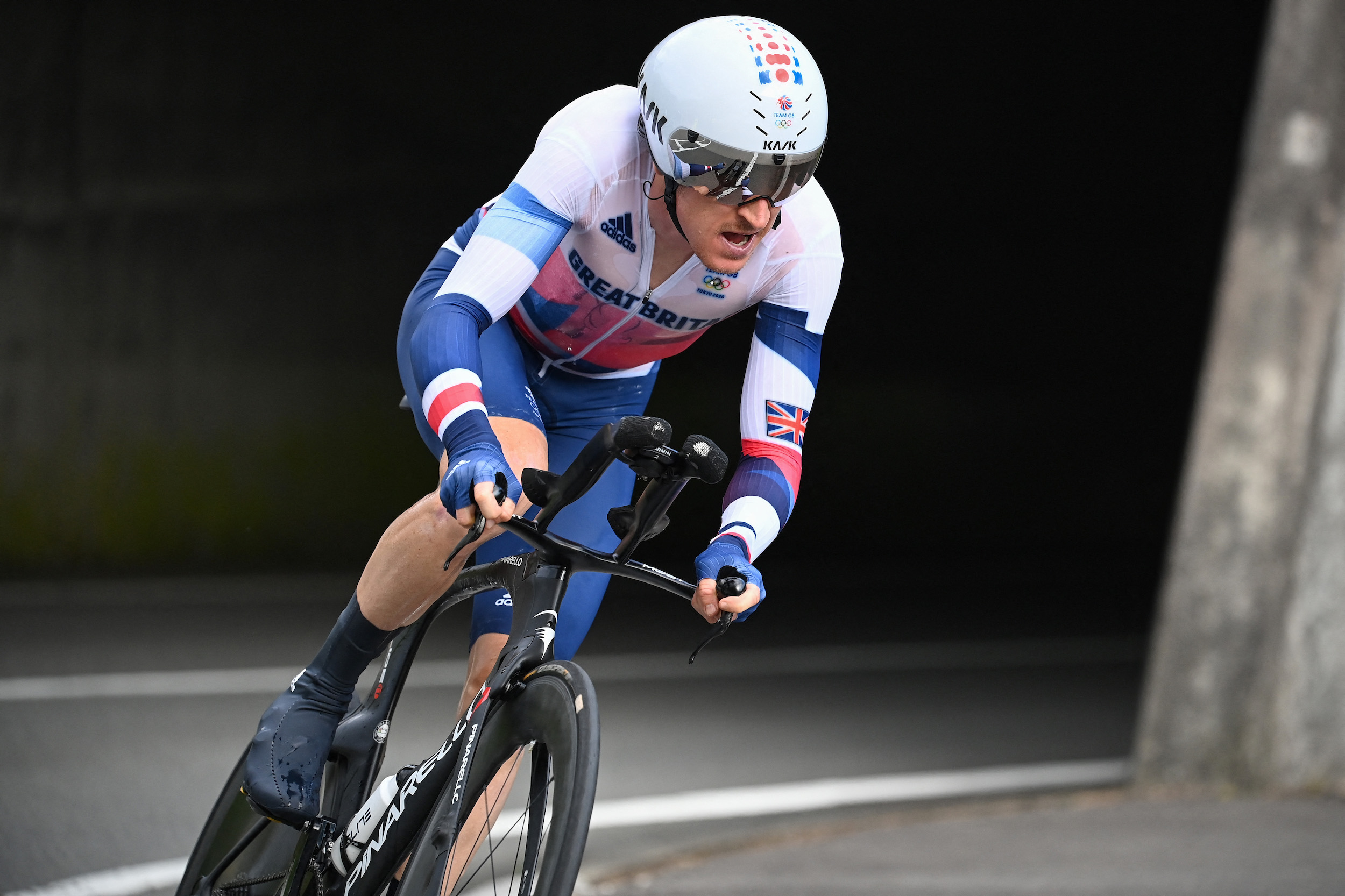 Here are all the moments you don't want to miss from some thrilling TTs:
Five talking points from the Tokyo 2020 Olympic time trials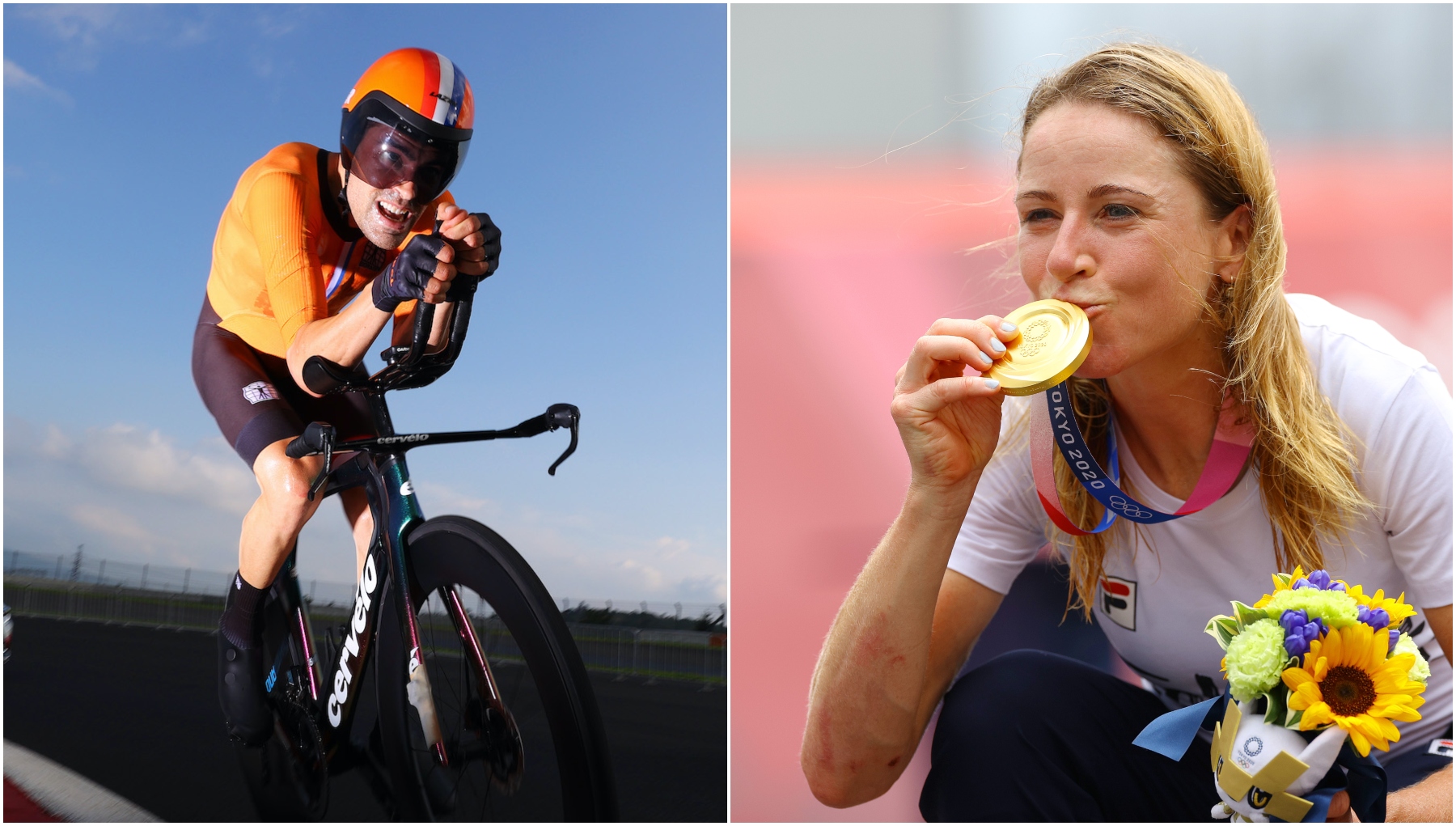 Away from the racing, the German coach has apologised after making racist remarks during the time trial.
Full story: German coach apologises for racist remarks made during time trial at Tokyo Olympics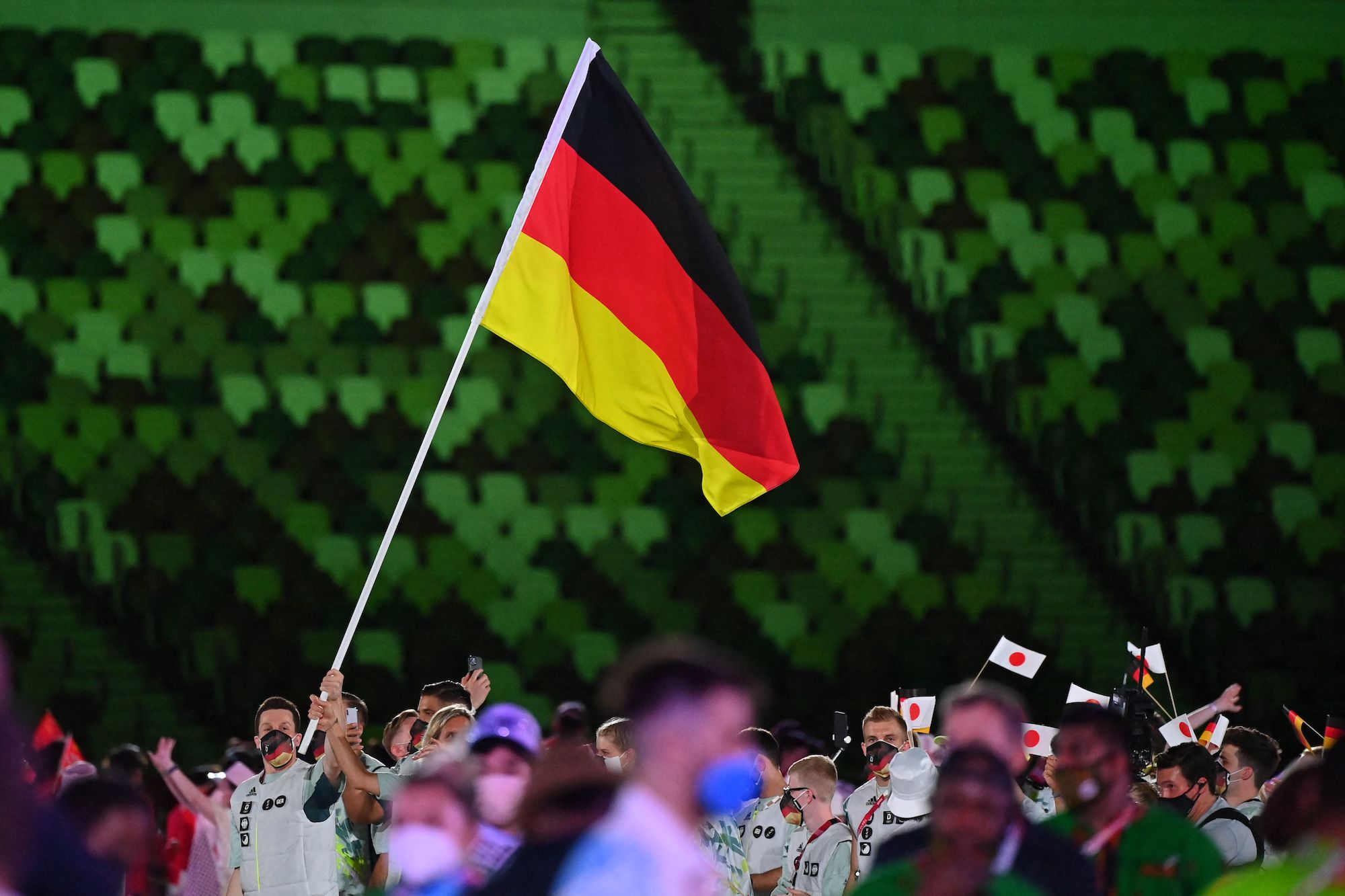 Thank you for reading 20 articles this month* Join now for unlimited access
Enjoy your first month for just £1 / $1 / €1
*Read 5 free articles per month without a subscription