How do the Tour de France 2022 time trials work?
The race against the clock is a highlight of the games, but what are the rules?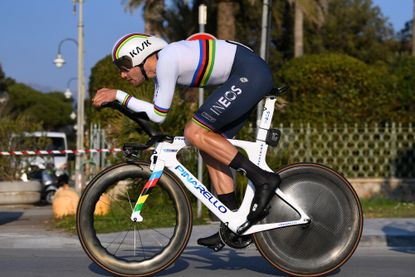 (Image credit: Getty)
The Tour de France 2022 gets underway on Friday 1 July with a 13km time trial around the Danish city of Copenhagen, with the complete field of riders racing against the clock to begin their Tour campaigns.
Another time trial presents itself on the penultimate stage of the Tour this year as well, which will ultimately crown the yellow jersey winner around the 40km route from Lacapelle Marival to Rocamadour.
Time trials can often prove decisive in determining the winner of a stage race, and at the Tour de France this is no different. The stage 20 TT in the 2020 edition saw Tadej Pogačar overturn a 57-second deficit to Primož Roglič, earning him the first Tour de France overall victory of his career.
Despite this, time trials can also prove divisive among cycling fans, with many spectators and pundits considering the solo discipline boring when compared with the tactical thrills of mountain racing and sprint trains, while the cycling purists often see the TT as the ultimate display of a rider's ability on the bike.
Riders set off one minute after one another on TT days, with a random selection determining the opening stage. However, on stage 20 riders will begin their time trial depending on their GC position. The rider in first place overall will set off last, with second place starting a minute before him, and so on.
Tour de France 2022 time trials
The time trials at the 2022 Tour de France come on the opening stage in Denmark, and the penultimate day in southwestern France.
The start of the 109th Tour takes place in Denmark's capital of Copenhagen with a 13km individual time trial on a pan-flat route that could see the record hit for the fastest average stage speed - Rohan Dennis currently holds that honour, reaching 55.45kmh on stage one of the 2015 Tour.
Riders will then have to complete 18 stages over the next couple of weeks before facing the second TT, and this one is deemed a throwback to previous Tours due to 40km distance. It is a real test of the legs for the big GC contenders after three weeks of racing, and huge amounts of time can be gained and lost here.
While Filippo Ganna (Ineos Grenadiers) is the favourite to take the opening stage time trial, due to his imperious form over shorter distances, the 20th stage TT could favour a different type of rider.
Due to the distance involved, riders who can maintain a high watts per kilogram (w/kg) could be favoured because the stage isn't reliant on pure power in the same way.
What is a time trial?
Time trials actually exist in a number of different sports, from cycling to cross country skiing and motorsports. A TT is basically a timed race from one point to another, but in cycling there are two main types - the individual time trial and the team time trial.
The individual time trial sees each rider compete alone against the clock without the benefit of slipstreaming, while a TTT sees a team of riders (from two to ten) race as a unit to complete the course in the fastest time.
Time trials can either be raced as a standalone event, such as the World Championships TT or the once-prestigious Chrono des Nations event. They are also included in multi-day stage races on occasion, too, with this year's Tour de France featuring two individual events.
What is the difference between a time trial bike and a road bike?
Time trial bikes are noticeably different to regular road bikes riders use. Designed with aerodynamics as the priority, TT bikes cut through the air as efficiently as possible.
Because of this, they are often heavier, trickier to handle and less comfortable than a traditional road bike, with a completely different riding position used in order to gain as many valuable seconds as possible. This is achieved through special out-front handlebars that put riders in a narrow tucked position to reduce their aerodynamic drag, while they also have a 'base bar,' which riders use to brake and corner more comfortably.
Technical corners are more difficult on a time trial bike, though, meaning riders with the best ability to handle their machines are the most likely to prosper in time trials.
Wheels are also a key choice for a time trialist, as most riders while use a carbon disc wheel on the rear of their bike and a very deep section carbon rim on the front. These will be the best road bike wheels for the job of being aerodynamic than the wheels used on a normal road race, but are also less comfortable, heavier and can make the bike unstable in strong winds.
What kit changes do riders make for the time trial?
There are other changes teams make to their kit specifically for the time trial. The most visually obvious one for spectators will be riders selecting the best road bike helmet in their helmet sponsors range for going fast.
Breathability and weight will take a back seat for a preference of watt saving aerodynamics, assisting the rider in punching through the air as swiftly and as cleanly as possible.
Less obvious swap outs will be the choice of clothing, where aero skinsuits, which do away with pockets will make an appearance. Aero skinsuits reduce a rider's resistance in the air, helping them to go quicker without having to expend more energy.
Clothing does come under UCI jurisdiction though, and must be cleared by the governing body or face being banned in competition - as was the case with Endura' Hour Record breaking skinsuit back in 2019.
Thank you for reading 10 articles this month* Join now for unlimited access
Enjoy your first month for just £1 / $1 / €1
*Read 5 free articles per month without a subscription
Join now for unlimited access
Try first month for just £1 / $1 / €1
Ryan is a staff writer for Cycling Weekly, having joined the team in September 2021. He first joined Future in December 2020, working across FourFourTwo, Golf Monthly, Rugby World and Advnture's websites, before making his way to cycling. After graduating from Cardiff University with a degree in Journalism and Communications, Ryan earned a NCTJ qualification to further develop as a writer.