Tokyo 2020 Olympics time trial men's start list
The confirmed start order from the 44.2km course around the Fuji International Speedway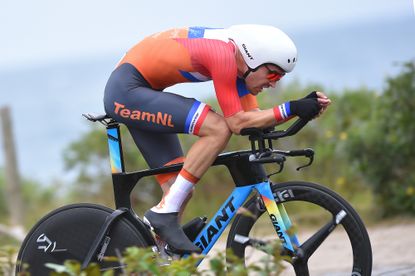 (Image credit: Getty Images)
The Tokyo 2020 Olympic Games men's individual time trial is expected to be a very tightly fought race with some of the discipline's biggest names taking to the start ramp to have a go at getting gold.
The Olympics were of course meant to take place in the summer of 2020, but due to the pandemic, they had to be pushed back to 2021, along with multiple other big events that were meant to happen around that time.
The Tokyo course is particularly hilly, with riders tackling two laps of a 22.1km route around the base of Mount Fuji, starting and finishing on the track of the Fuji International Speedway over 44.2km.
>>> Olympic Games cycling schedule: when to watch the racing at Tokyo 2020
As usual in cycling, there is a huge list of potential winners and picking out clear favourites can be tricky. But it has to be a safe bet that world champion Filippo Ganna (Italy), 2016 silver medallist Tom Dumoulin (Netherlands), European champion Stefan Küng (Switzerland), Wout van Aert (Belgium), Rohan Dennis (Australia), Rémi Cavagna (France), and Remco Evenepoel (Belgium) are the stand out names on a long list of possible medallists.
Great Britain is one of the nations that has been allowed two slots in the time trial, with 2018 Tour de France winner Geraint Thomas being joined by Ineos Grenadiers team-mate and 2020 Giro d'Italia winner Tao Geoghegan Hart.
Joining Great Britain with two riders are Australia, Belgium, Estonia, Germany, Italy, New Zealand, Portugal, Switzerland, and the USA.
The rest of the nations taking part in the event will, of course, be only allowed one rider.
TOKYO 2020 OLYMPIC GAMES INDIVIDUAL TIME TRIAL START LIST and stat order
14:00:00 / 06:00:00 39 WAIS Ahmad Badreddin EOR
14:01:30 / 06:01:00 38 SAFARZADEH Saeid IRI
14:03:00 / 06:03:00 37 LAGAB Azzedine ALG
14:04:30 / 06:04:30 36 GHEBREIGZABHIER Amanuel ERI
14:06:00 / 06:06:00 35 ARNDT Nikias GER
14:07:30 / 06:07:30 34 de BOD Stefan RSA
14:09:00 / 06:09:00 33 HOULE Hugo CAN
14:10:30 / 06:10:30 32 KANGERT Tanel EST
14:12:00 / 06:12:00 31 ROCHE Nicolas IRL
14:13:30 / 06:13:30 30 KUKRLE Michael CZE
14:15:00 / 06:15:00 29 BENNETT George NZL
14:16:30 / 06:16:30 28 CRADDOCK Lawson USA
14:18:00 / 06:18:00 27 OLIVEIRA Nelson POR

14:56:00 / 06:56:00 26 GEOGHEGAN HART Tao GBR
14:57:30 / 06:57:30 25 PORTE Richie AUS
14:59:00 / 06:59:00 24 EVENEPOEL Remco BEL
15:00:30 / 07:00:30 23 BETTIOL Alberto ITA
15:02:00 / 07:02:00 22 KUBIS Lukas SVK
15:03:30 / 07:03:30 21 SKUJINS Toms LAT
15:05:00 / 07:05:00 20 KONRAD Patrick AUT
15:06:30 / 07:06:30 19 URAN Rigoberto COL
15:08:00 / 07:08:00 18 LUTSENKO Alexey KAZ
15:09:30 / 07:09:30 17 IZAGIRRE INSAUSTI Jon ESP
15:11:00 / 07:11:00 16 BODNAR Maciej POL
15:12:30 / 07:12:30 15 VLASOV Aleksandr ROC
15:14:00 / 07:14:00 14 SCHACHMANN Maximilian GER

15:52:00 / 07:52:00 13 FOSS Tobias S. NOR
15:53:30 / 07:53:30 12 BEVIN Patrick NZL
15:55:00 / 07:55:00 11 McNULTY Brandon USA
15:56:30 / 07:56:30 10 DUMOULIN Tom NED
15:58:00 / 07:58:00 9 ALMEIDA Joao POR
15:59:30 / 07:59:30 8 ASGREEN Kasper DEN
16:01:00 / 08:01:00 7 ROGLIC Primoz SLO
16:02:30 / 08:02:30 6 THOMAS Geraint GBR
16:04:00 / 08:04:00 5 DENNIS Rohan AUS
16:05:30 / 08:05:30 4 CAVAGNA Remi FRA
16:07:00 / 08:07:00 3 KUENG Stefan SUI
16:08:30 / 08:08:30 2 van AERT Wout BEL
16:10:00 / 08:10:00 1 GANNA Filippo ITA
Thank you for reading 5 articles this month* Join now for unlimited access
Enjoy your first month for just £1 / $1 / €1
*Read 5 free articles per month without a subscription
Join now for unlimited access
Try first month for just £1 / $1 / €1