Refresh
Hello out there!
Alex Ballinger, CW's online news editor here, kicking off the live blog for stage 13 of the Tour de France 2021.
After yesterday's unpredictable stage, we could see more of the same over a long and lump course for day 13.
Here's the profile for the day:
Today at the Tour de France: Another stage that could go either way, this time over 219km from Nîmes to Carcassonne. Will the sprint teams control the race, or will the breakaway escape again? #TDF2021 pic.twitter.com/9kCT3mxYh9July 9, 2021
See more
With one categorised climb early in the stage and plenty of uncategorised ramps, it will all depend on the wind and the motivation of teams.
The role of chasing the breakaway is likely to fall entirely to Deceuninck-Quick-Step, as by far the strongest sprint team in the race.
But as we saw yesterday, the number of teams now seeking breakaway stage wins means we're seeing a lot of strong riders trying to make it up the road, which is making it tougher for the likes of Mark Cavendish to get his sprint opportunities.
Let's see how it all plays out.
Our intrepid Tour de France reporter Jonny Long spent a wild night sleeping under the stars on the slopes of Mont Ventoux earlier this week.
Here's his account of the experience:
I spent the night and day up Mont Ventoux to witness Tour de France history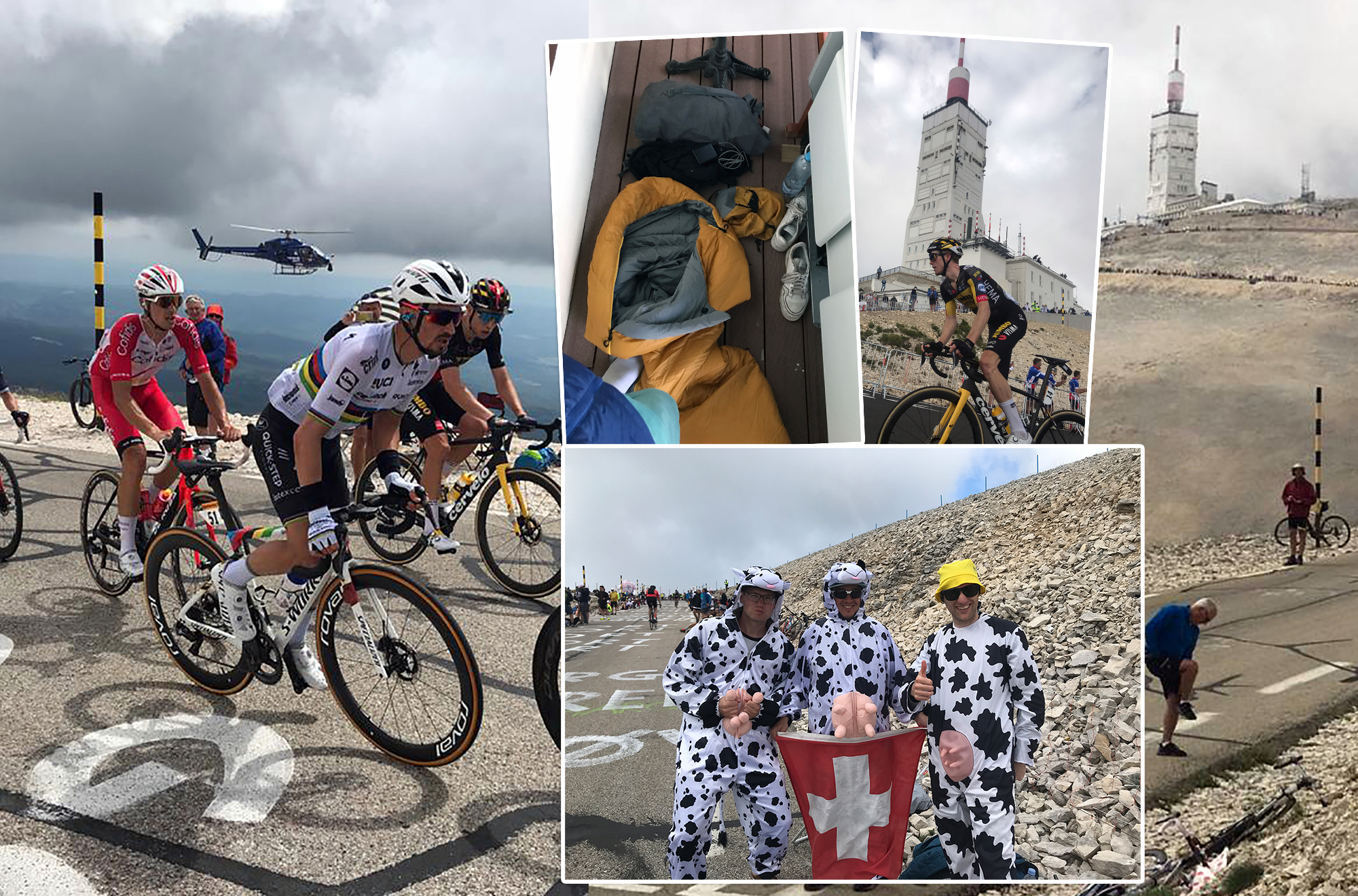 This is how Daryl Impey sees stage 13 playing out.
The Israel Start-Up Nation rider isn't in this year's Tour, but as a stage winner and yellow jersey wearer he knows a thing or two about Tour stages.
Impey questions who would want to control the peloton for 219km, especially if another strong break goes up the road.
Another day for a breakaway! Yes green jersey points up for grabs, but stage win too and not many opportunities left for most. Who wants to control 219km? Furious start #TDF2021July 9, 2021
See more
But in response to Impey's tweet, Philippe Gilbert pointed out that Tim Declerq from Deceuninck - Quick-Step would probably be more than happy to ride 219km on the front to keep a breakaway in check.
Interesting little development for today's stage.
The GC cut-off for today's stage will be at 4.5km, rather than the usual 3km.
As a brief explainer, if there is an incident inside the final 3km of a stage, any rider caught in the incident has their GC time neutralised so they won't lose any time to crashes.
This is basically to allow GC contenders to relax in the final 3km, rather than fighting for position along with sprinters at high speed, which can get pretty treacherous.
But the rule has come under some scrutiny during this Tour, particularly after a number of crashes on stage three. Riders had asked for the cut-off point to be extended to 8km on stage three, but the request was refused.
The 3km rule basically means GC teams still have to fight at the front of the bunch until the 3km line, which can still cause crashes.
The riders' union, the CPA, has been campaigning for changes to this rule, as race organisers have agreed to trial a 4.5km cut-off on stage 13.
We are happy to announce that we have won a test to the 3 km rule for today's arrival in Carcassonne. The 3 km rule will apply 4.5 km from the finish. Thanks to the UCI and ASO for hearing the riders' recommendations via CPA! #WeAreTheRiders https://t.co/vVdKm68eY0July 9, 2021
See more
Right then here are the start times for today's stage:
Riders are scheduled to set off at 12.05 French time (so that's 11.05 British time).
The finish is expected at around 5.30pm French time (4.30 British time)
Cycling Weekly went for a two hour spin with Lachlan Morton this morning, the Australian who is riding the entire Tour stage plus the transfers. He said he predicted all of Mark Cavendish's three stage wins so far having ridden the routes and he's backing the Brit again today.
Although the problem for Cavendish is that there aren't many sprint teams left, and therefore there aren't as many who want to control the day's break before bringing it back. Thomas De Gendt, Lotto-Soudal's Mr Breakaway, believes it's a day for the escapees because of this.
We're underway in Nîmes.
Attacks coming thick and fast but no-one getting clear. The feeling is this is looking like a breakaway day.
Qhubeka-NextHash on the move with one rider now
Mark Cavendish is NOT wearing a skinsuit today again. Could this be revealing? Deceuninck - Quick-Step potentially happy to let the breakaway win again.
Max Walscheid off the front for Quhubeka now, Mads Pedersen from Trek on his wheel. They have about six seconds over the bunch.
Breakaway are riding into a headwind which is making it tough.
We have three riders out front, Walsheicd, Pedersen and Rota from Intermarché.
They have a modest gap, but the peloton are spread across the road and no-one is looking to jump across.
This could be the break for the day.
More attacks from the bunch but it's been rapidly chased down and there were no gaps.
Leading trio now has about 11 seconds on the bunch,
Two riders have just bridged across, but that acceleration has resulted in the break being caught.
Peloton all together with 199km to race.
It's been a rapid start.
Tim Declerq from Deceuninck held 50km/h+ for the first 15km, max speed of 74km/h.
But it looks like we now have our breakaway.
Just three riders have made it clear from the peloton, Omer Goldstein (Israel Start-Up nation), Sean Bennett (Qhubeka-NextHash) and Pierre Latour (TotalEnergies).
They already have 1-58 over the bunch as Deceuninck are blocking the road in the peloton.
There's been an attack from an Intermarché rider from the bunch who is trying to bridge across, but it's going to be a big ask for him to get across.
Three-rider break always has 2-41 with 187km to race, but the situation is good news for Mark Cavendish, as they should be comfortably able to control this.
Jasper Stuyven has tried a solo attack from the bunch, but Deceuninck don't like it and Tim Declerq has shut down his compatriot.
Three-rider break continues to extend advantage,.
The race has hit the only categorised climb of the day, the Côte du Pic Sait-Loup, 5.5km at 3.7 per cent cent.
Our three-rider breakaway is 4-22 ahead of the peloton, with 2.3km left of the climb, as the bunch have just hit the foot of the ascent.
It's a fairly comfortable climb for these guys, but the peloton is strung out after a decent battle to get onto the climb.
Breakaway is into the final few hundred metres of the climb and Sean Bennett has hit out for the summit.
There is a handful of KoM points on offer at the top, with Bennett and Latour both looking to score, while Goldstein is happy to let them ride away.
Half-hearted sprint at the top and it's Latour who takes maximum points, Bennett second, with Goldstein cruising along behind in third.
The bunch is just cresting the climb now.
Current situation: 163km to race.
Three rider breakaway - Sean Bennett (Qhubeka-NextHash), Pierre Latour (Total Energies), and Omer Goldstein (Israel Start-Up Nation).
Bunch - Deceuninck - Quick-Step leading, 4-33 behind.
It's all very calm in the race as things stand.
Tim Declerq has taken up his usual position pulling along the peloton, while the three-rider break has 3-03 advantage with 35km left to go.
But we've got the intermediate sprint on the way and the second half of the stage does include some sharp climbs, so action is on the way!
Can Mark Cavendish win today?
Our writer Chris Marshall-Bell has been digging through the route profiles to find out how many opportunities Cavendish has remaining in the Tour de France 2021.
Will Cavendish match the Merckx record?!
When and where Mark Cavendish can break Tour de France stage record in the coming week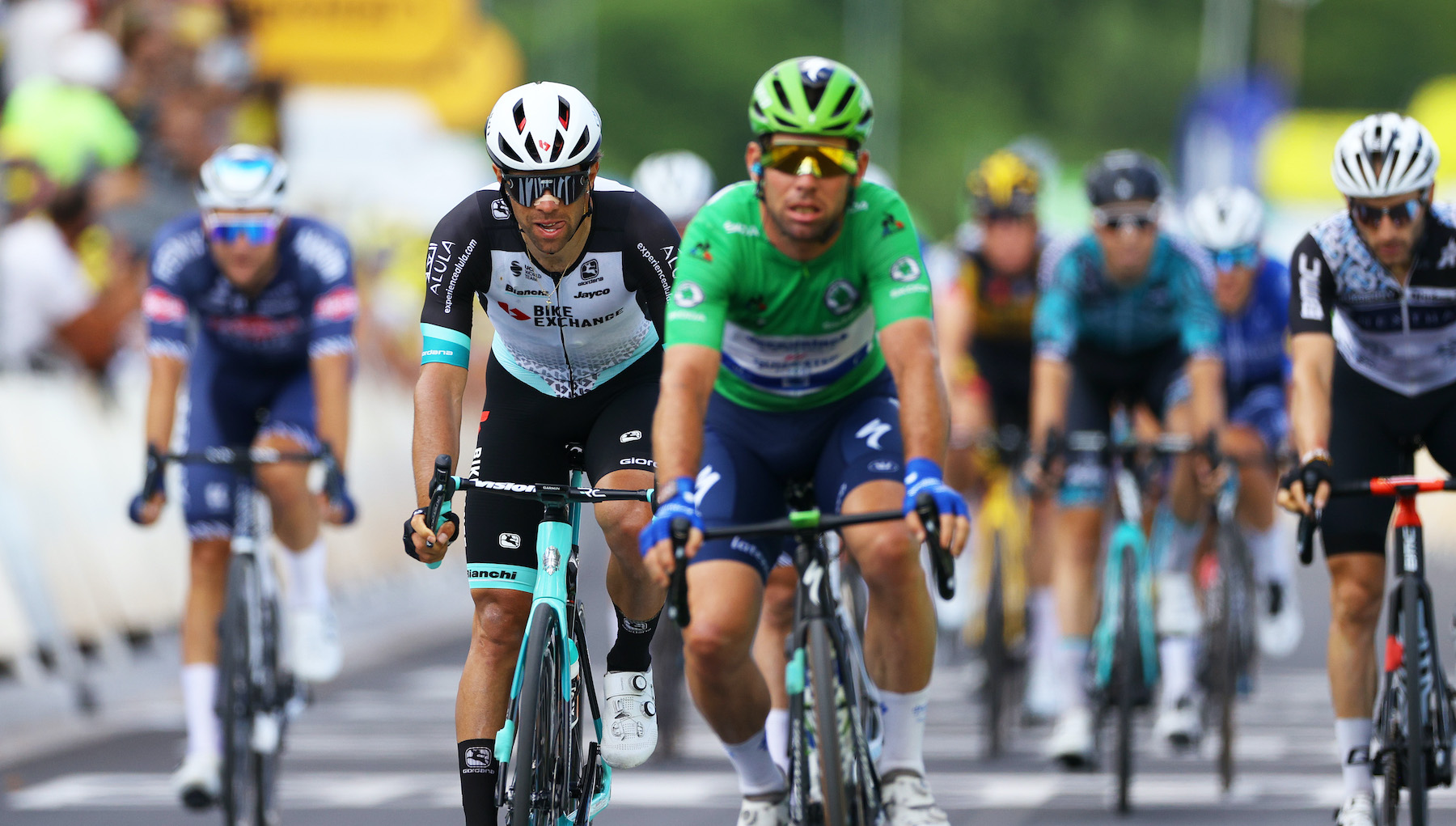 Breakaway is at the intermediate sprint, 116km from the finish.
Sean Bennett hits out first yet again but this time Goldstein follows.
Latour not fussed, but cruising along behind.
Bennett continues to ride, Goldstein waiting in the slipstream to come past.
Goldstein crosses first to take 20 points, followed by Bennett and then Latour.
The peloton are 2-42 behind so will be approaching the sprint shortly
The peloton hit the sprint line, Sonny Colbrelli taking fourth behind the breakaway, followed by Michael Matthews and Philipsen.
Mark Cavendish barely sprinted and finished eighth, picking eight points for his green jersey lead.
Here's how the green jersey stands after the sprint:
1. Cavendish, 229pts (scored eight today)
2. Matthews, 173pts (scored 11 today)
3. Philipsen, 151pts (scored nine today
4. Colbrelli, 151pts (scored 13 today)
We're inside the final 100km of the stage, three riders still in the break.
Peloton are 2-05 behind.
Deceuninck still controlling back in the bunch.
There's still the risk of some crosswinds coming...apparently.
ATTACK!
Philippe Gilbert (Lotto-Soudal) has just kicked off a surprise move with 66km left.
He's been followed and Deceuninck are straight onto his wheel, but we have action.
The gap to the break slips down to 1-34 after that cheeky move by the former world champion.
Another attack! A bit of chaos her in the peloton.
Alex Aranburu (Astana) has launched another move but Deceuninck are hot on his tail.
All this action back in the bunch has obviously got through to the breakaway, Goldstein has attacked his companions and their pace is right up.
Sean Bennett looks like he's cracked and has had to let go.
Two riders out front now, Latour and Goldstein, with 1-23 over the bunch.
Big crash in the bunch.
A sweeping left hand-turn and riders near the in the peloton have gone down, with several riders falling down a steep verge.
Tim Declerq has fallen, as has Simon Yates. It's chaos at the side of the road.
Søren Kragh Andersen has just had to clamber back up to the road after falling a long way down the verge. It's a big moment on today's stage.
Action at the front of the bunch now, with Wout van Aert (Jumbo-Visma) pulling on the front of the bunch, but he's been overtaken as we've got an attack from Oliver Naesen (Ag2r-Citroën).
But we know that yellow jersey Tadej Pogačar and Mark Cavendish are both still safe in the bunch after that crash.
Simon Yates is getting back on the bike, but he looks like he's in a lot of discomfort.
Geraint Thomas was held up by that crash and is now part of a group trying to chase back on.
Tim Declerq is also back on the bike, looking battered and bruised but he's able to continue.
We've have more attacks in the bunch as Deceuninck are trying to get back in control of the race.
The two-rider breakaway has just 31 seconds now.
The breakaway is caught and the bunch have slowed right down, 50km left to race
Bike change for Mark Cavendish. Not the perfect moment as there's 35km to the finish, but fortunately the pace isn't on in the bunch.
He's swapped bikes and is already in the convoy chasing back on.
Teams are blocking at the front of the peloton, and Cavendish is back in the bunch.
We currently have a lone leader, Quentin Pacher (B&B Hotels) who gained a small gap initially but is now out at 54 seconds ahead of the bunch.
Bike change for Philipsen as well, but he's already back in the convoy and is almost back on at the back of the peloton.
34.4km left to race.
Quentin Pacher is still pushing on 1-28 of the peloton with Jan Bakelants behind him.
Deceuninck-Quick-Step are still controlling the pace in the bunch as Mark Cavendish rejoins them after a bike change. His sprint rival Jasper Philipsen is also returning to the peloton following a puncture with 35km to go.
The sad news in the last 10 minutes is that Simon Yates has been forced to abandon following that crash. It's unclear how injured the British rider is after he got back on his bike, but he'll hope to be recovered in time for the Olympic road race in a couple of weeks.
Read more: Simon Yates abandons Tour de France 2021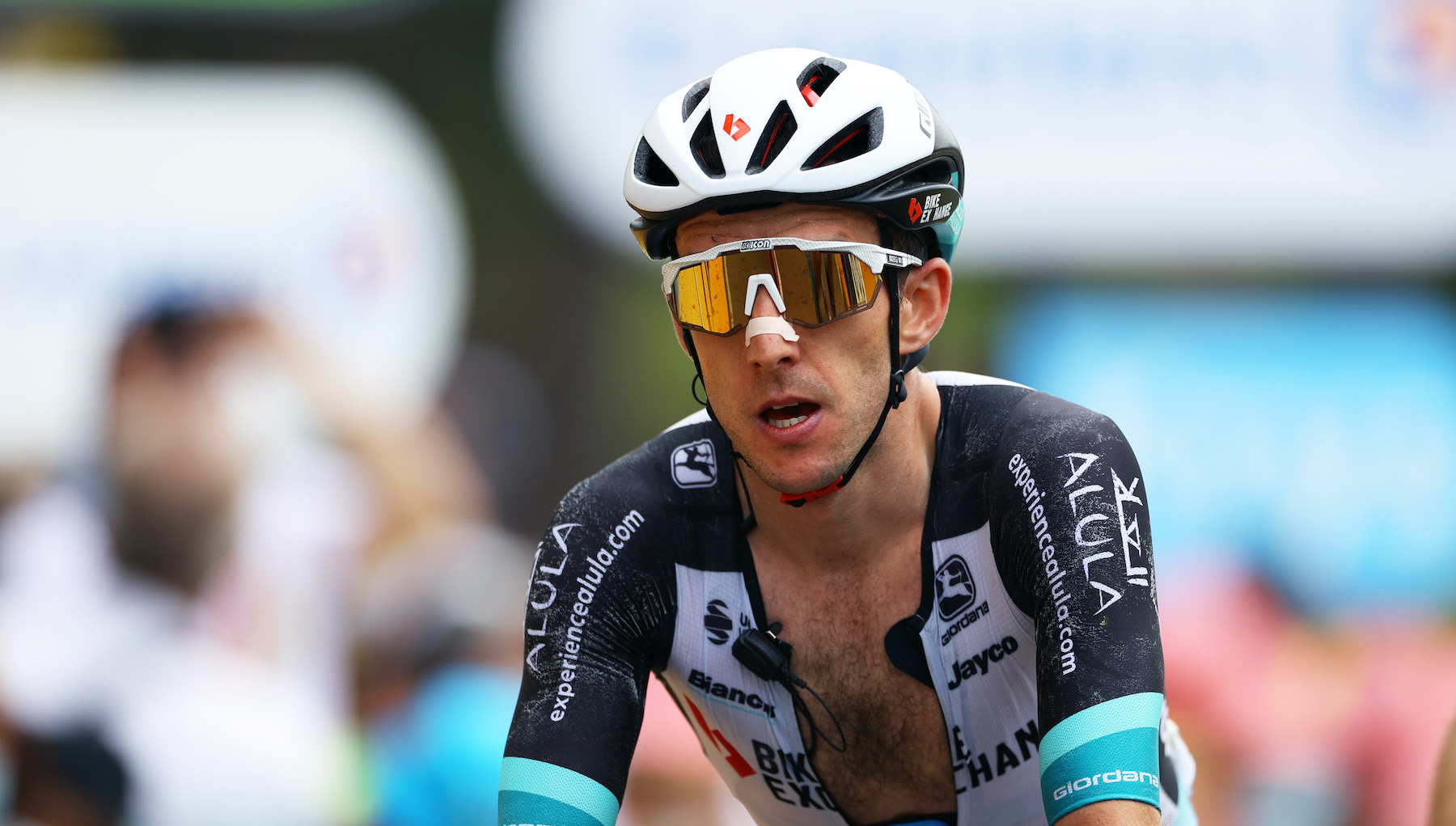 Tim Declercq, Soren Kragh Andersen, and Lucas Hamilton are all still struggling to get back to the pack following that crash
Another BikeExchange rider has had to abandon as well. Yates' Australian team-mate Lucas Hamilton has been forced to retire from the race following that crash earlier in the day
Just 27km remaining now and this looks destined to be a sprint finish, with Pacer just dangling out front on his own now with Bakelants back in the peloton
It's still Deceuninck-Quick-Step controlling the bunch, and with their team strength compared to the others it's hard to look past Mark Cavendish making it four stages in this year's Tour
Quentin Pacher is on a hiding to nothing here as his gap drops to 30 seconds with 23km to go
There's two Qhubeka riders including Sergio Henao on the ground at the back of the peloton. They seem to be the only two affected and not injured
Wout van Aert looks very interested in the sprint today, he narrowly missed out to Cavendish on Tuesday before winning on Ventoux on Wednesday
Quentin Pacher has been caught as Bora and Ineos come to the front with 18.8km to go
A reminder that the GC times will be taken at 4.5km today
There's some wind coming from the right side of the road and Ineos are trying to put their rivals in trouble. There's no significant splits yet but it's high paced with the bunch strung out
Mark Cavendish is still towards the front along with Sonny Colbrelli. The yellow jersey Pogacar is tucked in just behind Ineos
It's not quite echelons here with the cross.-headwind, but the speed of 60kmh is shelling riders out the back after a long and hot day today
With 15.8km to go the impetus has wained slightly, although the pace is still high heading towards the finish
Late puncture for Stefan Kung, he won't be able to get back to the peloton at this point
The threat of crosswinds has diminished somewhat and it looks like we're building towards a sprint finish. It's Ineos though that are really hammering it at the front
Davide Ballerini has guided Cavendish up to the front of the bunch as they cross the 10km to go banner
Pogacar rolls through to the front as the pace drops slightly heading through a town
We're 8.5km from the finish in Caracassonne and the pace is jumping up and down as teams take to the front and then fall away. It's Movistar and Ag2r pushing things on at the moment
The GC teams are riding hard to get their leaders passed 4.5km to go. Any incidents or crashes after that will see them given the same time as the group they were in
The run into Caracassonne is littered with street furniture and turns, which will explain why the pace isn't super high, currently around 50kmh with 5.3km to go
We've just crossed 4.5km to go so the GC teams won't fight for the front anymore and will allow the sprint teams some space
Ineos still leading Carapaz at the front however, after all the front is the safest place to be
Deceuninck-Quick-Step still look the most organised of the sprint teams, keeping Cav sage in the front of the bunch
2.5km to go and Ballerini is setting the pace again
There's a lot of fight for Cavendish's wheel here by the other sprinters
Into the final kilometre!
DQS are leading this one out
Jasper Stuyven has Cavendish's wheel
Mark Cavendish wins stage 13 of the 2021 Tour de France
That was a very impressive win from Cavendish to equal the record stage wins. It was complicated finish with a late left turn and Cavendish was able to get through the crowds of other sprinters to pip Philipsen and Ivan Cortina to the line
It was actually Cavendish's lead out man Michael Morkov who took second, with Philipsen and Cortina fading before the line
That's a huge victory for Cavendish, his fourth at the Tour and his 34th stage win overall, equalling Eddy Merckx's record of stage wins at the Tour
Here's the top-10 on the stage

1. Mark Cavendish (GBr) Deceuninck-Quick-Step, in 5-04-29
2. Michel Mørkøv (Den) Deceuninck-Quick-Step
3. Jasper Philipsen (Bel) Alpecin-Fenix
4. Iván García Cortina (Esp) Movistar Team
5. Danny van Poppel (Ned) Intermarché - Wanty - Gobert Matériaux
6. Alex Aranburu (Esp) Astana-Premier Tech
7. Christophe Laporte (Fra) Cofidis
8. André Greipel (Ger) Israel Start-Up Nation
9. Magnus Cort (Den) EF Education-Nippo
10. Jasper Stuyven (Bel) Trek-Segafredo, all at same time
There's no change on GC after today:
1. Tadej Pogačar (Slo) UAE Team Emirates, in 52-27-12
2. Rigoberto Urán (Col) EF Education-Nippo, at 5-18
3. Jonas Vingegaard (Den) Jumbo-Visma, at 5-32
4. Richard Carapaz (Ecu) Ineos Grenadiers, at 5-33
5. Ben O'Connor (Aus) Ag2r-Citroën, at 5-58
6. Wilco Kelderman (Ned) Bora-Hansgrohe, at 6-16
7. Alexey Lutsenko (Kaz) Astana-Premier Tech, at 6-30
8. Enric Mas (Esp) Movistar Team, at 7-11
9. Guillaume Martin (Fra) Cofidis, at 9-29
10. Pello Bilbao (Esp) Bahrain-Victorious, at 10-28
Cavendish looks absolutely exhausted in his post-race interview, saying he went deep after the 220km stage in the heat and the wind.
Michael Morkov did a super impressive job there guiding Cavendish up late to take that win. He looked super strong and could have potentially taken that win himself!
🐐 CAV𝟯𝟰DISH 🐐#TDF2021 pic.twitter.com/I7iHVp7AlAJuly 9, 2021
See more
Mark Cavendish's team-mate Tim Declerq, who crashed with around 60km to go, has just finished in front of the broomwagon. He had a out 2-45 until the time cut, so will be able to continue tomorrow if he is fit.
Here's today's full report:
Mark Cavendish scorches to record win on stage 13 of Tour de France 2021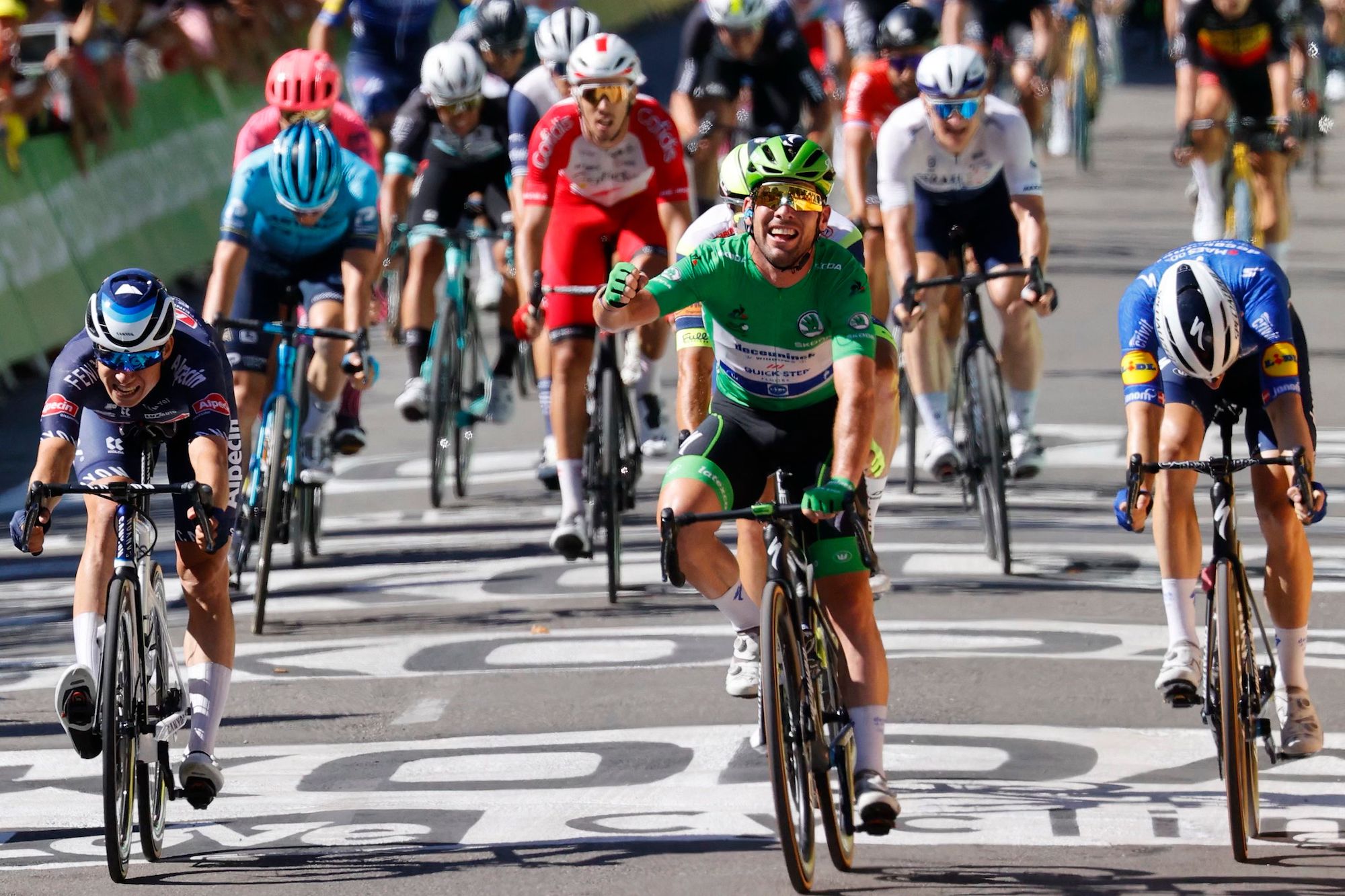 'You can clearly say Mark is the best sprinter there ever was,' says Michael Mørkøv as Cavendish equals Tour de France record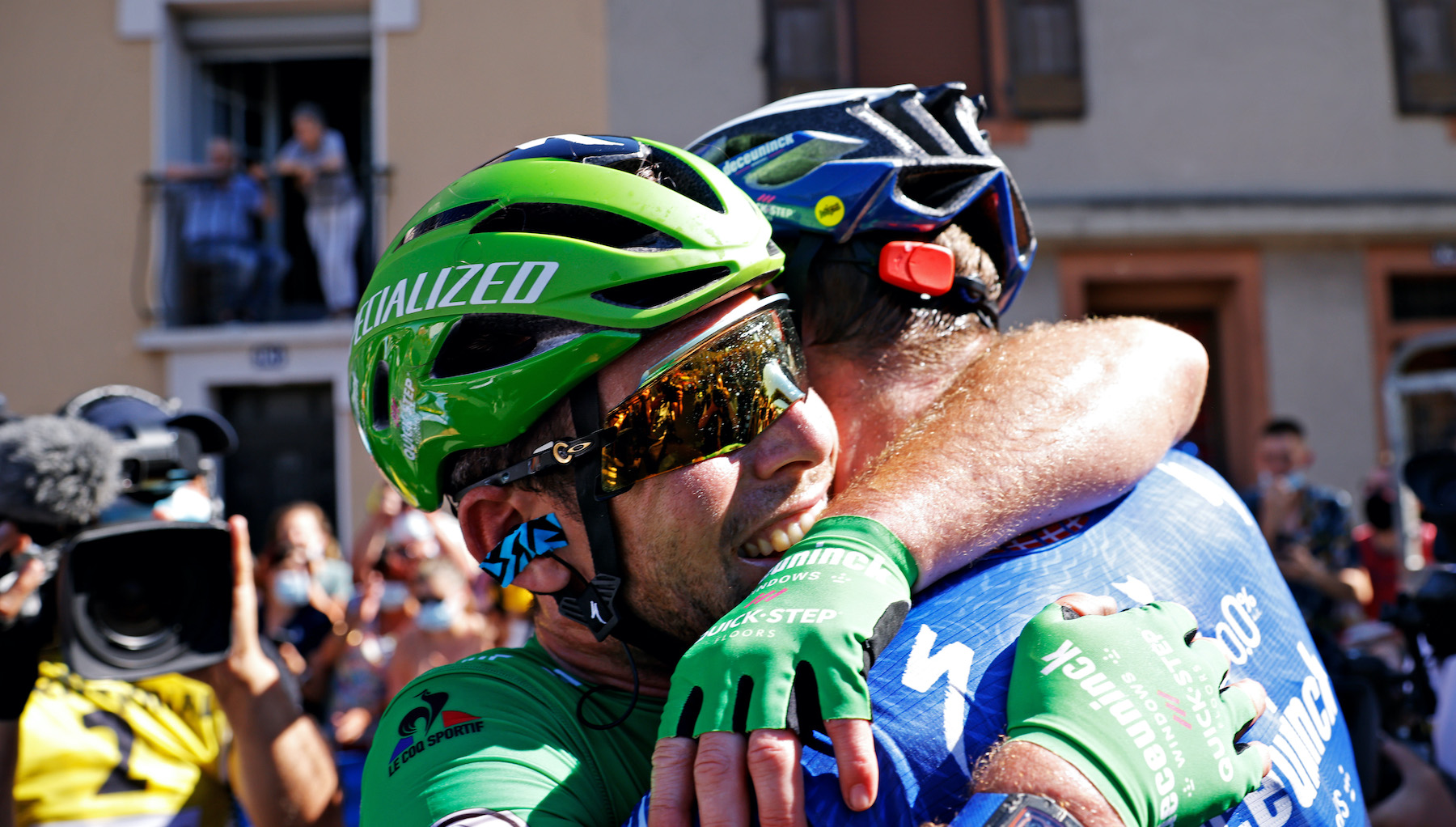 Here's what the man himself had to say:
'I don't think I can ever be compared to the great Eddy Merckx': Cavendish opens up about equalling Tour de France record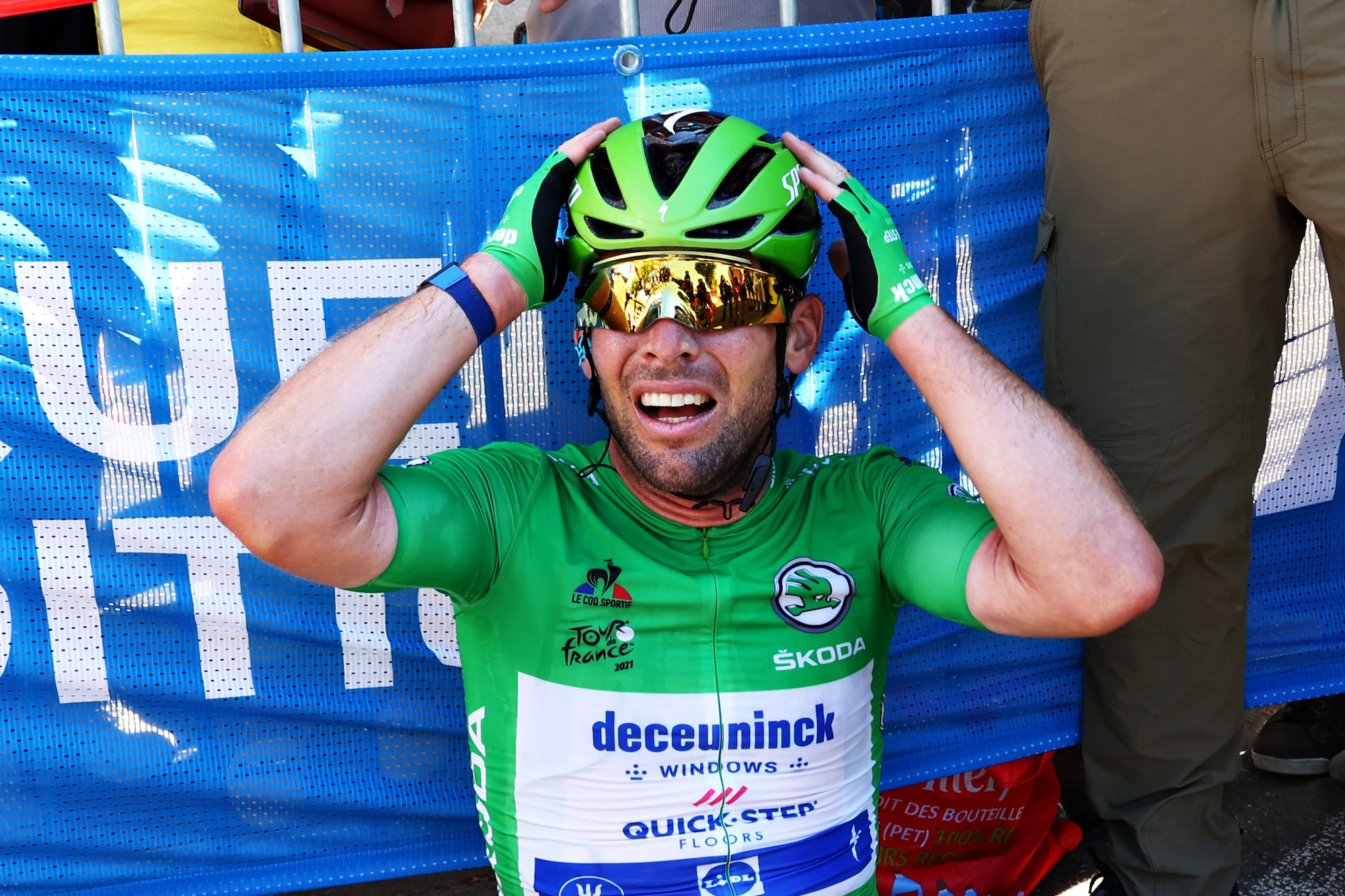 Thank you for reading 20 articles this month* Join now for unlimited access
Enjoy your first month for just £1 / $1 / €1
*Read 5 free articles per month without a subscription
Join now for unlimited access
Try first month for just £1 / $1 / €1