Marianne Vos extends contract through 2025, says her "own development is still ongoing"
"Women's cycling has advanced to such a professional level that I continue to discover new challenges," says the G.O.A.T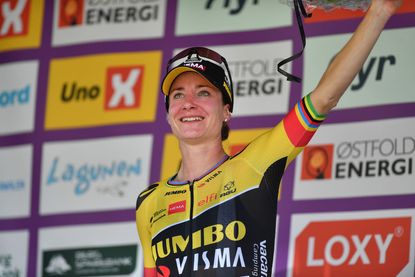 (Image credit: Luc Claessen / Getty)
While her peers have started making retirement plans, Marianne Vos has no plans to retire anytime soon.
Team Jumbo-Visma Women today announced that Vos will continue racing under the yellow and black Jumbo-Visma banner for two more years.
With nearly 250 professional road wins on her palmares, the 35-year-old is widely considered the greatest or winningest cyclist of all time. And dominant in cyclocross and track racing also, Vos has amassed a trophy collection unlike any other.
Two Olympic gold medals, three road world championship titles, eight cyclocross world champion titles, four national road race titles and two national time trial titles, numerous Spring Classics and stage races. At the Tour de France Femmes last year, Vos also added a green sprinters jersey to the collection after spending five days in yellow.
There are few races the Dutchwoman hasn't won throughout her 16-year professional career, yet she continues to find new challenges, she said.

"I still really enjoy cycling," she states in a press release. "In recent years, women's cycling has advanced to such a professional level that I continue to discover new challenges. And my own development is still ongoing. I am motivated to train hard to get the best out of myself."
Vos has been the Jumbo-Visma front woman since the team's inception in late 2020, and has earned 15 victories for the Dutch squad.

"At Team Jumbo-Visma, I also find the ambition to get better every day and the drive to go all out for it," Vos says.
"That is one of the reasons why I feel at home in this team. I also like the professionalism and the personal approach. There is a lot of room for the individual within the team, which makes the team stronger. I really like that."
Besides racing to victory in the yellow and black jersey, Vos also serves a mentor for the team, which includes several young, up-and-coming riders.
Leading by example, Vos "teaches the newcomers a lot about how to prepare, communicate, work together and deal with the setbacks that can come with being a top athlete. She is also of great value to us in this respect," says Rutger Tijssen, the team's sports technical director.

Esra Tromp, the team's manager, added: "Since the start of our women's team, we have gone through a lot of development, and Marianne has always been there. We will continue to develop in the coming years. We wish to inspire female cyclists and compete against the world's best riders. It is a privilege to do this with Marianne as our figurehead."
Thank you for reading 10 articles this month* Join now for unlimited access
Enjoy your first month for just £1 / $1 / €1
*Read 5 free articles per month without a subscription
Join now for unlimited access
Try first month for just £1 / $1 / €1
Cycling Weekly's North American Editor, Anne-Marije Rook is old school. She holds a degree in journalism and started out as a newspaper reporter — in print! She can even be seen bringing a pen and notepad to the press conference.
Originally from The Netherlands, she grew up a bike commuter and didn't find bike racing until her early twenties when living in Seattle, Washington. Strengthened by the many miles spent darting around Seattle's hilly streets on a steel single speed, Rook's progression in the sport was a quick one. As she competed at the elite level, her journalism career followed, and soon she became a full-time cycling journalist. She's now been a cycling journalist for 11 years.