Matt Bottrill "shocked" to finish second in National Time Trial Championships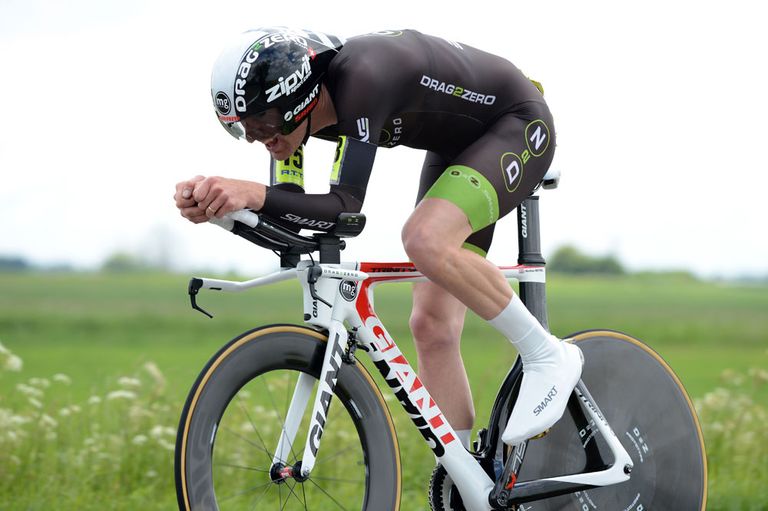 Matt Bottrill this morning told Cycling Weekly that he hardly slept last night after the excitement of finishing second in the British Time Trial Championships in Stewarton, East Ayrshire.
Bottrill (www.drag2zero.com) finished just 21 seconds behind winner Alex Dowsett to cap his best-ever performance in the event.
Speaking to CW after the race's podium presentation, it is not hard to see why he had a sleepless night: finishing runner-up behind Giro stage winner Dowsett had clearly taken the 35-year-old by surprise.
He said: "I'm gobsmacked. For me, this is massive. I said before the race if I could get on the podium it would be like winning. I'm in shock.
"The sad thing is, I did keep looking behind to see if he [Dowsett, who started two minutes behind Bottrill] was going to catch me. You come up against the professionals - I read about them, I watch them - and you never think you're in the same league. But today showed that I am. That's not bad considering I'm close to 40!
"Normally time trials are watched by one man and his dog - there were thousands out on the course today. It was incredible. I can proudly show result this to my family, friends and sponsors."
Bottrill's preparations for the event appeared to be hampered when he crashed out of the Hemel Hempstead 10 at speed last Saturday, but he believes that the time off the bike in the build-up to the Championships was one of the reasons why he pipped Ben Swift (Sky) to the silver medal.
"After the crash, I thought to myself: 'Am I going to make it?'. In fact, it made me rest more than anything, because I've been training so hard recently," said Bottrill.
"In hindsight, it did me a favour because I felt really fresh during the ride. I hit the hills hard, and then recovered on the descents. It paid off."
After driving from Scotland to his Leicestershire home this morning, more resting is on Bottrill's agenda as he prepares for Sunday's National 50 Championship in Llanarth, Wales.
"I want to go there now and try to win. I'm in the best form of my life - although I'm not sure when this result will sink in!"
Related links
Dowsett wins third British time trial title despite crash
Joanna Rowsell takes maiden Time Trial title
National Time Trial Championships 2013: The Big Preview
2012 report: Dowsett and Houvenaghel sweep to time trial titles
2011 report: Dowsett and Houvenaghel take National titles
2010 report: Wiggins defends his title as Sky take 1-2-3
2009 report: Wiggins and Pooley take National titles