Milan-San Remo route change for 2014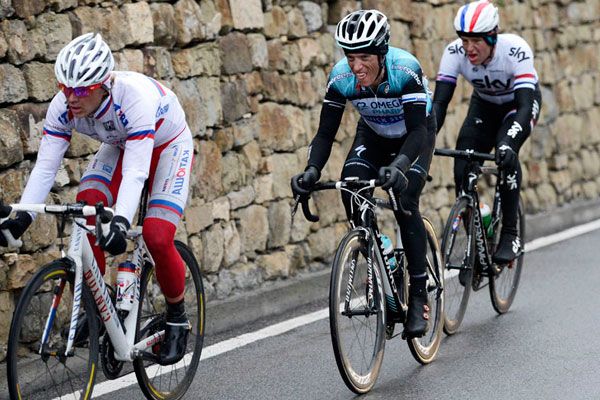 Milan-San Remo organiser RCS Sport modified the finale of its one-day classic, adding in the Pompeiana climb between the Cipressa and Poggio. The change means that on Sunday, March 23, riders will skip Le Mànie in their 299-kilometre race to San Remo.
The organiser said in a press release today, it is "making the Classicissima route more and more spectacular and unpredictable."
Gerald Ciolek (MTN-Qhubeka) won one of the most memorable editions this spring. Winter weather moved across Northern Italy and snow blanketed the Turchino Pass. Riders, with their hands and feet numb from the first hours, boarded their team buses to re-start along the coast. Because of the time constraints and suffering, RCS Sport cut La Mànie.
The organiser added Le Mànie in 2008 due to a rockslide further down on the coastal road and it liked it so much that it kept it in. It was a key point - coming 94 kilometres out and ahead of I Tre Capi, the Cipressa and the Poggio - to drop the sprinters.
"When I won it [in 2009]," Mark Cavendish said in March, "Le Mànie was still just seen as a detour around the rock slide." Filippo Pozzato, the 2006 winner, confirmed it. He said, "The Mànie is a key point. You've got to go hard to get rid of the sprinters."
The sprinters will instead have longer to catch their breath between the Turchino at 160.6 kilometres remaining and a quick succession of six climbs. After I Tre Capi, the race turns inland three times for the Cipressa, Pompeiana and the Poggio. Following the Cipressa's descent, the riders will buzz through Cavi for a blast of costal air and turn right to climb Pompeiana on what appears to be the SP49.
The five-kilometre long climb averages five per cent and reaches a maximum of 14 per cent gradient. The road in the final 500 metres bends left and right with 10 to 14 per cent grades. The route continues, dropping slightly from 262 metres, reaches Castellaro on the SP50 and drops back to the main road. After following a "twisty technical descent," the riders will rejoin the traditional parcours with 4.4 kilometres to race.
Amateurs will be able to try the parcours the morning of the race. RCS Sport is organising "La Sanremo" race, starting and ending in town famous for "La Classicissima."