Mysteries around Marco Pantani's death can never be solved, BBC podcast concludes
Patani: Death of a Pirate digs into the Italian's life and death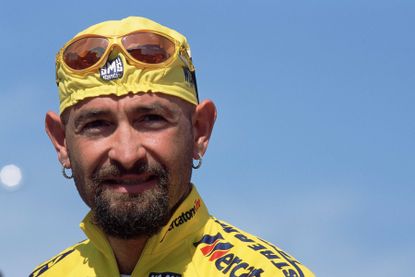 (Image credit: Getty Images)
There are questions surrounding the death of Marco Pantani that will never be answered, according to an Italian journalist who is part a new BBC podcast on the subject.
Pantani: Death of a Pirate, released on Thursday, will dig into the life and death of Pantani - 'Il Pirata' - the last man to win the Giro d'Italia and Tour de France in the same year. Tragically, Pantani died in 2004, having apparently killed himself.
Speaking to Cycling Weekly this week, Lorenzo Bodrero, an Italian journalist who specialises in organised crime, one of the experts on the podcast, said: "No [the questions over his death cannot be answered].
"Honestly, I doubt anyone in our profession can. Actually there are more questions now than there were ever before."
The BBC Radio 5 Live podcast is hosted by comedian Hugh Dennis, with contributions from mafia experts, journalists, historians, the police and big names in the world of cycling, including Matt Rendell and Phil Liggett.
An investigation - the third - is currently ongoing into the circumstances surrounding Pantani's death.
He was found dead in February 2004 at a hotel in Rimini, Italy. An autopsy revealed that he had suffered a cerebral edema and heart failure, and a coroner's inquest revealed acute cocaine poisoning.
Allegations of mafia involvement have dogged the incident ever since. However, Bodrero does not see this as likely, and that it's unlikely to ever be proven.
"I doubt that there were links [with organised crime]," he explained. "Unless the prosecutors have more evidence than I'm aware of. What we have is a couple of statements, one from a turncoat, and one from a former criminal. These are the only two people who link Pantani's death to organised crime. These statements need to be proved beyond reasonable doubt.
"Knowing how former organised crime members are treated in the system, I doubt they will link his death with organised crime. It has always sounded plausible, possible. It wouldn't have been a unique occurrence."
"I'm not a guy who easily believes in conspiracy, unless there are facts, so I am very careful with the mafia stuff," Bodrero continued. "The details with the aftermath of his death are quite appalling. It's clear that the original investigation was clumsy, which is quite frustrating for a citizen and as a journalist. We deal a lot with these kinds of investigation, and it is clear that things weren't properly done here."
The current investigation into Pantani's death is expected to conclude this summer.
"I read the things that are publicly available, the testimonies of one or two new witnesses, I talked to Pantani's mother and lawyer," Bodrero said. "And found many interesting things."
"The closest we have to the truth is the judicial truth," he cautioned. "Many times, this is incomplete, partial. It's almost never perfect, but it's the best truth we have.
"We're almost 20 years on from the incident, and it was undermined by a messy investigation from the moment Pantani was found. Twenty years later, you can rely only on witnesses and the ability of the prosecutors to maintain the credibility of the witnesses. It's a very hard thing to do."
Pantani, who also won eight stages of both the Tour de France and the Giro d'Italia, has always had an immense popularity in Italy, one that has survived his death. One only has to cycle up mountains in Italy and see the continued Pantani graffiti to see the hold he has in the Italian public's imaginiation; the mystery surrounding his death adds to his allure.
"It's not just about cycling, I was growing up when Pantani was at the end of his career, and even I got impassioned about cycling," Bodrero said. "I cared about him, I felt proud of him being Italian. He's definitely one of the most important athletes in the history of our country.
"It was his way of cycling, the bandana and the pirate stuff helped a lot. The self-made man who climbed to win the biggest prizes. If he was a time trial specialist, it would not have been the same.
"Even those who are not sporty at all know about Pantani. Everyone is suspicious of how he was killed. It has been a long legacy. It's just very sad, how things went."
Pantani: Death of a Pirate will be released on Thursday 22 June, and will be available on BBC Sounds.
Thank you for reading 20 articles this month* Join now for unlimited access
Enjoy your first month for just £1 / $1 / €1
*Read 5 free articles per month without a subscription
Join now for unlimited access
Try first month for just £1 / $1 / €1