National Madison champs on January 28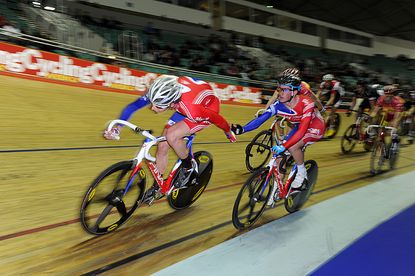 The British Men's national Madison championship will take place on Saturday January 28 2012 at the Manchester velodrome immediately before the final round of the 2011-12 Revolution track series.
As in the last two years, the Madison champs will take place in the afternoon between 1-4pm, immediately preceding the Revolution track meet, which commences at 7pm. Sprint qualification for the evening event will take place in between the action during the Madison championship.
Luke Rowe and Peter Kennaugh won the 2011 Madison championships in January.
Tickets for the two events are available separately from Quay Tickets online (www.quaytickets.com) or by telephoning 0843 208 0500. Madison tickets are priced £6 for adults, £3 for concessions and £15 for families.
The next, penultimate round of the Revolution track series takes place on January 7. Digital television channel ITV4 will broadcast highlights of the event on Monday, January 9, at 7pm.
The women's British national Madison championship took place during the track national championships in September and was won by Motorpoint duo Lucy Garner and Harriet Owen.
Interested riders have until December 28 to enter the men's Madison championship via the British Cycling website.
What is the Madison?
From Cycling Weekly's guide to track racing by Lionel Birnie
The most complex but absorbing race on the track. Named after Madison Square Garden in New York where it was first made popular.
Teams of two riders compete together to score points at the intermediate sprints, held every 20 laps, (5pts, 3pts, 2pts, 1pt to the first four), and gain laps by attacking. One member of each team is 'in the race' at any one time, while the other circles at the top of the banking.
The riders switch over to give each other a rest - or perhaps to put the better sprinter in as a sprint lap approaches. The rider must touch his team-mate to change over but usually this is done with a hand-sling to propel the other into the race.
The team that covers the most laps wins, with points only counting to separate riders who finish on the same number of laps.
Related links
CW's dummies guide to track racing
Thank you for reading 20 articles this month* Join now for unlimited access
Enjoy your first month for just £1 / $1 / €1
*Read 5 free articles per month without a subscription
Join now for unlimited access
Try first month for just £1 / $1 / €1