Nibali: No answer to Gilbert's World Champs attack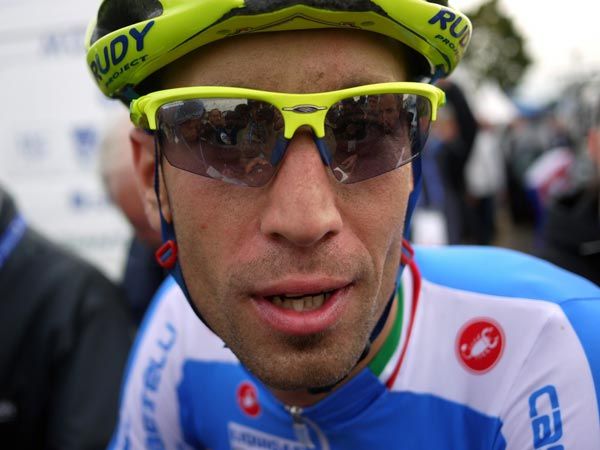 Vincenzo Nibali lacked response to Philippe Gilbert's title-winning attack in the World Championships in Valkenburg, The Netherlands, yesterday. On the last climb of Cauberg, Gilbert shot free and Italy's leader searched for answers.
The legs were just not there, Nibali told a small group of journalists moments after the finish of the 269km race.
Italy led with Nibali and a relatively young team, averaging 27.4 years old. However, the team made national coach Paolo Bettini proud.
Dario Cataldo joined an early 11-man move. GB's Steve Cummings (Great Britain) bridged to the move with eight others on the second circuit around Valkenburg. Bettini, himself a two-time Worlds winner, smiled. Rinaldo Nocentini (Italy) was in the move with Cummings.
The group grew to 29 riders on the sixth circuit of 10. Alberto Contador (Spain) and GB's Jonathan Tiernan-Locke bridged, and also another Italian, Diego Ulissi.
"We were there in the escape initially, we tried to always be there," Nibali continued. "We played our cards correctly."
Bettini's and Italy's focus was for Nibali. When the groups re-joined with two laps to go, Nibali was intent. In the next 16.1km loop, he tried his luck. His problem, however, was the wind and the course. The roads shot down to the base of the Cauberg, where the winds, coming from behind for the first time in days, pushed the speeds high.
Nibali, though, tried on the Cauberg with one lap remaining.
"But the others were all watching the wheels, even the Spaniards," Nibali said with the dirt on his face showing his trial. "It seemed as though they wanted to do something, but in the end, nothing. Maybe they wanted to play their hand with [Oscar] Freire in the sprint."
Freire agreed afterwards that Spain was working for him even if team-mate Alejandro Valverde shot free to cover Gilbert's move on the Cauberg.
The Worlds progressed into its final circuit. Nibali had talented neo-pro Moreno Moser working for him on the final descent to Valkenburg and to the base of the Cauberg. Luca Paolini took over to launch him free.
"I wanted to try want last time," Nibali explained, "but when Gilbert took off... Ah..."
Nibali's last effort was for Oscar Gatto. He failed to follow Gilbert, but dropped back for his team-mate and gave his last push for a medal. Gatto placed 13th, Italy's best placed rider, and left the door open for discussion.
The Italian journalists are writing today about the federation's decision. For a second year in a row, it blocked riders who served doping bans or are under investigation - like former champ Alessandro Ballan - from participation. Nibali, when asked by Cycling Weekly, said that the young team needs time and is working well.
Related links
Gilbert's devastating Cauberg attack nets him road race world title
Road World Championships 2012: Coverage index