Nibali rested and thinking ahead to the Giro d'Italia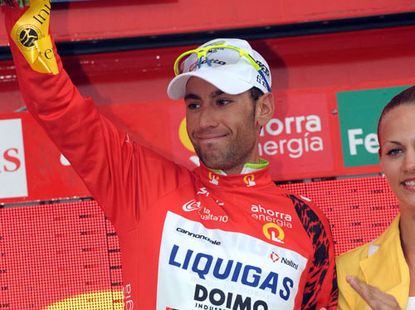 Italian Vincenzo Nibali is relaxing after a successful season that included winning the Vuelta a España and is beginning to think of next year.
At a fan club party, he told Italy's Gazzetta dello Sport newspaper, "I will aim for the Giro d'Italia."
The Giro d'Italia was a success for 25-year-old Nibali this year. Team Liquigas called him in at the last minute to help Ivan Basso win. They succeeded, and Nibali also won a stage, wore the leader's pink jersey and finished third overall.
Next year, the race will take on greater significance for Nibali because of his new status. He proved himself a Grand Tour winner at Vuelta a España in September. Then there is the stage up the Mount Etna volcano in the same region where Nibali learnt to ride his bike.
"There will be the Sicilian stage to Etna. Since I was a little boy, I have done the climb from the Linguaglossa side, with my dad and a group of amateurs," he said. "There was that time I could not handle it, pulled by my mom in the car. I was ten years old."
Nibali is ready to start training, but just waiting to recover from his surgery. Last year, doctors put a metal plate on his collarbone to help a fracture heal faster and last week, they removed it. As soon as his collarbone heals, he is going to start training for the new year.
"I will get going as soon as it no longer feels painful. It will be a new year, zeroing out the odometer and starting a new account.
"[This year] showed me that I can do it. The Grand Tours and the classics, more so the Grand Tours."
The Giro d'Italia's stage to Mount Etna starts were Nibali was born, in Messina on Sicily's east coast. It then climbs Etna twice, once from Linguaglossa and then the finish up the south side to Rifugio Sapienza at 1904 metres. Nibali has never climbed up the south side, but will have a chance when he is in Messina from November 20 to 27.
Related links
Vincenzo Niabli: Rider Profile
Subscribe to Cycling Weekly: The perfect Christmas gift>>
Thank you for reading 20 articles this month* Join now for unlimited access
Enjoy your first month for just £1 / $1 / €1
*Read 5 free articles per month without a subscription
Join now for unlimited access
Try first month for just £1 / $1 / €1