Node4 Giordana Subaru team launch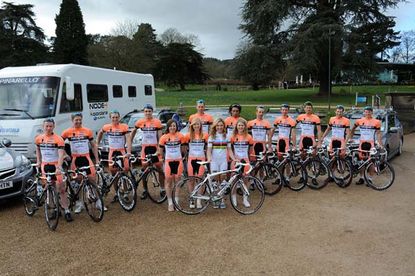 Node4 Giordana Subaru ProCycling Team gave their official team launch presentation at Trentham Gardens near Stoke last week.
The lake and gardens were also used as a great backdrop for the Stoke-Stoke stage three start of the 2011 Tour of Britain and is a local venue for the new Node4 team.
Sponsor representatives joined the team in the gardens and took lunch in the lakeside cafe with the riders and team personnel.
Malcolm Elliott and Bill Nickson will manage the team for 2012.
Node4 Giordana Subaru team 2012

Men
Marcin Bialoblocki
Dave Clarke
Matt Cronshaw
Lee Davies
Keiran Frend
Matt Higgins
Phil Lavery
Andy Magnier
James Moss
James Sampson
Pete Williams
Rico Rogers
Mike Northey
Women
Lucy Garner
Harriet Owen
Corinne Hall
Sarah King
The full Node4 Giordana Subaru team
Pinarello Dogma 2 team bike
Marcin Bialoblocki
Dave Clarke
Lee Davies
Matt Higgins
Kieran Frend
Phil Lavery
Matt Cronshaw
Andy Magnier
James Moss
James Sampson
Pete Williams
Related links
Node4 Giordana racing team launched
Photo gallery: Node4 Giordana team launch
Thank you for reading 10 articles this month* Join now for unlimited access
Enjoy your first month for just £1 / $1 / €1
*Read 5 free articles per month without a subscription
Join now for unlimited access
Try first month for just £1 / $1 / €1