Oldham rides Rapha Super Cross circuit at Alexandra Palace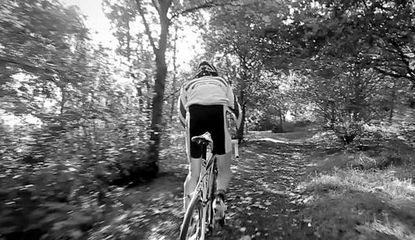 Pork pies, Belgian beer and cowbells were on the menu for National cyclo-cross champion Paul Oldham when he made a flying visit to the capital to film a promotional video for the upcoming Rapha Super Cross Series.
The Lancashire-based man proved to be as adept in front of the camera as on a 'cross bike, with director Andy Waterman putting him through his paces for the short film, based on a well known music video.
Oldham's Hope Factory Racing squad stand a great chance of landing the £2,000 team prize for the three-race series, taking in Windermere (October 15), Huddersfield (October 16) and the grand finale at Alexandra Palace, London (October 23).
Oldham and his team-mates will also be descending on Herne Hill Velodrome for the excellent (and scary) Muddy Hell Halloween Cross, held the evening before Alexandra Palace, to make an excellent double-header of quality 'cross races in the Capital.
"We have already sold out the support race at Ally Pally, which is brilliant," said series director Ian Cleverly, "and the Novices race is filling up nicely. All three events will be a mixture of fun and hardcore racing."
With beer tents, food stalls, DJ's, and even a brass band in Huddersfield, the series events promise to be a lively day out for spectators and riders alike. Entry for Windermere and Huddersfield is on the line, while remaining places at Alexandra Palace can be found at Rider HQ.
Super Cross 2011 from Super Cross on Vimeo.
Thank you for reading 20 articles this month* Join now for unlimited access
Enjoy your first month for just £1 / $1 / €1
*Read 5 free articles per month without a subscription
Join now for unlimited access
Try first month for just £1 / $1 / €1