Operacion Puerto doctor found guilty of endangering public health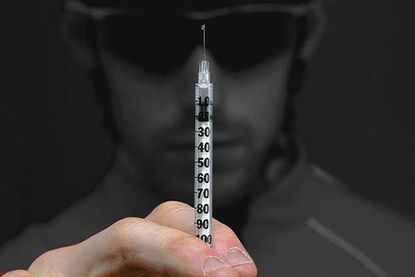 The Operacion Puerto investigation resulted in a guilty verdict for mastermind Eufemiano Fuentes today in Madrid, according to Spanish daily AS. The judge ruled that the the doctor and former team Kelme trainer, Ignacio Labarta endangered public health with their doping ring.
Fuentes received a one-year sentence and Labarta four months.
A Madrid judge handed down the verdict less than a month after the two-month trail closed and seven years after raids kicked off the Operacion Puerto scandal.
Spain's Guardia Civil police found around 200 coded blood bags at the time. Riders Ivan Basso, Michele Scarponi, Jorg Jaksche and Alejandro Valverde served suspensions for their ties. Others, including Tyler Hamilton, Jan Ullrich and Mario Cipollini have been linked to Fuentes' doping operations.
Fuentes and Labarta will likely not serve jail time as they are first time offenders with sentences less than two years. Judge Julia Santamaria also stripped Fuentes of his medical licence and fined him around £3800.
Doctor Yolanda Fuentes, Eufemiano's sister, Kelme director Vincente Belda and Liberty Seguros GM Manolo Saiz also stood trail earlier this year, but were acquitted.
Fuentes' right-hand man, Merino Batres was dismissed early in the trial because he is suffering from Alzheimer's disease.
The judge ruled the blood bags would not be released as the World Anti-Doping Agency (WADA) and other agencies have asked. Instead, they will be kept in a Barcelona freezer while Fuentes and Labarta are given time to appeal.
Operacion Puerto: Related links
9 February 2013: Mario Cipollini linked to Fuentes ring, says newspaper
10 Feb 2012: Ullrich apologises and regrest not admitting doping link
23 November 2011: Operacion Puerto doping ring suspects finally go on trial
9 December 2010: Operacion Puerto's Fuentes under investigation again in new anti-doping raids
2 October 2008: Operacion Puerto, case closed again
10 December 2008: Schleck cleared of Puerto involvement 15 February 2008: Operacion Puerto: It's back
27 September 2008: Frank Schleck under Puerto suspicion after police raid
14 November 2007: Dick Pound (WADA): "Not just cyclists in Puerto"
30 June 2007: Jaksche lifts lid on Operaction Puerto
23 April 2007: UCI issues Operacion Puerto open letter
21 December 2006: Fuentes, 51 riders to be questioned
Read Cycling Weekly magazine on the day of release wherever you are in the world with our iPad and iPhone edition - International digital edition, UK digital edition. And if you like us, rate us!
Thank you for reading 20 articles this month* Join now for unlimited access
Enjoy your first month for just £1 / $1 / €1
*Read 5 free articles per month without a subscription
Join now for unlimited access
Try first month for just £1 / $1 / €1