Pendleton wins sixth and final sprint title on day of fantasy sprinting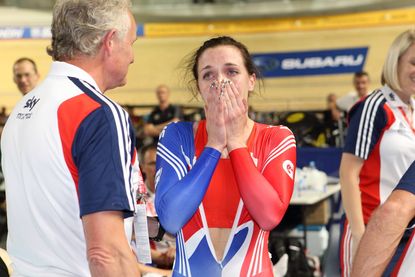 British, French, German and Australian sprinters today treated the Track World Championships crowd in Melbourne to the greatest display of sprinting they will ever see.
Both the men and the woman threw everything at each other throughout the various rounds producing results that few could have guessed. Most of all Pendleton's win.
Here in Melbourne she was crowned world sprint champion for the sixth time in her career and said afterwards it would be her last: "This is probably the most significant and probably the most emotional, being the last time I'm going to do this."
Had this just been the emotions coming out you wouldn't have blamed her as her route to the top step of the podium over the last two days has been a roller coaster. After some close shaves in the early rounds yesterday she found herself up against Anna Meares in the semi final today.
The two are not best friends, why would they be, but the rivalry between them has been over-egged in the Australian press in the build-up. What happened today, however, will only fuel the duel between the two riders in the run-up to London. It was, with no exaggeration, pure theatre.
In their first race, Pendleton crashed just metres from the finish line. Meares, undoubtedly the standout favourite for this competition this week, was on her outside, edging slowly in front down the finishing straight.
Both were travelling flat out, fighting to keep their bikes in a straight line when a slight contact of the arms sent Pendleton flying. She immediately got up and walked back to the team pits and was patched up by the team doctor before race number two.
Meares beat her again, and that, it seemed was that. But a few minutes later it was announced that Meares had been relegated for moving out of the sprinters line. She had flicked up ever so slightly in the final banking and forced Pendleton to kick back momentarily. It wasn't dangerous, but it was enough to give the race to Pendleton.
Now at one race each, they would have to race again. Meares, don't forget, qualified with a world record yesterday and is the reigning champion riding in front of a partisan home crowd. Pendleton has just crashed at over 60kmh, was covered in bandages and had been beaten twice. Who would you put your money on?
Incredibly, Pendleton won, getting level with Meares around the final banking and edging past in the home straight. To win under those circumstances is a reminder of the champion she is and a sign that she will be ready to defend her Olympic title come August.
Of course, she still had to win the final, but beating Meares was the more significant result.
Pendleton despatched Simona Krupeckaite emphatically in the first race, but then lost the second. Sat back in her pit, thinking about getting ready for the next race, the judges announced their decision to relegate Krupeckaite, again for coming off the sprinters line.
Pendleton was world champion for the sixth and final time. "It's great to win, but it's not the same as crossing the line first. It's kind of disappointing at the same time. It's definitely a bit weird," she said.
Of the crash, Pendleton said: "I was giving it 100 per cent and in doing so I just slipped over, it's a bit embarrassing really. Those things happen now and again."
"I didn't really think about it too much. In track cycling you do fall sometimes - my dad says you don't do the sport if you're not prepared to crash now and again. Hopefully less often than more often. It's just surface burns, it's not that bad, it really isn't. You just get up and get on with it."
Fast times and frantic tactics
The male sprinters also treated the crowd to some epic battles. Qualifying was a sign of what was to come as 10 riders went under the 10-second barrier. Four years ago in Manchester, in the last Olympic cycle, only one rider, Kevin Sireau went under 10 seconds. Last year in Apeldoorn, no one went under that mark.
The 1/16 finals that come next are quite often a walk over for most riders as slowest meet fastest, but not today. Several riders tried their luck and went from a long way out, including New Zealand's young Ethan Mitchell who was up against Sir Chris Hoy. "He's Olympic champ and I had to go out and give it to him, I had to show him I was there to win," Mitchell said. "It was premeditated and my coach and I had talked about it. It went off pretty well but my legs just tied up in the last 30m."
Hoy, who got beaten in a similar fashion by Robert Forstemann in Copenhagen 2010, got Mitchell on the line, but it was touch and go for a while. "When I was coming in to the bell I saw Justin [Mitchell's coach] running down the home straight egging me on, that's when I knew I had a gap, so I just kept piling it on and hoping that I could hold out, but not quite," said Mitchell.
"He came up and congratulated me. It's awesome to have an Olympic champion show some appreciation and respect. I'm stoked to be giving it to Hoy. Fingers crossed that there's some photo's of that."
Hoy survived that scare and another at the hands of Forstemann himself, albeit this time with more traditional tactics, and will meet his team mate Jason Kenny in tomorrow's semi-final. It's a massive race, not just to get the chance to go for the gold medal, but also in the battle for the one Olympic spot.
Gregory Bauge, who looked unbeatable today, will meet Shane Perkins (Australia) in the other semi-final after Mickael Bourgain was also relegated in his match with Perkins. Were all these disqualifications surprising? "It happens every Olympic year," one coach told us. "They do it by the book because that's what they'll have to do at the Games."
Four of the seven commissaires in the panel in Melbourne will be in London, the other two were officiating in London.
Omniums strike a chord
Ed Clancy narrowly missed out on an omnium medal after finishing level on points with Denmark's Lasse Hansen. Hansen was awarded the medal as when two riders finish on the same points, the rider with the lowest accumulated time in the timed events is deemed the winner. Hansen beat Clancy by five seconds in the individual pursuit.
"To be fair I won the Euros on this countback when it was me and [Bryan] Coquard so you win some, you lose some," Clancy said.
"It's disappointing, we had a half-descent shot at a medal, but the Danish lad was riding strong. I wouldn't have traded that win in the team pursuit for anything. To get a medal off the back of that would have been awesome, to get close is good, it still bodes well for the Olympics."
The omnium was won by Australia's Glenn O'Shea who has now ridden two international omniums and won them both.
In the women's omnium, Britain's Laura Trott is in joint first place with Australia's Annett Edmondson after three rounds. Trott once again won the elimination race in her own inimitable style, surging from the back down the finishing straight to avoid the cut. She was second in the flying lap and eighth in the points race.
Her team pursuit team-mate Dani King narrowly missed out on another medal in the scratch race, finishing fourth.
Related links
Track World Championships 2012 day three photo gallery
Track World Championships 2012: Coverage index
Thank you for reading 20 articles this month* Join now for unlimited access
Enjoy your first month for just £1 / $1 / €1
*Read 5 free articles per month without a subscription
Join now for unlimited access
Try first month for just £1 / $1 / €1