People, Mesmerizing and Papa: Alexey Vermeulen's custom-painted Enve MOG described in three words
After its unveiling at the Sea Otter Classic, this custom gravel steed will make its race debut at Unbound 200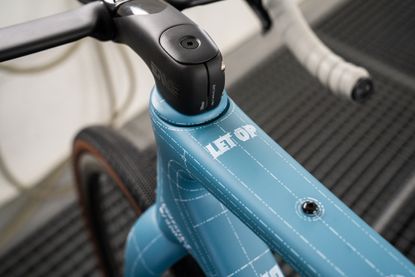 (Image credit: ENVE Composites)
Life Time Grand Prix contestant Alexey Vermeulen debuted his custom gravel steed at the Sea Otter Classic in late April. It's the first custom paint job for the former WorldTour roadie in collaboration with Enve Composites, and it's one that he said he'll cherish forever.
"I'm stoked on it. It's special to me, and hopefully, with it, I can show off the people behind the bike as well as something that is unique and people will look at and can't find the end to it," Vermeulen told Cycling Weekly.
The bike is Enve's newly launched MOG, a purpose-built gravel machine for racing, bikepacking and mixed-terrain riding. While Vermeulen proved that the 2022-released Enve Melee road bike was perfectly capable of being raced on unpaved roads, having emerged the victor of the 2022 Belgian Waffle Ride CA, the MOG adds a beefy, 50mm tire clearance, a slacker geometry, and gravel-specific features like fork mounts and in-frame storage.
The MOG is available in just one muted sandstone color, and in contrast, Vermeulen's blue steed really pops.
Vermeulen schemed up the paint job while listening to Enve engineers explain the bike. And it's one you'll have to see up close to appreciate truly. The CAD lines, numbers, and scribbles of the bike's blueprint are available for all to see.
"50mm clearance, Clarence!", a quote from classic comedy movie Airplane!, is on one fork blade with "Load it up!" scribbled around the accessory mounts on the other blade. Other scribbles point to the bike's assets like the 27.2mm dropper compatible seatpost, "grime-proof latch" to the in-frame storage and the threaded T47 bottom bracket.
When asked about the Dutch phrase "Let op" (translation: "caution" or "look out") printed on the top tube, Vermeulen explained:
"It has always been a phrase in my household from my grandfather and father as long as I can remember. To me, it is a phrase that brings me back to the center. Pay attention to…eating, drinking, the race, family, etc. I loosely translate it to a reminder to focus on the things that matter."
The 28-year-old describes the paint job in three words: People, Mesmerizing and Papa.
Elaborating on those descriptors, Vermeulen explained:
People: "ENVE is a company where the people are (almost) better than the products they make. When helping to design this paint job, I wanted to denote each integral person involved in this frame. You can find their signatures on the back of the seat tube."
Mesmerizing: "The lines and notes on this frame seem to keep me constantly searching for the next secret that it holds."
Papa: "My dad is an architect and my entire childhood he shared his love of drawing whether at a restaurant on a napkin or at home on his drafting table. When I look at the bike and its CAD lines, it reminds me of my childhood and our relationship as I found my love of racing."
Image 1 of 8
The bike will make its race debut at the 200-mile Unbound gravel race on June 3, 2023, in Emporia, Kansas. This will be the second stop of the Life Time Grand Prix series, a season-long gravel and XC mountain bike race series in which a cast of handpicked competitors travel throughout the United States in pursuit of a $250,000 prize purse. Vermeulen finished second in the series in 2022 and after having a rough start at this year's series opener in April, the Fuego XL, Vermeulen is keen to score some points to move up in the leaderboard.
Thank you for reading 10 articles this month* Join now for unlimited access
Enjoy your first month for just £1 / $1 / €1
*Read 5 free articles per month without a subscription
Join now for unlimited access
Try first month for just £1 / $1 / €1
Cycling Weekly's North American Editor, Anne-Marije Rook is old school. She holds a degree in journalism and started out as a newspaper reporter — in print! She can even be seen bringing a pen and notepad to the press conference.
Originally from The Netherlands, she grew up a bike commuter and didn't find bike racing until her early twenties when living in Seattle, Washington. Strengthened by the many miles spent darting around Seattle's hilly streets on a steel single speed, Rook's progression in the sport was a quick one. As she competed at the elite level, her journalism career followed, and soon she became a full-time cycling journalist. She's now been a cycling journalist for 11 years.