Country lane disrepair costs £2 billion a year whilst government diverts spend to motorways
Cycling UK says minor road maintenance spend has reduced by 40 per cent and cyclists' claims cost more due to risk of injury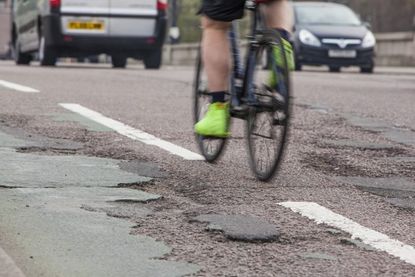 (Image credit: Chris Catchpole)
Potholes on minor roads cost the UK economy £2 billion a year, and yet spend on maintenance has reduced in the last decade, according to Cycling UK.
Cyclists are particularly affected, and figures show that those on bikes cost councils 13 times more than other road users in claims, due to the risk of personal injury.
A freedom of information request made by Cycling UK - the charity behind the 'Fill That Hole' app - found that an average compensation claim for a cyclist was £11k, vs £841 for motorists.
Department for Transport figures found at least 390 cyclists have been killed or seriously injured due to pothole related incidents since 2007.
Investment on minor roads - which represent 88 per cent of the overall network - has fallen by 40 per cent since 2009/2010.
"Good road maintenance is not just about spending money to save money, it's also about saving lives and limbs," said Cycling UK's policy advisor Roger Geffen, MBE.
"The Government continues to boost spending on new motorways and trunk roads, while letting our existing local roads rot away. After several hard winters, it's high time the Government reversed these skewed priorities," he added, speaking after his apprearence before the House of Commons Transport Committee's inquiry on Local Roads Funding and Governance.
>>> Cyclists' guide to dealing with potholes
The £2.04 billion cost to the economy comes from the Transport Research Laboratory's estimates that for every £1 cut on local roads, there is a wider economic cost of £1.67.
In 2009/2010, English highways authorities total spend on road maintenance was £4.19bn. A sharp decline followed in 2013/14 to £3.46bn, but this has gradually increased to £3.63bn in 2016/17.
Whilst overall maintenance has increased, this has not gone on minor roads. In 2009/2019, £2.51bn was spent on minor roads, representing 60 per cent of overall spend - vs £1.87bn in 2016/2017 - 51 per cent of the overall.
In actual terms, this represents a 40 per cent drop in funding.
"Cycling UK's findings show that that cuts to maintenance budgets for local roads are a false economy, as this is where they most endanger pedestrians and cyclists," commented Geffen.
He added: "Pay-outs to cyclists for highway damages are typically 13 times higher than those made to drivers, mainly because they are more likely to involve injury rather than just property damage.
"When you add in the costs of injuries to the NHS and to employers, the case for local road maintenance becomes overwhelming."
Thank you for reading 5 articles this month* Join now for unlimited access
Enjoy your first month for just £1 / $1 / €1
*Read 5 free articles per month without a subscription
Join now for unlimited access
Try first month for just £1 / $1 / €1