Seven of the best cycling-related pop songs
Ageing rocker Matt Lamy gets in the groove with seven great cycling-related tunes — just don't expect too much from the last 20 years to be included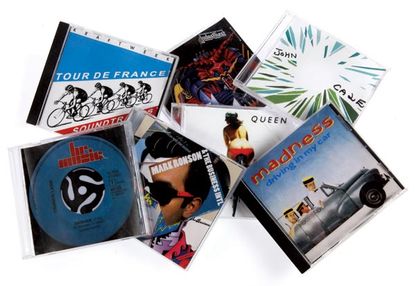 Get The Leadout Newsletter
The latest race content, interviews, features, reviews and expert buying guides, direct to your inbox!
Thank you for signing up to The Pick. You will receive a verification email shortly.
There was a problem. Please refresh the page and try again.
There's no hiding the fact that cycling and rock and roll aren't easy bedfellows. Like many subjects, cycling has suffered at the pretence that has to be upheld in pop. If the 'Welsh Elvis' Shakin' Stevens had to make out he wasn't married (or in his mid-thirties) for the early part of his career, what hope is there that a secret penchant for Lycra will be revealed?
For example, few if any people know that Blur's 1994 anthem 'Parklife' was originally to be called 'Park Tool' after Damon Albarn's Saturday job in the workshop of Halfords, Ilford. Rod Stewart's breakthrough solo album should have gone to the pressers as Every Puncture Tells A Story. And Ian Hunter's 1975 hit was originally titled 'Once Ridden Twice Shy' after an unfortunate experience with a French hire bike.
But while artistes' managers rule against public displays of pedalling, behind many great pop stars there is a burning desire to bike. Talking Heads' David Byrne is the most celebrated singing cyclist, having penned the book Bicycle Diaries and even designing a set of unique bike parking racks. He's not alone: punk band Abdoujaparov named themselves after Djamolidine, the Uzbek wildman sprinter.
>>> 31 things you always wanted to know about cycling, but were afraid to ask
Even old rubber lips Mick Jagger is known to appreciate the whiff of bike lube. Many years ago a cycling journalist we know found himself on the Stones' private jet, simply because Mick discovered he wrote about bikes.
So, we've scoured our vinyl collections in the desperate hope we'll find at least seven tunes that unite the disparate worlds of rocking and rolling. See if you can spot where we start clutching at straws.
What to look for
You can trust Cycling Weekly. Our team of experts put in hard miles testing cycling tech and will always share honest, unbiased advice to help you choose. Find out more about how we test.
While we never advocate listening to music while cycling on the road, if you're going to be doing a spot of turbo-training there's nothing better to keep up the cadence and lessen the boredom. Pick something with a tempo that suits your spinning speed. Of course I'm biased, but classic rock like AC/DC, does it for me. Just make sure it's quick and you enjoy listening to it — turbo-training is hard enough without having your ears assaulted as well.
One final tip: if you're listening through a stereo or a docked mp3 player keep the remote control (or a lighter) somewhere handy for any unexpected ballads.
John Cale — Bicycle (2003)
'Bicycle' is a sonic soundscape from experimental pop legend John Cale. Beyond a few 'doo doo doos' there's not much to sing along with, although again a bike bell does play a lead role. One of the founding members of Velvet Underground, Cale represents the more artistic side of pop. Whatever else you say about cycle-friendly rockers, with people like David Byrne and Cale, at least bike pop is clever.
Mark Ronson — The Bike Song (2010)
Just to dispel the notion that we know nothing of music beyond the late-1980s, here's one from modern-day singer/songwriter/record producer Mark Ronson. The video alone is worth watching for Ronson's unique take on bike power and to see the quiff-meister throwing shapes on a retro Raleigh Streetwolf. (To up our cred further, if you really want to be down with the kids check out 'Two Wheels' by Hollywood rapper Wax. Word, indeed.)
Madness — Riding On My Bike (1982)
A B-side on the 12in version of 'I Like Driving In My Car', this is a tale of the singer (in this case Lee Thompson, not Suggs) pedalling for charity. Before Madness reunited in 1992 Thompson ran a decorating business, at one time employed by CA's editor Robert Garbutt. Thommo was more impressed at meeting a bike journo than our man Garbutt was at finding a member of Madness doing the skirting boards.
>>> 13 things your friends don't understand about cycling
Queen — Bicycle Race (1978)
Inspired by a stage of the Tour de France, this classic cut is the pop world's greatest homage to cycling, and it even features a bike bell solo before Brian May starts shredding. Quite what the hardnuts of the 1970s pro peloton thought of Queen's flamboyant frontman Freddie Mercury is anyone's guess, but judging from 'Bicycle Race' he certainly had a fondness for getting his leg over a crossbar. Who would have thought it?
Kraftwerk — Tour de France (1983)
German techno pioneers Kraftwerk are known for their love of bikes, and 'Tour de France' was recorded by the band's classic line-up. Things turned sour in 1986 when drummer Wolfgang Flür took his sticks elsewhere. "There were piles of racing bike tyres lying around in the studio and gear shifting devices from different companies, as well as black sticky and stinky racing clothes. I didn't like it," Flür said.
Frankie Laine — Rawhide (1958)
Unlike Kraftwerk's cycling-instigated upsets this tune really gets to the bottom of things. More than just a rollin', rollin', rollin' tribute to pedal power, 'Rawhide' is a poignant warning to those who won't invest in sufficiently padded shorts, embrocation, or a decent saddle. The great Frankie Laine sang a ditty with a similar theme for the Blazing Saddles title track. Interestingly 'Rawhide' includes the lyric 'Hell bent for leather', which neatly leads us to…
Judas Priest — Freewheel Burning (1984)
Written after a particularly rapid descent of the Galibier, 'Freewheel Burning' is a rare admission of the Brummie metallers' fondness for all things pedal-powered. Of course further clues can be found in their back catalogue, with songs such as 'Take These Chains', 'Victim Of [Gear] Changes', 'Hell Bent For Lycra' and the ode to home-based training, 'Turbo Lover'. Little known fact: the late Tour de France champion Marco Pantani based his look on Priest frontman Rob Halford.
Verdict
There aren't really any decent songs about cycling are there? A band that deserves a final mention for the best cycling name is Campag Velocet, a London indie combo who split in 2005, their singer, Pete Voss, even shares his surname (almost!) with cycling world champion Marianne Vos.
Thank you for reading 20 articles this month* Join now for unlimited access
Enjoy your first month for just £1 / $1 / €1
*Read 5 free articles per month without a subscription
Join now for unlimited access
Try first month for just £1 / $1 / €1
Get The Leadout Newsletter
The latest race content, interviews, features, reviews and expert buying guides, direct to your inbox!