Brompton releases limited edition collaboration with David Millar's Chpt3
Red highlights, titanium and Devesa print components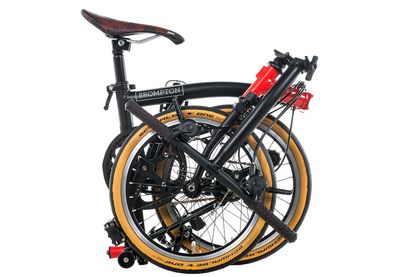 Brompton says that its original Chpt3 bike was its most successful limited edition ever. Now it's followed it up with a successor, also in collaboration with the design house founded by ex-pro David Millar.
>>> Brompton S2L Superlight review
According to Millar: "It's truly a joy to ride, I dare you not to smile when you ride it. It's my bike that receives the most compliments, and I've got some amazing racing machines, so that's no mean feat."
The Brompton x Chpt3 bike aims for style and light weight, with titanium used for the rear frame and fork, for an overall weight claimed to be 10.3kg. The components and suspension also get an upgrade from the standard machine.
>>> Brompton Electric: first ride review
So there are tan walled Schwalbe One 35mm tyres, designed to roll faster than the standard-issue Brompton tyres. And the saddle is a Fabric Scoop titanium railed number finished in Chpt3's latest Devesa print, which was launched in October last year and is used on products by POC and Castelli too. The Fabric dual texture grips have red accents too.
The red suspension block on the Brompton x Chpt3 bike isn't just there for effect either: it's firmer than Brompton's standard damper, for a racier ride. Plus, as you'd expect from a bike designed by an ex-pro, there are no mudguards.
Will Butler-Adams, CEO of Brompton stresses the new bike's practicality: "With the Brompton X CHPT3 we wanted to encourage those who climb hills and cover distance at the weekend to keep riding during the week, with a performance bike that fits into the urban world in which so many of us live."
>>> Brompton bikes 2019 range guide
The Brompton x Chpt3 bike comes with Brompton's S-type bars and six-speed transmission and is priced at £1990. Brompton says that the initial production run will be limited to just 1000 bikes. You can pre-order from CycleSurgery.
Thank you for reading 20 articles this month* Join now for unlimited access
Enjoy your first month for just £1 / $1 / €1
*Read 5 free articles per month without a subscription
Join now for unlimited access
Try first month for just £1 / $1 / €1