New Devesa print from Chpt3 available on cycling gear from POC, Castelli and other brands
Devesa design is based on the patterns in the bark of the plane trees near Chpt3's Girona home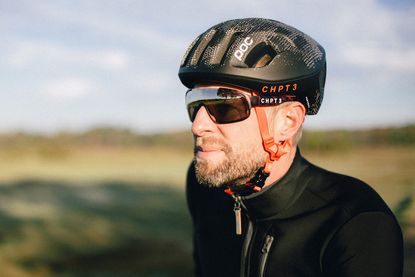 Chpt3, the marque of ex-pro David Millar, sees itself as more of a design consultancy than a clothing brand. It comes up with a range of designs that it applies not just to its own clothing range, a collaboration with Castelli, but also to other cycling equipment.
>>> Best Black Friday deals for cyclists
Its latest design is called Devesa. It's inspired by the patterns seen in the bark of the tall plane trees in the Devesa forest, the largest urban park in Girona, home to many pro cyclists, including David Millar. It reproduces the mottling of the bark in a "3" design.
As well as its own Chpt3 clothing, made by Castelli, Devesa will be available on high end products from a range of other brands.
So the new Factor Vista gravel bike, launched last week, will be available in the Devesa pattern alongside Factor's own standard colours. We had a look at the Chpt3 Factor Vista at the launch event in the New Forest a couple of weeks ago.
And POC is launching a Devesa version of its Ventral Spin aero helmet. Priced at £270, this comes with POC's silicone gel pads, designed to help absorb shear forces in an impact. There's also a Chpt3 version of POC's £215 Crave sunglasses, with the brand's high definition Clarity optics, made by Carl Zeiss, and an open frame design to help avoid steaming up. For a more casual look, the £205 POC Require glasses also now come with Chpt3 co-branding.
Component and accessories brand Fabric will have its Scoop saddle on sale in the Devesa print. And Brompton has a new Chpt3 collaboration due in early 2019, aimed at encouraging more road cyclists to use its machines.
It's one of 16 million configurations that Brompton can build and includes Chpt3 graphics and the S type flat bar and comes without mudguards. Brompton says that the Chpt3 Brompton is its most successful special edition ever.
For the latest version of the Chpt3 Brompton, the company has for the first time fitted Schwalbe One tyres and there's a harder red suspension block for a more sporty, faster ride feel.
Thank you for reading 5 articles this month* Join now for unlimited access
Enjoy your first month for just £1 / $1 / €1
*Read 5 free articles per month without a subscription
Join now for unlimited access
Try first month for just £1 / $1 / €1