Condor releases limited edition Classico track bike at the Bespoke bike show
Condor Cycles has this week release an old classic especially for the much anticipated World Cycling Revival this year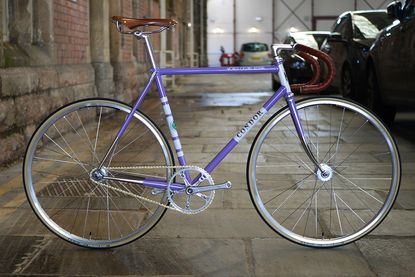 London based Condor Cycles, which has been hand building steel bikes for 70 years, has created and launched 15 replica 1950 track bikes especially for the Japanese Keirin Trophy, said to be the centre piece of the World Cycling Revival later this year hosted at the 1948 Olympic venue Herne Hill Velodrome.
>>> Condor Super Acciaio frameset tested
The track bike is based off of Condor's Classico frame design. The British brand has then taken cues from the 1950s and 60s bikes used by Condor racers like Dave Bonner and Hugh Porter. Each bike is handmade in Italy and have all been specifically designed and built with Keirin style racing in mind to stay pure to the racing. This should allow for a riders skill and power to prevail rather than who has the best bike.
So all competitors in the Japanese Keirin Trophy will only be using the Condor Classico track bike.
If you'd like a close up view of the racing bike from Condor it will be on display this week at the Bespoke bike show. Up close you'll be able to see the craftsmanship of the triple butted lugged steel frame, along with chrome plated and etched fork and rear stay.
>>> Condor Leggero frameset review
Grant Young of Condor Cycles said: "This year marks our seventieth anniversary building bespoke bicycles. In 1948 the majority of race bikes were custom built, but increasingly, in today's marketplace this is a rarity. That is why we are so excited to partner with The World Cycling Revival and produce the Classico for the event".
Between June 14 to June 16 at the iconic Herne Hill Velodrome you'll be able to enjoy a festival of cycling that will celebrated the last 200 years of cycle racing.
The event will host races in true classic style and will feature the Condor Classico bike in the Japanese Keirin Trophy, which is said to have the likes of six time sprint world champion Francois Pervis and 2017 world champion Azizul Awan.
The Keirin races will be hosted every day, so you'll have every chance to see these bikes in action if you head along this summer.
Thank you for reading 20 articles this month* Join now for unlimited access
Enjoy your first month for just £1 / $1 / €1
*Read 5 free articles per month without a subscription
Join now for unlimited access
Try first month for just £1 / $1 / €1