Best cycling caps of summer 2017
Perfect for protecting your peepers from rain and sunshine - the cycling cap, or La Casquette - is a staple of any cycling wardrobe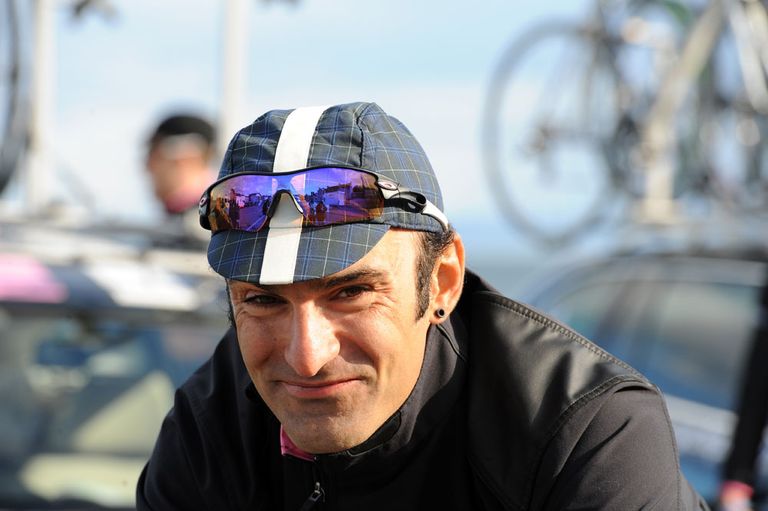 The humble cycling cap is a simple construction, but one which serves multiple purposes and carries a great deal of history within its threads.
Cycling caps are lightweight hats that sit underneath the helmet. They're almost always one size fits all affairs, often with a strip of elastic around the rear which serves to ensure all heads are catered for.
There's usually a peak, which in sunny weather helps protect your eyes from the sunlight. If sunburn is a risk, they can be worn backwards with the peak acting as a burn protector.
The peak comes into its own in the rain, too - working to keep water out of riders' eyes. Even the best cycling sunglasses sometimes steam up in the rain, so a cap can be a useful alternative, or at least a first line of defence.
Called 'La casquette' in French, cycling caps have a long history. As far back as 1868, when the first cyclist is registered to have won a race, its victor James Moore wore a hat. Styles chopped and changed until the 1920s, when teams adopted brightly coloured cycling jerseys and the caps began to match.
A Tour de France yellow cap appeared in 1955, and by the 60s and 70s fans could but caps that paid homage to their idols. Now, deep into the 2000s, they're as much a symbol of belonging to the cult of cyclist as they are a practicality. And they still keep the rain out of our eyes.
If you've not got one, you're missing a trick. Though simple, all cycling caps are not made equal. So here are some of the best...
Sportful Giara Cycling Cap
A breathable cap from the Italian manufacturer, Sportful, the Giara cap is constructed from a lightweight polyester mesh which is quick drying.
Part of a wider range, the cap comes with a fairly long peak at 9cm, so though it fits smaller heads with no excess fabric some riders might find it more comfortable with the peak flipped up.
Full review of the Sportful Giara cap here
FWE Fred unisex cycling cap
An all nylon cap which wicks sweat well and has a nice succinct peak which can be worn up or down regardless of head size. FWE, the in-house brand at Evans Cycles, named the cap after Frederick William Evans who started building in 1921. They say "his approach could be summed up as 'everything you need and nothing you don't'" - and they reckon the cap sums up his spirit.
Quite a claim to sum up a spirit in a cap - but it does basically do exactly what it needs to do. Nothing more, nothing less. Except it's available in four different colours, which you could argue is surplus to basic requirement, but quite nice.
Giro Peloton one size cap
Made from an anti-microbial jersey fabric, the Peloton Cap from Giro has elasticated rear panels which mean it's truly one size fits all. Made of a thin, light material - 50 per cent Polyester, and 50 per cent Nanobon (which is partly just appealing because it sounds the bomb) it's cool to wear and available in a range of designs.
The short peak means that even small-headed riders can see comfortably with the peak flipped up or down.
Primal electric cycling cap
Primal Europe is a brand well known for their eccentric, bright designs. If you're not up for a full on jazzy outfit, then a cap is the perfect way to tip your head in the direction of outspoken graphics.
There's a wide range of design options, each featuring 'SpeedPro' double plaited knit fabric, that's designed to dry quickly. The foam peak is 'crushable' - so you can sit on it and it expect it to stay peaked, and there's an integrated sweat band.
Bianchi Reparto Corse Celeste Cycling Cap
You're really, really, only allowed this cap if you ride a Bianchi. If you do, it's perfect and will complement your celeste beauty to perfection.
Constructed from quick drying Polyester, it's quick drying and has a wide peak for plentiful eye protection.
Cinelli Vigorelli Cotton Cap
Cinelli can trace its history back to 1948, so is a company that's had time to build up quite a collection of celebratory caps.
Designs range from the most modern to the most traditional - and this Vigorelli cotton cap has changed very little since it was first designed to celebrate the Vigorelli track bike frame, named after the prestigious Vigorelli Velodrome.
Cinelli Eye of the Storm cotton cycling cap
Speaking of some of the more modern designs, there's this one. The Eye of the Storm cap features artwork by Ana Benaroya, which was produced for the Cinelli Art Program.
Aside from creating this design for Cinelli, Benaroya has also contributed artwork for New York's Lincoln Center, The New York Times, The Los Angeles Times and Ralph Lauren.
Sportful NoRain Cap
A functional offering from Sportful, the Fiandre NoRain cap is fully waterproof. All seams are fully sealed, creating a wind and rain proof layer that can sit below your helmet, keeping you comfortable as nature does its worst.
Alé UV Protection Sunny Cap
Back in completely the other direction - the Alé creation is made from a lightweight Polyamide and Elastane mix with 50+ UPF protection. Particularly handy for the 'follically challenged' riders who don't have quite the same under helmet coverage as others.
Z Vetements retro cotton cycling club
Show the young'uns up with a this throwback to the 80s/90s. A replica of the cap worn by the Z team, between 1987 and 1992. It's made in Italy and constructed from a mixture of Polyester and cotton.
See it at Prendas Ciclismo for £7.95 here
Castelli Fausto Cap
Named after the Italian legend, Fausto Coppi, this Polyester/Cotton mix cap aims to combine tradition with modernity - using the age old style and combining it with flashes of colour beneath the peak.
dhb Blok cycling cap - Astro
Blok is dhb's graphically inspired collection of brightly coloured but hard wearing kit - and this cap is designed to top off an outfit. However, there's nothing stopping you pairing it with whatever you have on - and it's made from a quality lightweight fabric that will offer plenty of breathability.
Rapha lightweight cap
A plain and simple looking cap from Rapha, the fabric is a cotton and Elastane mix, offering plenty of stretch. There are a few nice techy features, such as a water resistant finish, moisture wicking lining and anti-bacterial tape with elastic fastener around the rear.
Michelle Arthurs-Brennan is Cycling Weekly's Tech Editor, and is responsible for managing the tech news and reviews both on the website and in Cycling Weekly magazine.
A traditional journalist by trade, Arthurs-Brennan began her career working for a local newspaper, before spending a few years at Evans Cycles, then combining writing and her love of bicycles first at Total Women's Cycling and then Cycling Weekly.
When not typing up reviews, news, and interviews Arthurs-Brennan is a road racer who also enjoys track riding and the occasional time trial, though dabbles in off-road riding too (either on a mountain bike, or a 'gravel bike'). She is passionate about supporting grassroots women's racing and founded the women's road race team 190rt.
She rides bikes of all kinds, but favourites include a custom carbon Werking road bike as well as the Specialized Tarmac SL6.
Height: 166cm
Weight: 56kg
Michelle Arthurs-Brennan on Instagram
Michelle Arthurs-Brennan on Twitter