Donhou Bicycles launches new 3D printed steel cross bike
East London based Donhou Bicycles produces some lovely steel frames and has now brought steel into the modern era by using 3D printing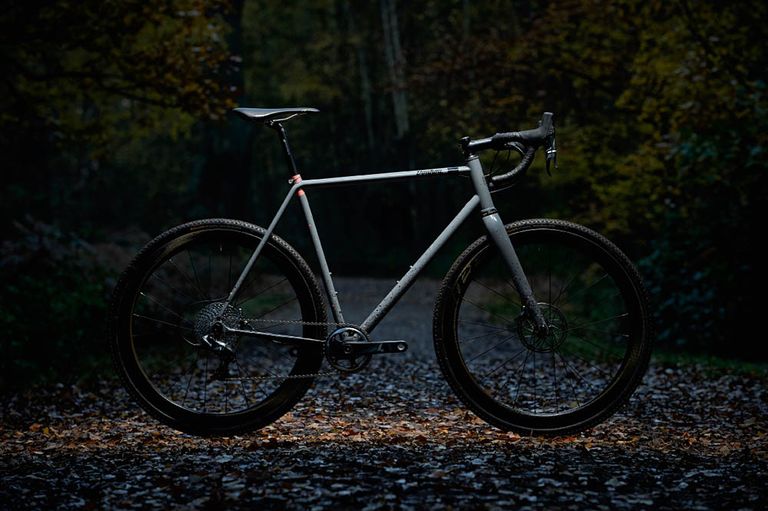 Donhou Bicycles last week launched the new DSS3 CX/Gravel steel frameset that 'pushes the evelope on custom steel'.
What brings this bike into the modern era is the inclusion of a 3D printed seat lug, which has been years in development, according to Donhou.
>>> Cross bikes for the 2017/18 season
This unique feature brings a whole host of benefits to the new steel DSS3CX / Gravel bike and allows Donhou to incorporate key cross style features into the steel frame.
The top tube has been ovalized for a more comfortable shouldering position. Seat stays have been set wider apart to better tyre clearance and means that cabling for the rear mech can be fully internal.
The tubing used is a mix of Reynolds and Columbus steel and is built to use thru-axels and flat mount discs.
In terms of builds, Donhou has two 'tunes' which is either CX or Gravel (see below) and offers a number of upgrade kits or a full custom build. It also offers three stock sizes in each tune and of course custom builds if nothing suits in those ranges.
Stock CX: SRAM Force1 groupset, Ritchey Comp finishing kit, Hope headset, Ritchey Streem saddle, Hope 25four wheel set, Continental CycloX King 35c rubber
Stock Gravel tune: SRAM Force22, Ritchey Comp finishing kit including the Evomax handlebar, Hope headset, Ritchey Streem saddle, Hope 25four wheel set, Clement X'plor USH 35c rubber.
Brooks upgrade: +£75 Cambium C17 saddle, Cambium tape.
Chris King upgrade: +£775 R45 hubs, Inset headset, Thomson stem and post.
Tubeless upgrade: £POA Discuss the best tyre choice for you and set them up tubeless.
Full custom: £POA // Discuss your riding style and environmental demands to fine tune a built kit to get the absolute most from your riding.
CX
| | Small (54cm) | Medium (56cm) | Large (58cm) |
| --- | --- | --- | --- |
| Head tube angle | 72 | 72 | 72 |
| Seat tube angle | 74 | 73.5 | 73 |
| Effective top tube length | 545 | 560 | 580 |
| Seat tube length (c-c) | 494 | 520 | 545 |
| Chainstay length | 420 | 420 | 420 |
| Head tube length | 136 | 156 | 176 |
| Stack | 572 | 591 | 611 |
| Bottom bracket drop | 68 | 68 | 68 |
| Fork rake | 50 | 50 | 50 |
GRAVEL
| | Small (54cm) | Medium (56cm) | Large (58cm) |
| --- | --- | --- | --- |
| Head tube angle | 72 | 72 | 72 |
| Seat tube angle | 74 | 73.5 | 73 |
| Effective top tube length | 545 | 560 | 580 |
| Seat tube length (c-c) | 494 | 520 | 545 |
| Chainstay length | 425 | 425 | 425 |
| Head tube length | 144 | 164 | 185 |
| Stack | 569 | 588 | 608 |
| Bottom bracket drop | 72 | 72 | 72 |
| Fork rake | 47 | 47 | 47 |