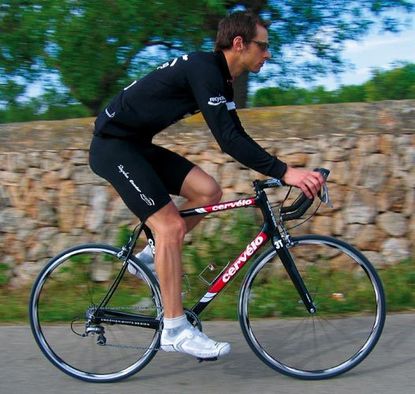 What?s this? A sportive bike from Cervélo? Is the freshly released RS a cynical marketing-driven machine or a genuine and worthwhile expansion of the range?
For those unfamiliar with Cervélo, it offers the R range of lightweight race machines, the Soloist bikes, also for road racing but with aerodynamics taking precedence over weight, and the P series for time trialling. The RS joins the R range and, in simple terms, is the R3 with a longer (20mm) head tube.
Also available as a frameset only, our RS came with the new Ultegra, compact cranks, Dura-Ace 7850-SL wheels, and Pro components. Perhaps most interestingly, it also has the new 3T Funda Pro forks, which Cervélo says offer greater stiffness and better aerodynamics.
Cervélo promotes the RS as a bike for less supple but no less powerful riders ie, those who need a higher bar without compromising performance. Based on the R3, the RS has a small amount of vertical compliance built into the stays but is otherwise a race-oriented machine.
The characteristic oversize BB and deep, box-section chainstays give a very positive race feel. Up front, torsional stiffness seems every bit as good as on a regular race frame, and with the 3T forks, handling was better than on any other Cervélo I?ve tried.
For several years, sportive bikes have been heading toward more race (dis)comfort levels,
and the RS certainly offers race performance. I look forward to riding it back-to-back with similar sportive bikes in a long distance event to see if it?s a good compromise or a step too far.
CERVELO RS
DistributorMadison www.ultimatepursuits.co.uk
Price£1,600 frameset
FrameCervélo Smartwall
Fork3T Funda Pro
Size range51-61 plus XS
Weight7.7kg
GroupsetShimano Ultegra SL
Deviationsnone
Alterationsnone
Gear ratios50/34 with 11-23
WheelsShimano Dura-Ace 7850 SL
TyresHutchinson Fusion 2
BarsPro PLT
StemPro Vibe 7S
Seatpost Pro PLT
Saddle Specialized Toupe
Size tested58cm
OUR FIRST IMPRESSION
Thank you for reading 10 articles this month* Join now for unlimited access
Enjoy your first month for just £1 / $1 / €1
*Read 5 free articles per month without a subscription
Join now for unlimited access
Try first month for just £1 / $1 / €1