A new steel frameset from Officina Battaglin: the San Luca
Custom tubes from Columbus are built into a bespoke frameset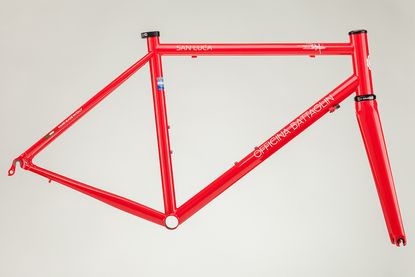 (Image credit: Photographer: Mirco Vettore Photograpy)
Officina Battaglin has launched its latest hand built Italian steel frameset, the San Luca.
Officina Battaglin specialises in custom steel frames and the San Luca has a contemporary look, thanks to its bespoke oversize Columbus Spirit tubeset and TIG welded construction. The steel frameset is coupled to an all-carbon fork with tapered bearings. Following the modern trend to wider tyres, there's space to fit 28mm rubber.
According to Giovanni Battaglin: "It blends the Italian frame building tradition with modernity to deliver what you would expect from a steel road frame coming out from the Officina Battaglin workshop: a comfortable ride that doesn't make you feel beaten up after a long day in the saddle while allowing you to push harder and faster when you want to."
Giovanni Battaglin was one of the foremost racers of his generation. He features in the classic documentary of the 1973 Giro d'Italia The Stars and the Water Carriers, when he was a 21 year old battling for the win with an imperious Eddy Merckx and for the mantle of best Italian rider with an ageing Felice Gimondi.
>>> New 1987 replica steel frame from Battaglin
The San Luca frame's name harks back to a time before Battaglin turned pro, when he went with a friend to watch a race take on a tough climb near the northern Italian village of that name. Battaglin and his friend were unimpressed with the racers, agreeing that they could climb just as fast and subsequently enrolling in a junior team.
Three years later Battaglin and his friend both turned pro and Battaglin went on to win two grand tours in 1981 along with stage and one day race wins during his racing career.
Each San Luca frame, as with all Battaglin's output is custom built to the owner's size. Battaglin quotes a frame weight of 1670g for a medium sized frame. The company offers a one million mile guarantee on all its frames.
Thank you for reading 20 articles this month* Join now for unlimited access
Enjoy your first month for just £1 / $1 / €1
*Read 5 free articles per month without a subscription
Join now for unlimited access
Try first month for just £1 / $1 / €1