Orbea Ordu: revamped time trial bike features greater adjustability
The frame has been tweaked to save drag but the headline news is more flexibility to suit best rider fit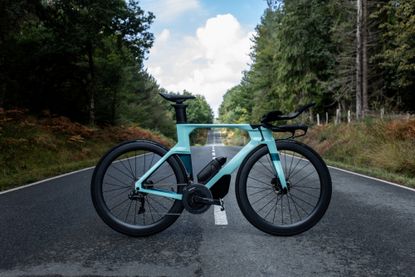 Orbea has launched a revamped model of its Ordu time trial/triathlon bike.
The new Ordu has been manipulated to save on drag - with a promised improvement of 11.5 per cent.
The claimed saving is 41 seconds over 180 kilometers, at 43 kph, with Orbea choosing this distance due to its focus on the triathlon audience, specifically the Ironman contingent - where the bike section is 180km (followed by a marathon and preceded by a 3.86km swim).
The drag savings come from adjustments across the frame. However, perhaps more notably is the increase in fit options available with this model.
With riders making up about 80 per cent of system drag, changes to the adjustment points of the new Ordu could make for the greatest impact.
Orbea has used what it calls a 'Front Post' system, to offer 140-150mm of stack adjustment below the extensions (depending upon size). There's also 15° of rotation available, allowing riders to find that high arm position favoured by a lot of today's fastest time triallists, with 120mm of horizontal adjustment between the arm rests.
The base bar itself can be flipped, giving two brake lever height options and another 30mm of manipulation.
Saddle position plays a huge role in power production, and on the Ordu there's 100mm of range adjustment here, too.
The brand also put a heavy focus on handling prowess, steepening the headangle from 71° to 72° across all sizes. This will make for a more nimble handling bike.
The bottom bracket drop has increased from 72mm (in most sizes - this was 60mm in an XS) to 75mm across the range - from XS to XL. This should make for greater stability.
In terms of frame improvements, the savings come from a plethora of tweaks following a reported 2,500 hours of calculations.
The headtube has been slimmed down, and the fork profile has been "smoothed out", according to Orbea. The base bar is now in line with the toptube and the transition between the downtube and headtube has been "cleaned up".
Whilst the brand is speccing its built with 25mm rubber, there's also now space for tyres up to 28mm. A horizontal top tube is said to reduce drag and changes to the downtube and 'tool box' as well as Orbea's first integrated cockpit all contribute.
Engineers at Orbea also wanted to save weight, and the new Ordu comes in at 1130g for the frame, with a 440g fork, 180g seatpost and 245g basebar.
Prices for the Ordu start at £4199 / $4999 / €4699 for the M20 LTD model, with Shimano Ultegra mechanical shifting. The Shimao Ultegra Di2 model - the Ordu M20iLTD - comes in at £6199 / $6999 / €6999.
The top of the line option comes with Dura Ace Di2, the M10iLTD retails at £7999 / $8999 / €8999. All three come specced with Vision 55 carbon disc brake wheels, Vittoria Rubino Pro tyres and hydraulic brakes. A frameset is available, at £3099 / $3799 / €3499.
Thank you for reading 20 articles this month* Join now for unlimited access
Enjoy your first month for just £1 / $1 / €1
*Read 5 free articles per month without a subscription
Join now for unlimited access
Try first month for just £1 / $1 / €1