Rotor adds a lightweight carbon and a single chainring to its Q-Ring range
At Eurobike Rotor revealed its new hydraulic groupset. For many this meant Rotor's two new Q-Rings went under the radar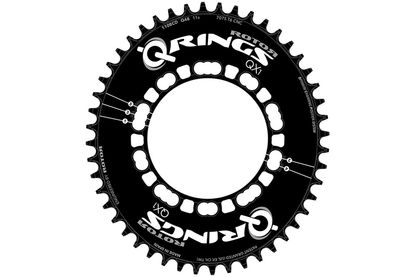 (Image credit: NX)
Eurobike is famous for all the big cycling brands revealing their latest innovations. Rotor's Uno hydraulic groupset was indubitably one of the greatest talking points of the show.
Watch our favourite tech of the month
However, beneath the headline acts some new releases slipped through with relatively little fanfare. Rotor's Q-Rings as well as its NoQ chainring have been popular for a while, now there are two new additions to its popular Q-Ring range.
QX1
In line with the increasing trend of 1x (single drive) chainrings —for cyclo-cross bikes, gravel bikes and even road bikes used in criteriums —Rotor has launched the QX1 chainring.
>>> Cyclo-cross: Buyer's guide
In fact, if you are a cyclo-cross fan you might be familiar with the QCX1 released last year. Initially it came in the following options - 38, 40, 42, and 44t. Responding to public demand the range has grown to include 46, 48, 50, and 52t and as a consequence is now called QX1.
Rotor claims the QX1 will add 12.5 percent ovality and with five optimum chainring positions to choose from you should be able to optimise your pedal stroke.
>>> Specialized's new Allez Sprint is only as X1 and it is not coming to the UK
The QX1 is compatible with all BCD 110 cranks and its alternating thick/thin single- speed tooth profile is claimed to prevent you dropping your chain at vital moments. If you like 1x chainrings, with the claimed benefits of Q-Rings the QX1 might give you the extra power you've been looking for.
Qarbon
The second new offering is the Qarbon. As you'd expect from the name the Qarbon adds carbon fibre to Rotor's aluminium Q-Rings.
If you are a serious time trialler or road racer who is a fan of the original Q-Rings the new Qarbon might appeal. The main advantages appear to be a reduction in weight and increased stiffness- Rotor claims the benefits are a not insignificant eight percent weight reduction and an impressive 20% increased stiffness!
The Qarbon has a slightly less extreme oval shape compared to the QX1 of only 10% but does offer five different chainring positions.
The QX1 costs £69 and shipping has already started. On the other hand you'll have to wait until December for hte Qarbon Q-Ring and it shall cost £149.
For more information go to Velotech.
Thank you for reading 20 articles this month* Join now for unlimited access
Enjoy your first month for just £1 / $1 / €1
*Read 5 free articles per month without a subscription
Join now for unlimited access
Try first month for just £1 / $1 / €1