Sensa Bikes launched in UK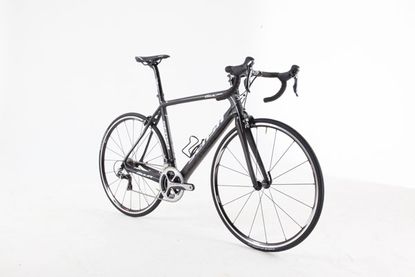 Like fine wine and food, the continent often has some real gems that the UK isn't always privy too. However, thanks to Merlin Cycles, one of the more hidden gems has reached our shores, in the form of Sensa Bikes.
The Dutch brand has been around for a good 20 years, covering pretty much every cycling discipline, and fundamentally caught our attention thanks to some of the most competitive price points we've seen.
The full range is wallet friendly, but it was the range topping Giulia that has made us do a double take. Available in either an 'off the shelf' or 'pick'n'mix' purchase options, the fame and fork is made from a mix of 24T and 30T carbon, and given its aero tubing profile, short headtube and an apparently super fast wheel changing 'Quick Wheel' dropout gives a clear indication that this is firmly aimed at the race market.
But what really stands the Giulia is the exceptional value for money. The off the shelf special comes equipped with full brand spanking new DuraAce 9000 for, and get this - just £2700!
Ok so the wheels take a hit, they're Shimano's cheapest 11speed wheels, the RS21, which will be the first thing you swap out, but with the full groupset costing over a grand if bought independently, it really is aggressive pricing.
If you are wedded to your digital shifting, you'll be please to know it's also fully Di2 compatible, coming with its own conversion pack - so ready to upgrade when you are. Available now in sizes 50-61.
Contact: www.merlincycles.com
Suprimo
Saying the Giulia was the top of the range technically isn't 100% true. The Giulia Supremo is. To the naked eye, it looks more or less exactly like the standard Giulia, albeit with slightly different decals. But, Sensa has used a higher-grade carbon fiber mix, knocking a whole 100grams off the scales for an extra £200.


This article was first published in the December 13 issue of Cycling Weekly. You can also read our magazines on Zinio and download from the Apple store.
Thank you for reading 20 articles this month* Join now for unlimited access
Enjoy your first month for just £1 / $1 / €1
*Read 5 free articles per month without a subscription
Join now for unlimited access
Try first month for just £1 / $1 / €1