Skunklock: the bike lock that makes thieves vomit
Indiegogo campaign for bike lock that releases vile smell when it's sawn into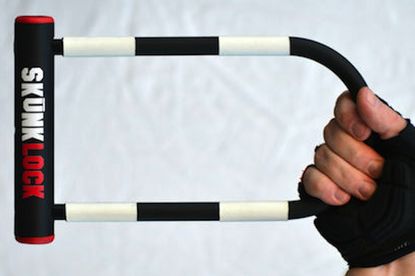 Called Skunklock, the lock is the brainchild of San Francisco inventor Daniel Idzkowski. When his bikes and those of his friends were persistently stolen, he decided to find a way to deter thieves more effectively.
With the right tools, it's possible to cut through a bike lock pretty quickly and Idzkowski says 1.5 million bikes are stolen in the US each year with an estimated market value of over $350m, with professional thieves using angle grinders or blow torches to attack the highest security locks.
>>> Stingray: the bike light with a built-in alarm
The Skunklock is a U-lock design and is made of hardened steel. But inside the lock and running the length of the U-section is a pressurised cavity filled with a noxious chemical deterrent mixture.
Cut into the lock and this ends up being sprayed all over the would-be thief. Idzkowski says that the smell is so disgusting that it induces vomiting in the majority of cases.
Idzkowski is looking to raise $20,000 on Indiegogo (opens in new tab) to bring the product to market.
>>> Bike thief reveals tricks of the trade in this shockingly candid interview
The Skunklock is guaranteed to be safe with everyday use. It's permanently sealed, so you won't get a faceful of chemicals as you unlock your bike to ride home. The locking bar is made of high strength steel and comes with a high security lock mechanism and multiple keys.
Although they don't smell too good, Shunklock's chemical deterrents are apparently legal throughout the US, although in some states it cannot be sold with the capsaicin compounds of the full-strength formula and will be offered with an alternative concoction.
Of course, the lock wouldn't have worked against the thief in China who cut down a tree to steal the bike locked to it.
But even if a guy wearing a gas mask goes after your bike, the odour is still apparently able to get to the thief and will stick to his clothes.
Thank you for reading 10 articles this month* Join now for unlimited access
Enjoy your first month for just £1 / $1 / €1
*Read 5 free articles per month without a subscription
Join now for unlimited access
Try first month for just £1 / $1 / €1