Specialized introduces new women's Power saddle
The Power saddle has been updated with three memory foam densities and a re-think on the cut-out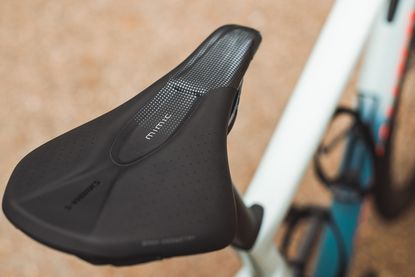 (Image credit: Picasa)
Specialized has released a brand new women's Power saddle, with additional 'MIMIC' technology designed to add further comfort to the existing model.
MIMIC stands for 'biomimicry' - the practice of designing based on biological entities and processes - and the updated perch features three different memory foam densities designed to account for changes in the density of female soft tissue.
The newest iteration was developed following feedback from 23 female subjects and 200 unique pressure maps. It boasts tapered wings and notably has a flexible thermoplastic (TPU) insert, instead of the cut-out seen on most women's saddles.
>>> Best Black Friday deals for cyclists 2018
Specialized says that pressure maps showed traditional cut-outs weren't offering a 'satisfactory level of soft tissue support or comfort' for the women involved in the development.
The brand followed its feedback and pressure mapping tests up with a further study, asking nine women uninvolved in the process to test the Power with MIMIC against other saddles.
The results showed the women found the new perch statistically more comfortable compared to other models, through the sample group is too small to give us much confidence and we've got a test model on the way to bring you a full review.
The hugely popular Power saddle was initially developed with Evelyn Stevens, the now ex-Boels-Dolmans rider whose strengths lay in time trialling. Stevens struggled to find comfort on the bike, often adopting an agressive position which caused soft tissue discomfort.
The original Power sought to fix problems for riders such as Stevens, and other women who are often either put off cycling or search out surgical solutions to help them find comfort on the bike.
However, once complete it was revealed to be a comfortable saddle for men as well - resulting in a decision to market and sell the product as unisex. Specialized says that early feedback shows the new design works well for men too - but testing is still ongoing.
The new women's Power with MIMIC will be available in three widths: 143, 155 and 168mm, and at four price points:
Comp – Hollow chromoly rails with a nylon/carbon base
Expert – Hollow titanium rails with a nylon/carbon base
Pro – Hollow titanium rails with a carbon base
S-Works – Carbon rails with a carbon base
Thank you for reading 5 articles this month* Join now for unlimited access
Enjoy your first month for just £1 / $1 / €1
*Read 5 free articles per month without a subscription
Join now for unlimited access
Try first month for just £1 / $1 / €1