Spengle creates one of a kind 24-carat gold leaf wheelset
The newest creation in the brand's unique Collections line up is quite a sight to behold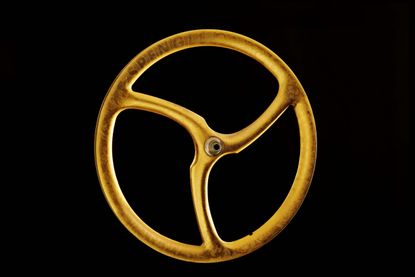 Spengle's tri-spoke carbon wheels draw enough attention when displayed in standard unpainted carbon, but the brand has sought to turn heads once again with the newest in its line up of limited edition wheelsets.
Spengle Gold is the latest in the 'Collections by Spengle' series - and it does what it say on the tin. The brand bought in 24-carat gold leaf, and hand-laid it over a carbon monocoque wheelset.
All of the 'Collections' wheels are limited run productions, but in this case, this pair is the only one of its kind. However, they're fully rideable - should the eventual customer choose to fit them to a bike and roll.
The gold leaf for the project was delivered to Spengle's HQ back in June 2019, but the set has only just been completed, having had individual flakes of gold applied, piece by piece.
The brand will be displaying these wheels at a series of shows prior to sale - first with Kolektif in Berlin on the last weekend of February. They'll later be on display at the London Bike Show (March 27-29) and Bespoked in Bristol (May 1-3).
Once the roadshow is complete, Spengle will deliver these to a buyer. They're currently listed at a cost of 10,000 Swiss Francs - which is around £7,899.
Other sets within the Collections line up include 'Molten Lava' and Neon Glitch, where each pair - at £6,708 - is painted by hand to order.
Commenting on the newest creation, CEO at Spengle, Pius Brauchart said: "The bicycle wheel represents a unique visual canvas – kinetic art in its most pure form. Art and sport are both deep passion points and with Spengle Gold we saw an opportunity to blend these two worlds together.
"There's something very compelling in mixing the traditional craftsmanship of hand-laid gold leaf with cutting edge materials science, and it has resulted in a visually stunning wheel."
The Austria founded brand is now based in Switzerland. It is best known for its mountain bike wheels, with Spengle hoops having claimed downhill speed world records, plus wins at several Crocodile Trophies in Australia and RAAM in the US.
Thank you for reading 5 articles this month* Join now for unlimited access
Enjoy your first month for just £1 / $1 / €1
*Read 5 free articles per month without a subscription
Join now for unlimited access
Try first month for just £1 / $1 / €1