Five best uses for a humble can of GT85
We all have a can of GT85 knocking about and to be honest its uses are endless... just don't start using it on your brakes or rims!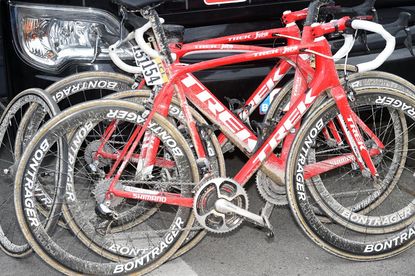 (Image credit: Watson)
Get The Leadout Newsletter
The latest race content, interviews, features, reviews and expert buying guides, direct to your inbox!
Thank you for signing up to The Pick. You will receive a verification email shortly.
There was a problem. Please refresh the page and try again.
GT85 is widely used and not just in cycling - it can come in useful with pretty much anything, like helping to prevent rust or unlocking those hard to budge bolts; so for our bikes it is one of the best sprays to have in the cupboard or garage.
>>> 11 bike maintenance mistakes and how to avoid them
Before we set off though, it is important to state from the start: don't get it anywhere near your rims or brake pads!
We'd also go as far to say that you should look at the plethora of dedicated creams, gels and lubricants that'll do a far better job than GT85 when used for a specific job. There is a dedicated product for all parts of your bike, such as lubricants for the chain and cables, and even foams now.
You'll also find great protection products help make your bike shine. Basically, though GT85 covers off a number of needs, there are dedicated products for each of them that will do a better job if you care to invest.
Five of the best uses for GT85
Cleaning
GT85 is great for cleaning your bike. A big douse over the frame and drivetrain will help loosen dirt, grease and grime a lot like a dedicated cleaner or degreaser will. Then taking a soapy sponge to your bike will mean getting it clean is an easier task.
In the process of cleaning your machine, if you get grease on your clothing, then GT85 will be on hand to get the worst out before you stick your jeans or jumper in the wash. You'll smell like a workshop though!
You can also use a little spray to remove grease stains from the carpet - but the workshop smell may be harder to shift.
Protect and shine
Surprisingly, once you've cleaned your bike you can use GT85 to get a real shine from the frame, of course using a different cloth, preferably dry and microfibre.
This'll also help keep dirt off the frame keeping it cleaner for longer.
Lubrication
GT85 isn't done there. If stuck for dedicated lubrications for the chain or cables, get the GT85 can back out and apply liberally. This'll certainly get you by for a time and will mean your drivetrain won't rust, cease or disintegrate into a pile of dust.
Do note that if you are going out in the rain, the GT85 will wash off almost immediately so maybe use something heavier and longer lasting.
>>> Dry or wet lube: which to use
Penetration
Can't work that bottle cage bolt out? Pedals stuck tight? Get the GT85 out! A coating around any area where bolts or pedals have got stuck will give you all the help you need to get them out or off. Spray and allow to soak for best results.
Bringing your bike back to life
If you've failed as a human-being and allowed your bike to get into a throwaway state: rusty chain, ceased headset and grippy cables then all you'll need to get your bike back working is a can of GT85.
It'll help remove the worst of the rust and will get all the important parts moving again. By no means is this a cure - but it'll get the bike to a rideable state for sure. It's likely you'll need to replace a few components, but at least this way you can ride to the bike shop.
Be aware to avoid getting this on your rims or brake pads though, it definitely doesn't help in any way here!
Finally, and this one is for free (but is mostly a concern for the cruisers or mountain bikers): GT86 is great for getting a set of rubber grips on or off your ride. A dab will make this a breeze. Be sure to allow for some drying though, otherwise it'll be like revving a motor bike otherwise.
Thank you for reading 20 articles this month* Join now for unlimited access
Enjoy your first month for just £1 / $1 / €1
*Read 5 free articles per month without a subscription
Join now for unlimited access
Try first month for just £1 / $1 / €1
Get The Leadout Newsletter
The latest race content, interviews, features, reviews and expert buying guides, direct to your inbox!
Symon Lewis joined Cycling Weekly as an Editorial Assistant in 2010, he went on to become a Tech Writer in 2014 before being promoted to Tech Editor in 2015 before taking on a role managing Video and Tech in 2019. Lewis discovered cycling via Herne Hill Velodrome, where he was renowned for his prolific performances, and spent two years as a coach at the South London velodrome.