Smart commuter bike with built in lights and GPS computer ready for European release
American based brand brings new commuter style smart bike to Europe, which should meet all of 'European bicycle commuters's needs'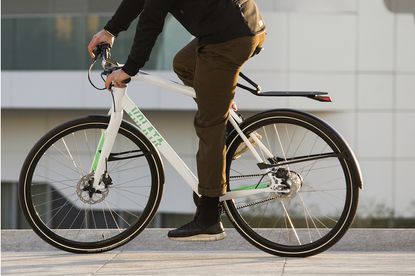 After launching a new premium smart commuter road bike - dubbed the "smartest and most advanced bike on the market", according to US media via Volata - the American brand moves sales into Europe.
>>> Essential commuting clothing
The new aluminium 1C is a flat bar city commuter that has built in lights, GPS, computer, rack and a front dynamo, which is propelled via a belt drive. It was born out of the desire to improve the experience of everyday riding by eliminating the need to sort and manage all your cycling accessories and constant maintenance bikes need, especially during winter months or on the everyday commute.
The computer is integrated into the stem, much like the computer design on the SpeedX bike. Lights are also built in too and the bike features inbuilt GPS that will alert you via your phone if your bike is being stolen, it'll also sound an alarm and track where the bike is.
>>> Buyer's guide to hybrid bikes
>>> Buyer's guide to folding bikes
The inbuilt computer will offer the typical riding metrics: speed, distance and time. Whilst also offering turn-by-turn navigation, weather forecasts, music and notifications from your phone. This is displayed on the LCD 2.4 inch screen.
Safety features include a 'smart joystick' that can be operated without taking your hands off the handlebars. Auto on and off lights that take charge via the Shimano Dynamo front hub (along with the computer) and will use 'anti-flat' 35c tyres to help keep you rolling.
Currently there isn't UK pricing but you can get the mechanical version for €2,499 and €2,999 for the electrical Di2 option.
Online deposits are being taken costing €299 with deliver expected in September 2017. Small, medium, large and extra large frame sizes are available with two colour options (ice white and moon grey). Visit www.volatacycles.com for more details.
Thank you for reading 20 articles this month* Join now for unlimited access
Enjoy your first month for just £1 / $1 / €1
*Read 5 free articles per month without a subscription
Join now for unlimited access
Try first month for just £1 / $1 / €1