Will carbon clinchers kill off tubular tyres?
Technology invested in carbon clincher rims may be deciding factor in the great tyre debate. Stuart Clapp investigates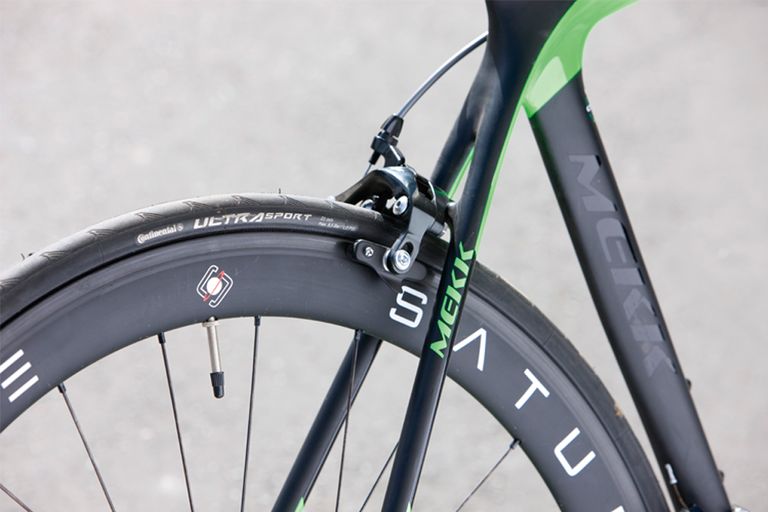 Local bike shops used to be dimly lit with dusty shelves and photos of past champions lining the walls. There was always a hum of rubber from the tyres stacked in bundles that hit you as soon as you walked through the door. Back then, choosing tyres was simple: tubular for racing, clinchers for everything else, but that theory became complex with the introduction of full carbon clinchers.
>>> Solid tyres go mainstream as Wiggle stocks up
Clinchers are cheaper, they're easier to use, and as a result, they're by far the most popular tyre system. This popularity means there's more development going into them, and with that, the threads per inch (TPI) count has increased.
>>> The disc brakes debate: are they necessary on road bikes?
The higher the TPI, the lighter and faster the tyre will be. Good news. The performance benefits are now narrower than ever.
It's as much down to an improvement in wheels as it is tyres. Previously clinchers were exclusive to heavy hoops, with a band of alloy braking surface painted around the rim that increased weight and hampered acceleration.
>>> Is it the end for the 34t chainring?
With consumers dictating their needs to manufacturers, like we've seen with the trend for longer head tubes on frames, will carbon clinchers find their way to the professionals?
"Tubulars will be the go-to [wheel] for professional road racers in the peloton," says Jason Fowler, product manager at Zipp. "The wheels are lighter and if you have a puncture, you can generally continue riding the flat until the team car is behind you with a new wheel."
That's fair reasoning, but at some point clincher equipment (tyres and wheels) will catch up.
Clincher advancements
"With recent advancements in clincher technology — as well as not as much focus on weight — we could see more clincher tyres being used in time trials," adds Fowler. "For example, Tony Martin rode the Super-9 Carbon Clincher disc to many victories over the past two years."
The trend for wider tyres has also added to this. A clincher, given a bit of extra breadth, can be run at lower pressures, adding comfort and traction without it being detrimental to speed. Sound familiar? This is the sort of thing usually attributed to tubs.
>>> Are electronic groupsets necessary?
While we ponder that, it's worth thinking about the third party. With the introduction of more tubeless compatible rims to the market, cyclists have a fully justified third option: tubeless.
Wheel brands are starting to warm to the idea of tubeless tyre systems as Dave Taylor, marketing manager for Schwalbe UK says. "There's now plenty of choice for tubeless road tyres and tubeless, or two-way fit, road wheels. We're even starting to see bike manufacturers spec two-way fit rims
on new bikes."
>>> Are wider tyres really faster?
The new Focus Izalco Max comes with a set of Schwalbe One tubeless tyres as standard. Just like tubulars, tubeless tyres don't require an inner tube. It means that rolling resistance is low and there's no risk of pinch flats, again similar to tubs. If a tubeless tyre punctures, the hole can be filled with sealant quicker than it takes to find a set of tyre levers, and they've even found their place in the pro peloton. IAM rode them this year at the Santos Tour Down Under.
Our take
The demand for clinchers is far greater than our desire for tubs, and wheel manufacturers are well aware of it. Full carbon clinchers, which boast similar attributes to tubular wheels, are as fast as they are practical. They have the potential to put a thorn in the side of tubular tyres for good, but not quite yet. It's early days for tubeless road tyres, but it's an idea likely to gain even more momentum.
Yes: John Herety, Manager JLT-Condor presented by Mavic UCI Conti cycling team
"Pro riders will always favour tubs on account of their superior feel, lighter wheels and the psychological boost that comes from riding something special on race day. JLT-Condor train and often race on clinchers, only swapping out to tubs for targeted races, owing to the potential cost and man hours involved in fixing punctures ."
No: Mark Cantella, SRAM/ Zipp Aftermarket product manager (including tyres)
"Zipp is committed to clincher development due to the positive performance characteristics we have seen with our current clinchers. Clincher development will continue with attention to rolling resistance, grip and ride compliance, while tubular offerings will remain in the Zipp tyre range for the foreseeable future."
This article first appeared in the April 2 issue of Cycling Weekly