Race winner saves his bacon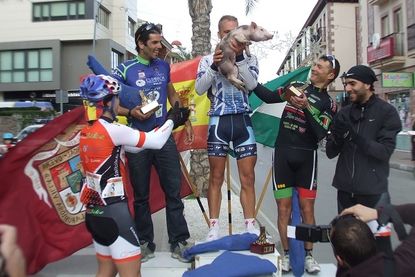 We've seen riders presented with enormous models of wooden boats at the Tour of Qatar, and of course there's the traditional Kuurne-Brussels-Kuurne cuddley donkey.
Stage winners in the Tour de France are also often awarded their weight in local produce (usually cider) by the town mayor when the race comes by.
Ipswich cyclist Chris Bartlett can now proudly boast his own unusual prize after being presented with a live piglet for winning the pre-Christmas 'I Carrera Ciclista del Cochinillo' in Southern Spain.
Bartlett, who will ride with Metaltek in 2013 and entered the race as part of his off-season preparations, was even more surprised when the race official explained what he was supposed to do with the porker.
"When I saw the race advertised I entered. I had no idea what the prize would be", Bartlett said. "After I'd won and the official handed me the pig I said, 'What am I supposed to do with it'. He said 'Eat it!'"
But Bartlett couldn't bring himself to send his porcine pal for the chop and arranged instead to re-home the piglet, which he named 'Lucky Rapha,' with his friend and training camp host Ollie Watts.
"Lucky is already a big hit with the athletes who are staying at the camp who touch her for luck every morning", said Watts, who runs the Kinetic PB camp. "She loves running around the place and is particularly interested in the bikes."
"Lucky" the pig gets to know her new home
Love at first sight: Bartlett brings home the bacon
"What do I do with this?" Bartlett sizes up his porky prize
'Lucky Rapha' enjoying her new home
Related links
Cycling Weekly 128-page special issue on sale now!
Top cycling YouTube clips of 2012
Thank you for reading 20 articles this month* Join now for unlimited access
Enjoy your first month for just £1 / $1 / €1
*Read 5 free articles per month without a subscription
Join now for unlimited access
Try first month for just £1 / $1 / €1