Australia smash Britain's team pursuit world record at Commonwealth Games
Australia set World and Commonwealth Games record for men's team pursuit - Team England's Sophie Thornhill and Helen Scott set new world record in women's B&VI Sprint qualifying on way to gold - Scotland and Wales claim gold and silver in men's B&VI time trial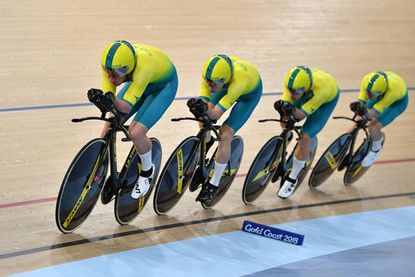 (Image credit: Dan Mullan/Getty Images)
Australia's male team pursuiters set a new world record on their way to securing the gold medal at the 2018 Commonwealth Games on the Gold Coast, beating England in the final at the Anna Meares Velodrome.
Australia's time of three minutes and 49.804 seconds is the first time that a squad has dipped below the 3-50 mark in history, as they beat the previous world record set by Great Britain in the Rio 2016 Olympic Games of 3-50.265.
The Australian quartet of Leigh Howard, Sam Welsford, Jordan Kerby and Alex Porter gave their home crowd a blistering performance in qualifying, setting a new Commonwealth Games record of 3-52.041, shaving over two seconds off the previous record set by Australia at the 2014 Games in Glasgow. But that was soon to be bettered.
England's Kian Emadi, Ethan Hayter, Oliver Wood and Charlie Tanfield clocked 3-55.399 in qualifying to book their place in the gold medal final against Australia.
After a false start by England, the final started closely, with England and Australia – who had swapped Kerby for Kelland O'Brien – evenly matched over the opening laps. However, Australia's greater experience and more even pacing paid off, as they convincingly set a landmark time.
The Welsh team of Sam Harrison, Rhys Britton, Joe Holt and Ethan Vernon qualified fourth quickest to face Canada in the ride-off for the bronze medal, with the Canadians coming out on top.
New Zealand's team were disqualified during the qualifying round after it was found that one of the bikes used by the squad during qualification did not meet regulations.
>>> Commonwealth Games 2018: Latest news, reports and race info
In the women's team pursuit, Australia's team also set a new Games record in qualifying on the way to a win.
Australians Alexandra Manly, Annette Edmondson, Ashlee Ankudinoff and Amy Cure set a time of 4-17.218 to meet New Zealand in the battle for the gold medal. They duly beat New Zealand to claim gold, and set another new Games record in the process of 4-15.214.
England's Emily Nelson, Rebecca Raybould, Eleanor Dickinson and Emily Kay qualified fourth fastest to ride against Canada for bronze but missed out on a medal. Wales qualified fifth fastest and were out of the medals.
In the women's team sprint qualifying, Australia set yet another new Games record, beating New Zealand in the gold medal final. England beat Wales to claim bronze.
New Zealand beat England for the gold medal in the men's team sprint, with Australia beating Canada to take bronze.
New world record for Sophie Thornhill and Helen Scott on way to gold
The England tandem pair of Sophie Thornhill and Helen Scott set a new world record – and therefore Commonwealth Games record – during qualification for the Women's B&VI Sprint on their way to claiming the gold medal.
The duo set a time of 10.609 to safely better the previous world record of 11.045 held by Jessica Gallagher of Australia.
Thornhill and Scott then rode against Gallagher and Madison Janssen to claim the gold medal.
Scottish duo Aileen McGlynn and Louise Haston qualified third fastest to secure bronze, as there were three teams on the start list.
Scotland's Neil Fachie and Matt Rotherham took gold in the men's B&VI 1000m time trial, with Welsh duo James Ball and Peter Mitchell claiming silver. It is Scotland's first gold of the Games in any discipline.
The 2018 Commonwealth Games takes place on the Gold Coast, Australia, over April 4-15. Cycling events comprise track, road race, time trial and mountain bike races.
Commonwealth Games 2018 results - track day one
Men's team pursuit
1. Australia
2. England
3. Canada
Women's team pursuit
1. Australia
2. New Zealand
3. Canada
Men's team sprint
1. New Zealand
2. England
3. Australia
Women's team sprint
1. Australia
2. New Zealand
3. England
Women's B&VI Sprint
1. Sophie Thornhill and Helen Scott (England)
2. Jessica Gallagher and Madison Janssen (Australia)
3. Aileen McGlynn and Louise Haston (Scotland)
Men's B&VI 1000m Time Trial
1. Neil Fachie and Matt Rotherham (Scotland)
2. James Ball and Peter Mitchell (Wales)
3. Brad Henderson and Tom Clarke (Australia)
Thank you for reading 5 articles this month* Join now for unlimited access
Enjoy your first month for just £1 / $1 / €1
*Read 5 free articles per month without a subscription
Join now for unlimited access
Try first month for just £1 / $1 / €1