Illegal bike setup sees New Zealand disqualified from Commonwealth Games team pursuit
They were just five millimetres out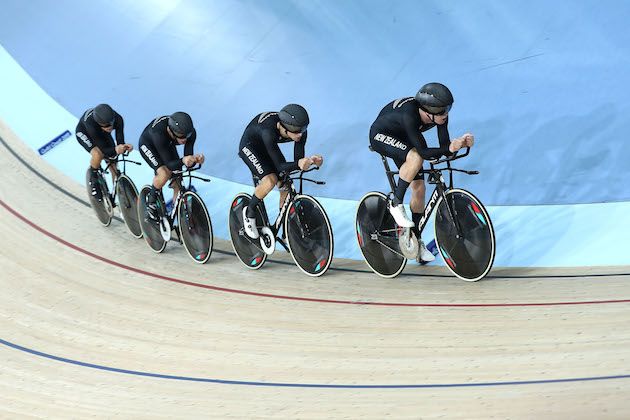 (Image credit: Ryan Pierse/Getty Images)
Staff members at Cycling New Zealand (CNZ) have taken responsibility for a technical blunder that saw their men's team pursuit squad disqualified from the Commonwealth Games and prevented from riding for a bronze medal.
The disqualification occurred after the qualifying run in the team pursuit at the Anna Meares Velodrome in Brisbane, where one of the team's bikes was found to not comply with UCI regulations due to the vertical distance between the arm rests and the tips of the aero bars being a few millimetres out.
According to stuff.co.nz, the bike failed a pre-race inspection by UCI commissaires ahead of the team's qualifying run, with adjustments made by team mechanics not doing enough for it to pass a post-race inspection after the team of Regan Gough, Nicholas Kergozou, Campbell Stewart, and Tom Sexton had set the third fastest time.
>>> Australia smash Britain's team pursuit world record at Commonwealth Games
"We have regulations that pertain to the setup that the bike can be configured in and one of our bikes was found to be non-compliant for the front end of the bike," said CNZ high performance director Martin Barras, whose appeal against the decision was dismissed by commissaires.
"It was very, very close to the mark, but it was a failing on our part. I have to be blunt about that and we have to deliver material that is in compliance with the rules. The difference was about 105 or 106mm, when it should be 100mm."
Barras also said that he was unsure how the bike had failed to pass technical checks after it had been deemed compliant at the Track World Championships in March, but said that the compression of the arm rest pads could have elongated the gap between the pads and the ends of the aero bars.
>>> Commonwealth Games 2018 cycling: Everything you need to know from the Gold Coast
New Zealand's disqualification saw the Welsh team of Sam Harrison, Rhys Britton, Joe Holt, and Ethan Vernon promoted to fourth place in qualifying, but they were unable to take bronze as the medal instead went to Canada who beat the Welsh quartet by just under a second.
Meanwhile the gold medal went to the host nation, as an Australian team of Leigh Howard, Sam Welsford, Jordan Kerby, and Alex Porter beat the English team of Kian Emadi, Ethan Hayter, Ollie Wood, and Charlie Tanfield in the gold medal final in a new world record time of 3-49.804.