British champion Connor Swift to stay at Madison Genesis in 2019
Continental-level squad strengthens its roster with signings from JLT-Condor and Team Wiggins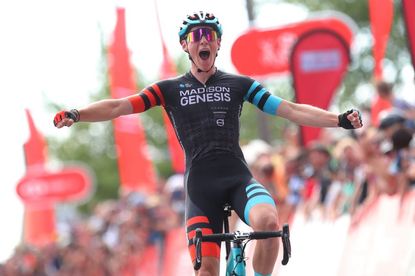 (Image credit: SWpix.com)
British road race Connor Swift is set to remain at Madison Genesis in 2019 rather than joining the WorldTour and will target UCI-level races in his bid to move to the upper echelons of the sport.
On Thursday the British squad unveiled a strengthen roster for 2019 including Swift who will race with new signings including domestic stalwart Ian Bibby and his fellow JLT Condor riders Tom Moses and Jon Mould.
Swift had been hoping to make the jump to WorldTour level in 2019 but told CW that the reduced rosters at the top-level had made it difficult to find a ride.
"It's been a hard year contract wise, there's a lot of guys without a job… I was a stagiaire with Dimension Data, they were happy with me there everything went well," he said.
"Cav was deciding if he was staying or going for a while and that delayed things for a lot of the riders on that team. That led to the team not being able to commit to whether they were interested in me or not. Then it was getting quite late on I just had to secure myself and cover my own back so I asked for a ride at Madison."
He said: "I think there is an expectation from the public that when you see a rider on a Continental-level team and they get some results that phone calls will be coming into them but that's not really the case - unless you've won the Worlds. There wasn't anyone contacting me."
Swift explained that he was using his personal contacts and those of his agents Trinity Sports to try and drum up interest but it didn't bring concrete results. CW understands Ben Swift even put in a word for his cousin at UAE Team Emirates, where he rode in 2018, but Connor said he didn't hear from them.
He added: "There's so much talent out there you've got to get in the eyes of all the teams and work with the people around you."
Swift said that he saw 2019 as a "sideways step" in his progression and he'll be targeting UCI races, such as the Tour de Yorkshire or the Tour of Normandy, where he'll aim to get noticed by getting results wearing the British Champion's jersey.
He said: "Madison is a great team and I can have another good year, treat it as another step in my learning curve and just go into the season all cylinders flying pick up some results early doors."
He also said he hadn't given up hope of defending his National title in 2019 on what is set to be a fairly flat course in Norfolk.
"Definitely going into June next year I'll have had the jersey on my back for a year I won't want to let it go. If you're in a race and you're suffering and you look down it makes you not want to show any weakness."
While he said the nationals was always a hard race to predict it often came down to a select group and that was a type of race that suited his abilities.
His progression will doubtless be helped by the return of Roger Hammond as sports director, who has spent the last two years working with Mark Cavendish at Dimension Data and so knows what is required to race at the sport's highest level.
Hammond said: "On paper we have a really strong team so it's up to us now to extract the best out of all of those guys individually, as a team. You've got the stable core, which I find is always important about a team is to keep a core. And the core has stayed the same and all we've done is to change the outside of it."
With the signings that they have made, and keeping Swift, Madison arguably has one of the strongest domestic teams for 2019 and that too will give Swift opportunities to learn and gain further experience.
The British Champion added that he was most looking forward to riding alongside new signing Joey Walker, currently a Team Wiggins rider, as the pair live close to one another and already train together.
Thank you for reading 20 articles this month* Join now for unlimited access
Enjoy your first month for just £1 / $1 / €1
*Read 5 free articles per month without a subscription
Join now for unlimited access
Try first month for just £1 / $1 / €1