Britain's best teams sign up for this month's Hitter Road Race
Race forms part of this year's Herefordshire Festival of Sport - online sportive entries close on Friday.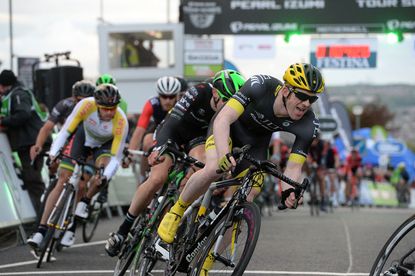 The best of British will be among those competing in this month's National B-ranked Hitter Road Race, the headline attraction in the BMW Herefordshire Festival of Sport.
Organised and promoted by the NFTO Race Club, the 148-kilometre road race on September 19 includes the challenging Dorstone Hill, a 1.6-kilometre climb that ramps up to 25 per cent in places.
>>> Show us your scars #15: Matt Cronshaw
NFTO, JLT-Condor, Raleigh-GAC, Madison-Genesis are among those UCI Continental-ranked squads to have signed up for the race, for which the winner will receive £4,000.
The King of the Mountain victor – he who reaches the top of Dorstone Hill first – will receive their weight in Dorothy Goodbody's Pedal Pusher Ale.
>>> Matt Brammeier wins his weight in beer at Tour of Flanders
Hereford's King George V Playing Fields is the race's HQ and also the site for the two-day Festival of Sport, the programme of which also features a Ride Herefordshire Sportive.
The amateur event offers routes of 40, 90 and 161 kilometres across picturesque countryside.
For more details visit www.herefordshirefestivalofsport.co.uk; online entries for the sportive can be made at www.herefordshirefestivalofsport.co.uk/online-entry.
Online entries for the sportive close on Friday (September 4), although entries will be accepted on the day for the two shorter distances.
Thank you for reading 20 articles this month* Join now for unlimited access
Enjoy your first month for just £1 / $1 / €1
*Read 5 free articles per month without a subscription
Join now for unlimited access
Try first month for just £1 / $1 / €1