'Taking it on the chin and moving on': Marcin Bialoblocki responds to 43-minute 25-mile time trial DQ
Poish rider decides against appeal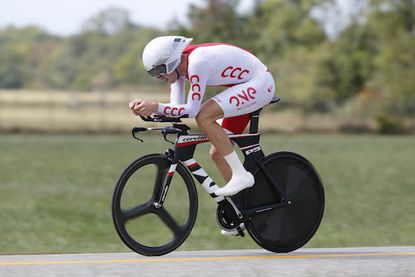 (Image credit: Sunada)
Marcin Bialoblocki says that he will not appeal against the decision which saw him disqualified after breaking the 25-mile time trial record in an event on Sunday.
Bialoblocki clocked a time of 43-oo to knock 1-04 off the previous record, also held by the Pole, but was disqualified after officials decided that he had ridden too far out from the left of the road.
Under Cycling Time Trials (CTT) rules, Bialoblocki could have appealed to the District Committee in an attempt to have his disqualification overturned, said that he would be not be taking this action.
>>> 25-mile TT in 43 minutes: Strava reveals the amazing stats behind Marcin Bialoblocki's disqualified ride
"I've decided to take it on the chin and move on so I'll not be lodging an appeal and leave it for my legs to answer the critics," Bialoblocki wrote on Facebook in reply to a post by Cycling Weekly.
"My big effort at the weekend in the Realteam 25m TT was wasted since I've now been disqualified.
"It was special to take over a minute off my previous national record, may well have been a sub 43minute ride but for a hold up by police attending an accident on the course (which I safely negotiated)!"
Watch: How to beat long time trials
The 33-year-old was disqualified under regulation 20 of the CTT rules, which states that riders must "ride on the left-hand side of the road except for safe overtaking and when making right hand turns".
Bialoblocki said that he "wasn't that familiar with the finer details of the rules", accepting that he was riding further out than normal, but rejecting claims that he was riding down the centre line of the dual carriageway and that he was riding with his head down and not looking ahead.
"I did ride further out in the carriageway than normal but not on the white line, only nearing it when passing lay-bys (with parked cars), or when overtaking other competitors," he continued.
>>> How to set a 10-mile time trial PB - experts reveal their top tips
"My position on the road was more dominant than the primary one recommended in National Standards and I do accept that this sets a bad example to youngsters, I will make sure that I am compliant in future.
"I'd also like to say that I do have forward vision in my aerodynamic tuck position."
With Bialoblocki's disqualification, the competition record will remain at 44-04, with victory in the event going to Andy Jackson (SSLL Racing Team) in a time of 46-56.
Thank you for reading 20 articles this month* Join now for unlimited access
Enjoy your first month for just £1 / $1 / €1
*Read 5 free articles per month without a subscription
Join now for unlimited access
Try first month for just £1 / $1 / €1